13 min read
The 2021 Guide to Family Christmas Activities in Lancaster
By: Amanda Witherow | November 15, 2021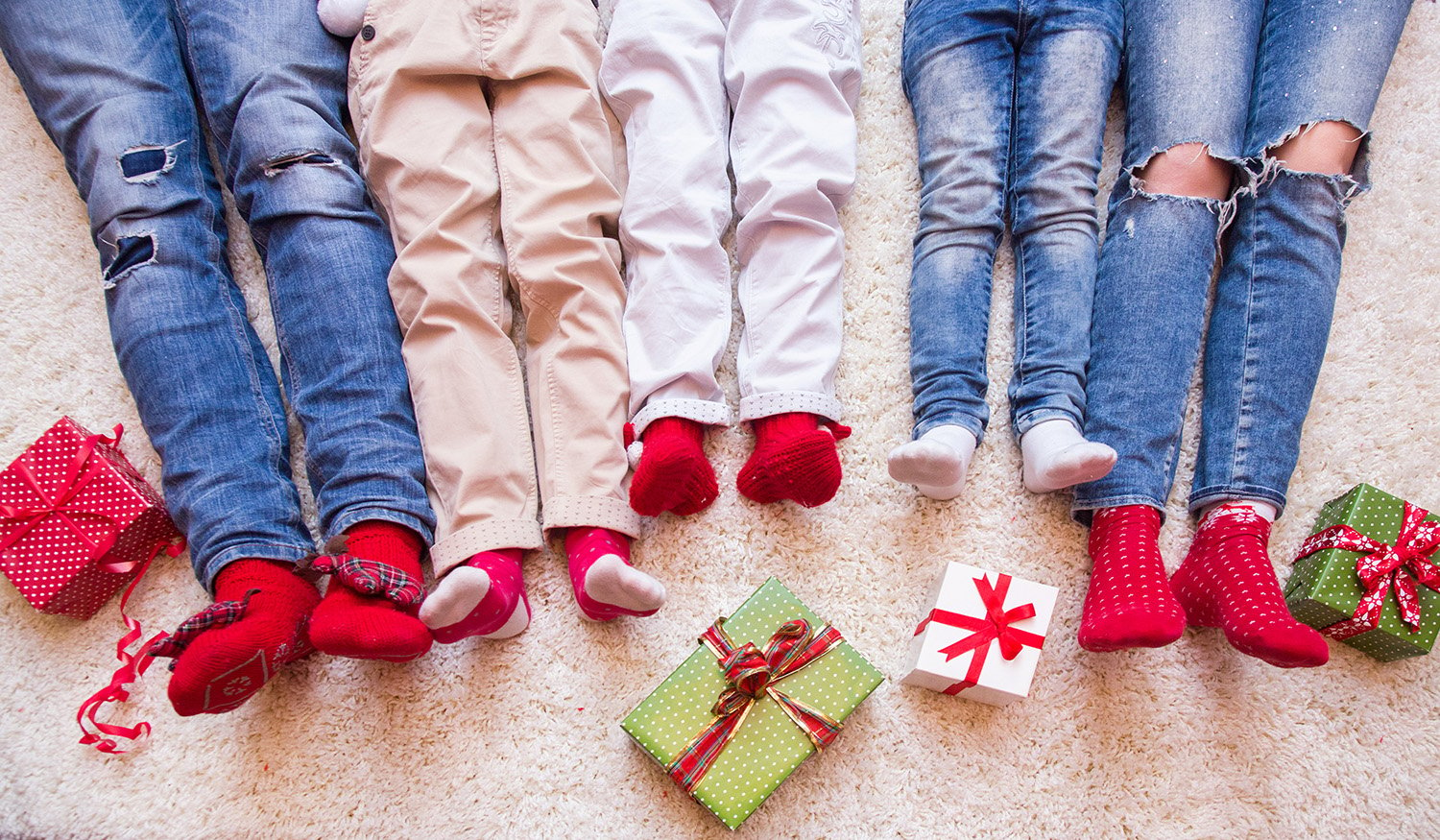 Cold weather and warm drinks. Decked halls and trimmed trees. Cheerful music and colorful lights. Christmas time is here again! Whether you want to take your family to visit Santa, participate in Christmas-themed events, or find your perfect tree, Lancaster, PA has it all.
It's the most wonderful time of the year! It can also be one of the more stressful times of the year. Between the shopping, cookie-making, holiday parties, and family gatherings, the holiday season can be over in the blink of an eye—and all of a sudden you realize you never stopped to enjoy it!
Take a break from all the hustle and bustle and enjoy the many merry and bright happenings of Christmas in Lancaster County.
Bright Lights
---
Christmas Spirit Light Show at Clipper Magazine Stadium
Enjoy this one-of-a-kind Christmas light display from the comfort of your own vehicle. As you journey through their mile-long track, you will be immersed and surrounded by hundreds of thousands of color-changing lights, animated and dancing in harmony with your favorite Christmas classics that you access through their radio station.
Open November 27–January 1
Sunday–Thursday; 5:30 p.m.–9:30 p.m.
Friday–Saturday; 5:30 p.m.–10:30p.m.
Koziar's Christmas Village
Help Koziar celebrate their 74th season! Step inside Koziar's Christmas Village and bask in the beauty of a valley glowing with over a million Christmas lights.
Open November 6–January 1
Check website for times as they change as the season progresses
A Christmas Light Winter Wonderland at Refreshing Mountain
If you're looking for more adventurous ways to see lights, make your way to Refreshing Mountain. Zipline or swing your way through the lights or challenge yourself with multiple light-filled obstacles. For your less adventurous family members, climb atop the observation deck, visit the wildlife center, or drive through a half-mile light display. No matter what, there is a wide variety of ways to see the lights!
Thursdays–Sundays, November 26–January 9
4:30 p.m.–9:00 p.m.
Hershey Sweet Lights presented by T-Mobile at Hersheypark
A winter wonderland awaits at Hershey Sweet Lights! Enjoy nearly 600 illuminated, animated displays from the comfort of your car as you drive through 2 miles of wooded trails.
Select dates November 12–January 2

5:00 p.m.–10:00 p.m.
Christmas Light Drive-Thru at Stone Gables Estate
Celebrate the traditions and true meaning of Christmas with your loved ones from the comfort of your vehicle. Experience a 3-mile Christmas Light Drive-Thru which features over 600,000+ brilliant LED lights.
Select dates November 26–December 30
Monday–Thursday; 5:00 p.m.–8:00 p.m.
Friday–Saturday; 5:00 p.m.–9:00 p.m.
Santa Sightings
---
Santa Express at Stone Gables Estate
Enjoy a magical and narrated train excursion and Christmas experience through the center of Stone Gables Estate on the Harrisburg, Lincoln & Lancaster Railroad. Sing along with favorite Christmas tunes, light up when Santa makes a surprise visit, and enjoy a stop at the North Pole in the Engine House.
Pre-Registration ONLY: All tickets must be purchased online before visiting.
Friday, November 26
Saturdays, November 27 and December 4, 11, 18
Monday–Thursday, December 20–23
Breakfast with Santa at Country Barn
Enjoy a Farm-to-Fork buffet breakfast in an historic barn. After breakfast, Santa and his elves will be there to hear your Christmas wish list. Have your photo taken with Santa, which is included with every adult ticket!
December 4, 5, 11, and 12
Seating Times: 9:00 a.m., 9:45 a.m., 10:30 a.m.
All tickets must be purchased in advance.
Santa's Christmas Trolley at Strasburg Railroad
Climb aboard an historic LO&S Motorcar to visit with Ol' Saint Nick. During the 45-minute trip to Paradise and back, children 11 years and younger will be able to have their professional photo taken with Santa as they talk with him about what they are looking forward to this Christmas. Once back at the station, families will be able to pick up their keepsake 5x7 photos of their children with Santa aboard the motorcar. All this is included in your ticket price.
Very limited seating. Advance purchase recommended.
Tuesdays and Thursdays, December 1–17
Monday–Thursday, December 20–23
Santa's Paradise Express at Strasburg Railroad
Santa himself will climb aboard the historic steam train to greet families as they travel down the tracks to Paradise, PA and back. As a special treat, children ages 11 and under will receive a gift from Santa and his helper during this 45-minute steam train ride.
Saturdays and Sundays, November 20–December 19
Friday, November 26 and December 24
Breakfast with Santa 2021 at Spooky Nook Sports
Enjoy a delicious breakfast and holiday games! Santa will be a special guest and will read a story to all the children. There will be plenty of time to visit with Santa after breakfast. Kids will be able to enjoy other activities and games after breakfast too!
Saturday, December 11
9:00 a.m.–11:00 a.m.
Festive Fun
---
Stone Gables
National Christmas Center (Stone Gables)
Until its permanent home is ready, you can now enjoy seeing over 18,000 square feet of nostalgic Christmas décor in lights, trees, stores, and more at the interim National Christmas Center which is housed a short distance from Stone Gables Estate. Seventeen-foot-tall, real-life buildings with artistic architectural features depict the streets of Columbia, Pennsylvania as they were in the 1950's.
All tickets must be purchased online.
Friday and Saturday, November 26–27
Saturdays, December 4, 11, 18
Monday–Thursday, December 20–23
Monday–Thursday, December 27–30
11:00 a.m.–4:00 p.m.
Christmas Dinners at The Star Barn (Stone Gables)
Add a little more "merry and bright" to the Christmas season and enjoy dinner and live Christmas music in the historic Star Barn. The Star Barn will be festively decorated for the season, showcasing a large Nativity, Christmas trees, and more. Included with your dinner ticket is the Christmas Light Drive-Thru.
December 14–15, 20–23, and 29.
Visit website for information about times
The Christmas Village (Stone Gables)
Make it a Christmas to remember at The Christmas Village at Stone Gables Estate. Enjoy the sights, smells, tastes, and sounds of Christmas as you stroll the Christkindl Market and visit historic barns and other structures at Stone Gables Estate, each beautifully decorated for Christmas.
Friday–Saturday, November 26–27
Monday–Thursday, December 20–23
11:00 a.m.–4:00 p.m.
Christmas Candylane at Hersheypark
Decorated with over 5 million lights, celebrate the holiday season at the sweetest place on earth. Enjoy select holiday rides and coasters, and visit Santa and his reindeer (November 19–December 24). Learn more about Hershey at a festive tree-lined trail at The Boardwalk.
Select dates November 12–January 2
5:00 p.m.–9:00 p.m.
Christmas on the Farm at The Country Barn
Enjoy the sights and sounds of Christmas on the Farm at Barnyard Kingdom! The Country Barn will have giant slides, fire pits, barnyard animals, trikes, a straw pyramid, elf scavenger hunt, hedge maze, and more! Train rides to their Christmas Tree Fields (on a real train!) for U-Cut Trees are included with your admission!
Saturdays and Sundays, November 27–December 19
11:00 a.m.–5:00 p.m.
Night Before Christmas Train at Strasburg Railroad
Enjoy a Christmas story train ride. This special train recreates the excitement and anticipation of Christmas Eve. Clement Clarke Moore's classic poem, "The Night Before Christmas," comes alive as the train rolls along.
December 3, 9–12, and 16–23
Christmas Village in Bird-in-Hand
Visit Bird-in Hand for two days of good food and family-fun activities to ring in the Christmas season!
On Friday, December 10, you can visit and take photos with live reindeer, enjoy a s'mores bonfire starting at 5:00 p.m., get a head start on holiday gift shopping at our local stores, and dine onsite or purchase dinner to go from Bird-in-Hand Family Restaurant & Smorgasbord or Bakery & Cafe.
On Saturday, December 11, enjoy visits with Santa in his sleigh, holiday balloons for the kids, kids' face painting, caroling along with the cast of A Christmas Tree Ship, family-friendly laughs and live entertainment with Steven Courtney, and carriage rides around the village. Enter to win tickets to their holiday show and other local attractions, stay for lunch at the Cafe, or purchase items to go.
Friday, December 10; 3:30 p.m.–7:30 p.m.
Saturday, December 11; 9:00 a.m.–12:00 p.m.
The 2021 Christmas Show: Winter Wonderland at American Music Theater
American Music Theatre's 2021 Christmas Show: Winter Wonderland will recapture the Christmas spirit! Step through the doors and be transported by the sights and sounds of the season in this musical wonderland. Winter Wonderland is American Music Theatre's newest original show, featuring the sacred and secular holiday songs you know and love.
Select days and times in November and December
Kitchen Kettle Village
Whether you venture out and brave the cold or prefer the warmth of indoors, winter at Kitchen Kettle Village is a great place to experience the holiday season. Take in the aromas of freshly baked seasonal treats, wander through the Village to see the decorations, and pick up a few Christmas gifts along the way.
Visit their website for a more detailed schedule of their special holiday events.
Elizabeth Farms
Take free guided wagon farm tours and trips to see baby piglets in the mangalitsa piglet maternity ward. The interactive piglet tours are fun for the entire family, and you can hand-feed the piglets yummy snacks! Along with the piglets you will find other animals that live there, including goats, chickens, roosters, and calves in the petting zoo.
While you are there, visit the gift shop for complimentary hot chocolate, kid-friendly games, ornaments, fresh greens, wreaths, and other fun festive gifts. Be sure to visit the Christmas Fantasy barn, featuring a Model Train Room, original Bloomingdale's Holiday Window Display, and Santa's Workshop, where you can meet Santa himself.
November 26–28, December 4–5 and 11–12
Pictures with Santa: 10:00 a.m.–4:00 p.m.
Amish Christmas Cookie Tour—Amish Farm and House
Interact with Amish families in their homes and learn about their heritage while sampling homemade cookies. Leave with new friends and memories to last a lifetime. You'll walk away with an appreciation of another culture, along with recipes and cookies to take home and enjoy.
Fridays and Saturdays, November 19–December 18
Departures at 11:00 a.m. and 2:00 p.m.
Not available on December 24 and 25 as these are both Amish holidays.
Reservations are required.
Oh, Christmas Trees
---
Christmas Tree Train at Strasburg Railroad
Travel by authentic steam train to Leaman Place Grove, where you can choose a pre-cut Frasier Fir tree and have it delivered back to the station. Once at Leaman Place Grove, guests have approximately one hour to choose and purchase that special Christmas tree. The staff will bale it and you can watch it being loaded on their heritage freight car while enjoying a roaring campfire and the sound of Christmas carols.
Seating is limited, so guests are encouraged to purchase tickets early.
Fridays and Saturdays, November 26–December 4
Friday departures at 7:00 p.m.
Saturday departures at 8:30 a.m. and 7:00 p.m.
Bowser's Christmas Tree Farm
Pick your own tree. The staff will take care of the rest!
551 Stauffer Rd., Lititz, PA 17543
Monday–Sunday; 10:00 a.m.–5:00 p.m.
Country Barn
Pick out and cut down your tree! The staff will get it ready for you and assist with transportation and loading it into your care. They do have pre-cut trees if you're looking for a faster, easier option.
Saturdays starting November 26; 11:00 a.m.–5:00 p.m.
Market open 9:00 a.m.–6:00 p.m.
Elizabeth Farms
Fresh pre-cut Fraser & Douglas Fir trees of all sizes will be available for browsing every day with inventory always being updated. Sizes range from 6-foot to 14-foot trees, and each section will be marked according to the size of the trees. Staff onsite will assist with tagging and baling the trees for easy pickup.
Starting on November 20
Tuesday–Friday; 1:00 p.m.–5:00 p.m.
Saturdays; 9:00 a.m.–7:00 p.m.
Sundays; 10:00 a.m.–5:00 p.m.
Closed on Mondays
Frey's Greenhouse
Frey's Greenhouse has what you need to deck your home for the holidays. You will find freshly-cut Pennsylvania-grown Fraser and Douglas fir trees, ornaments, wreaths, and lush greens in boxwood, pine, and fir.
Monday–Saturday; 9:00 a.m.–8:00 p.m.
Frog Hollow Evergreens
Frog Hollow Evergreens is a small Christmas tree farm. Their usual selection of trees includes Canaan Fir, Douglas Fir, and Concolor Fir. All trees are priced the same, regardless of size or variety. The total cost per tree is $50.00. That's it, no hidden costs!
November 20–December 19 (Closed on Thanksgiving Day)
Thursday–Sunday; 9:00 a.m.–4:30 p.m.
Closed for rain
Heritage Tree Farm
At Heritage Tree Farm, you will be able to choose and cut down your own tree! They have Fraser Fir, Douglas Fir, Concolor Fir, and Blue Spruce trees to choose from.
November 26–December 18
Fridays and Saturdays; 9:00 a.m.–4:00 p.m.
Hunt's Christmas Trees
This family-owned and family-run Christmas tree farm has been helping people find that perfect tree in the Lancaster area since 1979. Once you choose your Christmas tree, you can cut it yourself or their team is always happy to help cut it for you! Hunt's is pet-friendly, so bring the whole family! They also have a wide selection of fresh-cut trees to choose from in their "indoor forest."
Opening November 20 (Closed on Thanksgiving Day)
Black Friday; 8:00 a.m.–7:00 p.m.
Sundays–Thursdays; 12:00 p.m.–5:00 p.m.
Fridays; 12:00 p.m.–7:00 p.m. (5:00 p.m.–7:00p.m., pre-cut trees only)
Saturdays; 8:00 a.m.–5:00 p.m.
---
We hope this guide to Christmas activities in Lancaster helps you and your loved ones enjoy a festive, memorable, and joy-filled holiday season! Merry Christmas!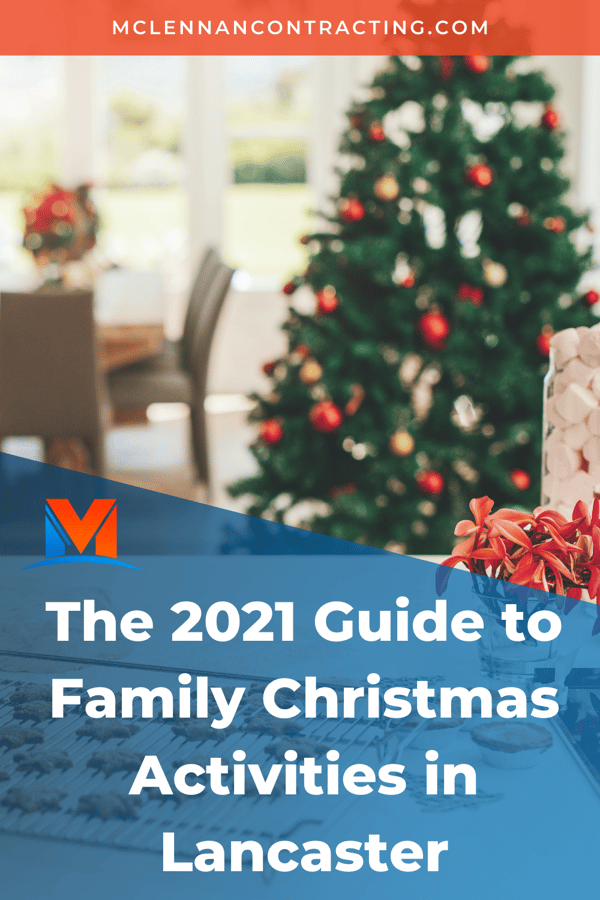 Amanda is a Marketing Assistant at McLennan Contracting. She and her husband, Alex, just added their first child, a baby boy, to their small family of one dog and three cats. Amanda is also a health and fitness coach and enjoys spending time in her gym. When she isn't working or working out, she enjoys going on family walks/hikes, napping (when she can…), bingeing TV shows (when she can), watching her little one learn and grow, and soaking up all the snuggles and kisses from her little man.