7 min read
A Local's Favorite Lancaster County Farmers Markets
By: Lisa Bartelt | April 10, 2023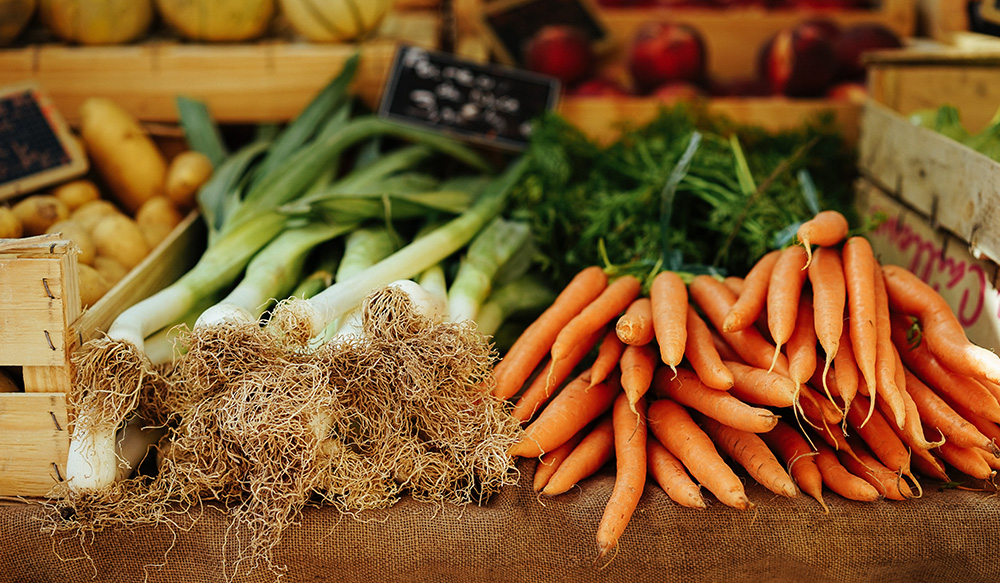 Take a drive through rural Lancaster County and you'll find signs advertising everything from pickled beets and brown eggs to fresh flowers and vegetables in season. (I once even saw a sign advertising old hens for butchering!) Thanks to the county's large Amish population, such stands are common. (And usually cash only with no Sunday sales.) But there's more to farmers markets in Lancaster County than what you might find by chance on a road trip through Amish Country.
I grew up in the Midwest where farmers markets were mostly seasonal affairs. In summer if the weather was nice, my family would ride our bicycles to the park in the center of town and browse the tables set up with fresh produce and baked goods. The end of the growing season was always a bummer because we knew winter was on the way, and it would be months before we could buy fresh local produce from our neighbors again.
When my husband and I moved our family to Lancaster County 10 years ago, it was a pleasant surprise to discover year-round farmers markets offering more than what a garden produces during the growing season.
With spring upon us and summer fast approaching, these stands and markets will soon be bursting with a variety of colors and flavors from locally grown crops such as asparagus, broccoli, peas and strawberries. While some fruits and vegetables, like mushrooms, apples, and lettuce are locally grown year-round in and around Lancaster County, there's something special about spring and early summer, when the ground begins to yield a harvest that won't let up until late fall.
Where and when you can find these bounties of the earth depends somewhat on which part of the county you're in (and how far you're willing to drive). While no single blog post can include every farmers market in the county, the upside of having an abundance of local places to buy produce is that (almost) every day can be market day!
If you're in the market for a local farmer's market experience, consider this simply your starting point.
*Please confirm days and times in case of changes that may have occurred after this post's publication.
Root's Country Market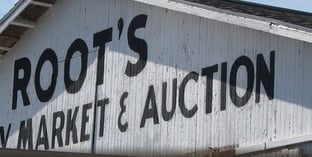 Located at 705 Graystone Road, Manheim, PA, 17545, Root's Country Market is open every Tuesday from 9 a.m. to 9 p.m. April through October and 9 a.m. to 8 p.m. November to March. The market features more than 200 standholders selling everything from deli meats and fresh produce to collectibles and antiques.
In the summer, crowds gather to wander amongst the indoor and outdoor stalls while enjoying treats from local bakeries and food stands. Locally grown produce is abundant in season and will overwhelm the senses. I once bought a cabbage the size of my head for just a couple of dollars. Some vendors are cash-only. For more information about the market or to view a map of the buildings, visit their website.
Green Dragon Farmers Market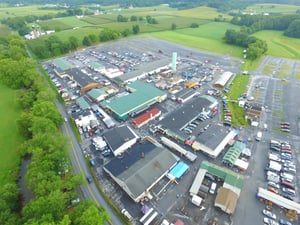 If Friday feels more like a market day, then head up to Green Dragon Farmers Market at 955 N. State St., Ephrata, PA 17522. The market is open weekly on Fridays from 8 a.m. to 8 p.m. and features a campus of buildings containing furniture, quilts, sporting goods, and toys as well as food stands and local produce offerings. In a USA Today Readers' Choice contest in 2021, Green Dragon was voted the second-best farmers market in the country. It's worth a visit, even if you're not looking to buy anything. We visited for the first time this year and were overwhelmed by the nostalgia and wide variety of goods for sale.
Some vendors are cash-only. An ATM is available on site. For more information, visit their website.
Lancaster Central Market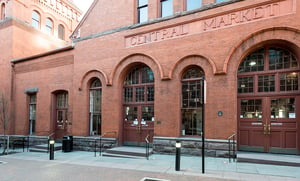 Our family makes a stop at Lancaster Central Market in downtown Lancaster city on most Saturdays. It's our go-to for all kinds of weekly grocery staples like apples, broccoli, onions, garlic, goat cheese and poultry. While fresh produce abounds, Lancaster Central Market is more than fruits and vegetables.
We start our Saturday mornings at Mean Cup for lattes and follow up with a stop at Ric's Bread to check out the muffin selection. The choices feature seasonal flavors such as lavender and rose as well as standard favorites like blueberry and coffee cake. Then it's over to Central Market Juice Company for New York style bagels slathered with flavored cream cheeses. (My favorite is a wheat bagel with lox or an egg bagel with bacon cream cheese—a "bacon and egg" if you want to order like a regular.)
Fueled with coffee and breakfast treats, we then move on to our regular shopping. Our first stop is Linden Dale Farm for chèvre (goat cheese) in one or more flavors. Sometimes we'll add goat meat or other types of cheese made with goat milk. We then make a sweep around the Barr's Farm Produce stand to see what looks good for our fruit and veggie needs for the week. We compare the selection from Barr's to those at Stoltzfus Farms, an Amish-owned stand. In summer especially, we leave with bags loaded with local produce at a fair price. Our weekly market visit wraps up with an order of chicken and/or ground turkey at Shenk's Poultry. When the mood strikes, we also hop over to JB Kelly Seafood Connection for salmon spread. It's so good you can eat it straight out of the container with a spoon, no bread or cracker needed. (The lobster roll and/or lobster mac and cheese are also tempting!)
Beyond our regular stops, there's plenty more to discover at Lancaster Central Market such as global culinary offerings from Cuba, Scandinavia, and the Middle East. The international fare includes fresh guacamole from Guacamole Specialists, Middle Eastern delicacies like falafel and baklava from Saife's Middle Eastern Food, empanadas from Empanada Gourmet and something called a Nord Dog from nord Scandinavian Food and Hygge that is tempting even at 8 a.m. on a Saturday. (I've yet to try it, but my willpower is waning.) For the gluten-free among us, Amaranth Bakery has a variety of baked goods that meet that need.
Open 6 a.m. to 3 p.m. Tuesdays, Fridays, Saturdays year-round, Lancaster Central Market, 23 N. Market St., Lancaster PA 17603, boasts a long history dating back to 1730 and offers an abundance of goods for the local shopper and tourist alike. It's almost easier to list what you CAN'T find at the site of the oldest continuous farmers market in the country.
Meck's Produce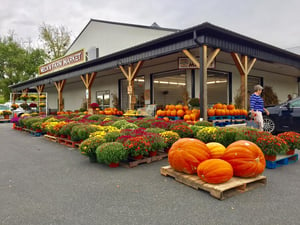 Until recently, Meck's Produce had a stand at Lancaster Central Market. Fortunately for their loyal customer base, they have a large market at their 60-acre farm near Quarryville, a short drive south of Lancaster city.
Meck's offers a variety of hydroponic lettuces year-round including green leaf, Bibb, Romaine and salad mix. (No need to worry about those national recalls of lettuce due to contamination!) Beyond that, there's always a seasonal cornucopia of locally grown produce starting around mid-spring until late fall. Highlights include asparagus, tomatoes, and sweet corn. The store also stocks frozen cuts of locally raised meat, dairy products including milk, cheese and yogurt, deli meats and cheeses and other grocery items for the pantry such as nuts, seeds, jams, sauces, and dressings. From March through December, the Meck's porch is full of spring flowers, the aforementioned local produce, sweet corn, pumpkins, ornamentals, and Christmas trees and wreaths, each available seasonally.
And if you need a quick already-prepared meal, they've got a cooler full of those, too.
Registration for their CSA subscription boxes opens in the spring (check the website to see if they're still taking registrations) for weekly pick-ups of locally grown produce throughout the summer and/or fall.
Meck's, 1955 Beaver Valley Pike, Strasburg, PA 17579, is open 8 a.m. to 6 p.m. Monday through Friday and 8 a.m. to 4 p.m. Saturday. They are closed Sunday.
Brook Lawn Farm Market
When our kids were younger (they are teenagers now), another favorite farmers market in the area was Brook Lawn Farm Market. We'd go in the fall to take a wagon ride to the pumpkin patch to pick our own colorful fall decor. The market is closed during the winter and generally opens in late April. Brook Lawn also offers a pick-your-own strawberry patch starting in late May or early June. Check out the farm's Facebook page or call 717-569-4748 for field updates if you're looking for a chance to pick your own produce. For pumpkin picking, check back in September and October for times and days.
Known for its sweet corn, Brook Lawn offers multiple varieties ready as early as mid- to late-June and throughout the summer into early fall. And watch for peaches straight from the orchard starting in July. The farm also offers yellow and white nectarines, plums, apples, and pears from its orchards. Veggie offerings include heirloom tomatoes, squash, eggplant, okra, sweet peppers, and hot peppers.
If you want a close-to-the-farm feeling while you shop, Brook Lawn Farm Market is your place. Located at 2325 Lititz Pike, Lancaster, Pennsylvania 17601, Brook Lawn is open seasonally 10 a.m. to 5:30 p.m. Monday through Friday and 9 a.m. to 3 p.m. Saturdays. They are closed Sundays.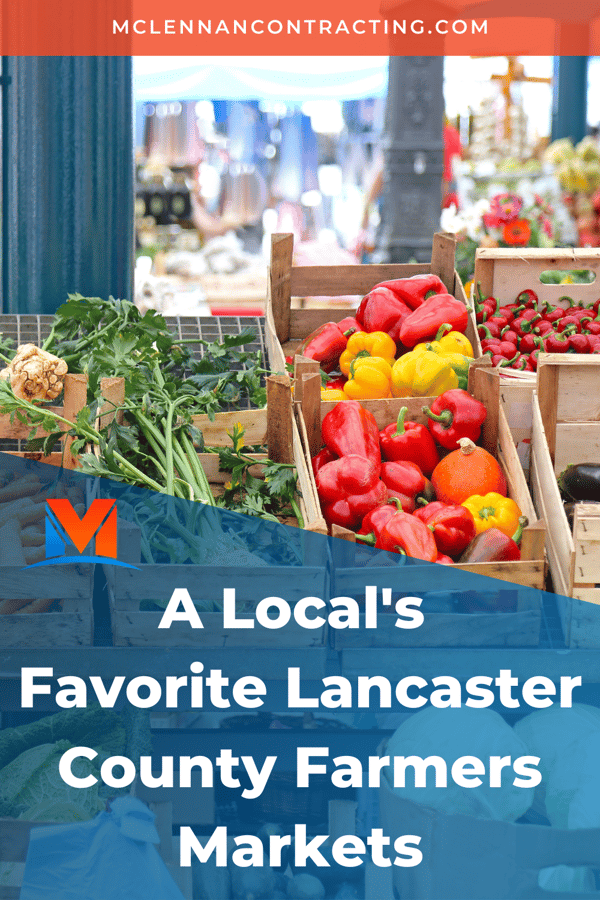 Lisa Bartelt is a freelance writer and substitute teacher living in Lancaster County with her husband and two kids. When she's not shopping local farmers markets, she's browsing the shelves at a local bookstore or reading on her porch. Her other passions include nature, coffee, travel and cheering on her kids' sports.