15 min read
34 Things to Do This Spring in Lancaster, PA [2022]
By: Amanda Witherow | March 22, 2022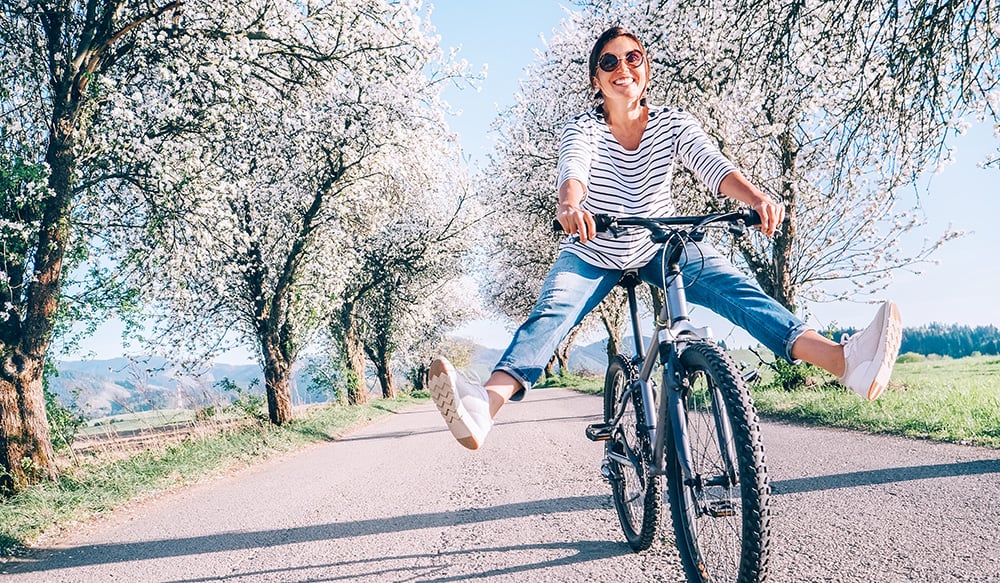 The snow has melted, the sun is shining, and birds are singing again. Spring has sprung in Lancaster, PA! If this season has you feeling rejuvenated, energized, and ready to shed that winter skin, we've got you covered.

Itching to get outside after a long winter? Lancaster is the place to be! From Easter celebrations and spring festivities, to miles upon miles of trails and adventure, you will have plenty of opportunities to soak up the fun.
To make your planning a little easier, we have compiled a list of activities and events that will be sure to keep you busy and enjoying this bird-chirping and sun-shining season!*
*Please confirm days and times on event websites in case of changes that may have occurred after this post's publication.
Opening Days
---
These Lancaster and Central PA area favorites open their doors soon!
Hershey Park - Springtime in the Park
April, 2-3, 9-10, and 15-17
Lake Tobias
Saturday, April 2, 2022
Dutch Wonderland
Saturday, April 30, 2022
Cherry Crest Adventure Farm
Saturday, May 28, 2022
Celebrate Easter in Lancaster
---
Egg-stra Special Easter Event
Kitchen Kettle Village
Enjoy a yummy meal, egg hunt, and meet the Easter Bunny.
This family friendly event includes:
Meal vouchers for use at the Harvest Cafe between 10am-5pm for lunch
VIP Egg Hunt only open to children 10 and under registered for the event
Photo opportunities with Yummy & the Easter Bunny. Don't forget your camera
Egg-citing Easter scavenger hunt for the kids throughout the Village
April 9, 15, and 16
9:00 a.m. - 10:00 a.m. OR 10:00 a.m. - 11:00 a.m.
Bunny Village and Egg Hunts
The Country Barn
Enjoy spring fun on the farm! The Easter Bunny will be visiting Barnyard Kingdom. You can meet the Easter Bunny and eat breakfast with him. Meet farm animals and experience farm festivities.
April 9, 10, 15, and 16
10:00 a.m. - 4:00 p.m.
Breakfast with the Easter Bunny seating times: 9:00 a.m., 9:45 a.m., 10:30 a.m.
Easter Egg Hunt
Terre Hill Park
Children ages 10 and under can enjoy this free egg hunt! Featuring thousands of candy and money filled eggs and even special prize eggs!
Noon – 2:00 PM – Visit with the Easter Bunny
12:30 – 2:30 PM – FREE Children's Face Painting by Joyful Canvas
1:00 PM – Start of Egg Hunts
2:00 PM – Easter Juggling Show by The DK'ers
Flashlight Hunt
Terre Hill Park
You don't want to forget your flashlight for this egg hunt! Children 11 years and older can hunt for eggs in the dark. These eggs contain candy and tons of special prizes including cash prizes, gift baskets, electronics, tasty treats, gift cards and more!
Saturday, April 16
8:00 p.m.
Easter Bunny Trains
The Strasburg Railroad
Take a ride through the beautiful farmlands of Lancaster county as the Easter Bunny as your conductor!
April 15, 16, and 17
Various times throughout the day
Spring Festivals in Lancaster
---
Clipper Stadium Spring Carnival
Clipper Magazine Stadium
Welcome spring with this 8-day event! Hosted by Penn Valley Shows, the carnival will include plenty of delicious food and treats, carnival rides and games, and fun for the entire family!
Thursday, March 31 thru Saturday, April 9 (Closed April 4 & 5)

5:00 p.m. - 10:00 p.m.

Sunday 2:00 p.m. - 8:00 p.m.
LAUNCH Music Festival
The Lancaster County Convention Center
Discover up-and-coming artists who might be the next-big thing. The Festival represents a variety musical styles - from rock to folk, from pop to punk, from country to funk.
There is also a conference featuring panels, seminars, parties, events and performances. This portion provides a unique opportunity for artists, music industry professionals and fans to meet, network and further their careers. From group panel discussions to direct one-on-one mentoring, artists are given ample opportunities to make long-lasting impressions and connections.
Pretzel Fest
Lititz, PA
Enjoy being outside in downtown Lititz with the Lititz Pretzel Fest. This festival Highlights the Lititz area's rich pretzel history. It will include more than 20 pretzel tastings and, along with beer and spirits beverage tastings, and music all around downtown Lititz.
Proceeds from Pretzel Fest will also fund other children's activities and charities, including Free Kids' Fun Day in Lititz Springs Park which will take place on Saturday, May 21, 2022 from 11:00 a.m. to 2:00 p.m.
Saturday, April 30
11:00 a.m. – 4:00 p.m.
Herb & Garden Faire
Landis Valley Farm Museum
Gardeners, come enjoy a faire just for you! The Faire offers heirlooms, natives, and other hard-to-find varieties to purchase from vendors.
Friday and Saturday, May 6 and 7
9:00 a.m. – 5:00 p.m.
Rhubarb Festival
Kitchen Kettle Village
If you enjoy rhubarb, this festival is for you! Taste delicious rhubarb foods, listen to live music, watch the World's Only Rhubarb Race Car Derby, participate in the rhubarb baking contest, and enjoy great shopping.
Friday and Saturday, May 20 and 21
9:00 a.m. – 5:00 p.m.
Flavor Fest
Mount Hope
Wine lovers rejoice! Enjoy sampling with over 25 wineries and distilleries. Shop with unique merchants of all types and grab a bite at one of the on-site kitchens.
Saturday and Sunday, May 28 and 29
11:00 a.m. – 5:00 p.m.
Strawberry Festival
The Country Barn
Celebrate delicious fruit at a festival dedicated to the strawberry! Enjoy live music, yummy food, barn animals, and so much more!
May 28 and June 4
11:00 a.m. – 3:00 p.m.
Lancaster's 6th Annual VegFest
Buchanan Park
Celebrate the plant-based lifestyle! This free event offers a wide selection of plant-based food, music entertainment, yoga, and kids activities.
Saturday and Sunday, June 4 and 5
12:00 pm. – 5:00 p.m.
Baby Animal Festival
Cherry Crest Adventure Farm
Spring has sprung and that means baby animals are being born at Cherry Crest Farm! Come and meet the new little ones!
Saturday, June 11
10:00 a.m. – 5:00 p.m.
BrewFest
Mount Hope
If you love beer, you won't want to miss this event! Enjoy tasting beer from a wide selection of breweries, as well as delicious treats!
Saturday, June 11
11:00 a.m. – 3:00 p.m. OR 4:30 p.m. – 8:30 p.m.
Unique Events in Lancaster
---
Spring Doo Wop Cavalcade
American Music Theater
Travel back to the 1950s and experience Doo Wop with Lou Christie, The Tymes, The Skyliners, The Elegants, and Special Guest Stars The Brooklyn Bridge.
Saturday, April 2
2:00 p.m. OR 7:30 p.m.
5th Annual Rails and Ales
Railroad Museum of Pennsylvania
The fifth annual craft beer tasting event is held inside the Railroad Museum of Pennsylvania. The event features craft breweries and food vendors.
Saturday, April 9
5:30 p.m. – 9:00 p.m.
Hands On Easter Macaron Class
The Golden Whisk
Have you ever wanted to learn how to make a macaron? Well, in this hands-on class you will learn the basics of macaron making. At the end of the class you will get to take home everything you make to share with your friends and family for Easter Sunday!
Saturday, April 16
9:00 a.m. – 11:30 a.m.
Antique Tractor Pull
Rough & Tumble
This free event is sure to be one that adults and children alike can enjoy! Channel your inner child and come out to the pulling track and watch antique and classic tractors compete in a tractor pull! Enjoy food from a food truck while you watch.
Saturday, April 23
8:00 a.m.
Day Out with Thomas
The Strasburg Rail Road
Join Thomas the Tank Engine and his friends when they return to the Strasburg Rail Road this spring! Thomas the Tank Engine will pull your 45-minute excursion ride through the beautiful Lancaster County countryside!
April 29, 30 and May 1, 2
Various times throughout the day
Annual Plant Exchange
Mary Oehme Gardens
Lititz Historical Foundation in conjunction with the Lititz Garden Club will hold its Annual Plant Exchange. April showers bring May flowers. So share your favorite plants at this plant exchange!
Saturday, May 1
1:30 p.m. – 3:30 p.m.
Picnic Tasting Tour
Kitchen Kettle Village
This self-guided culinary adventure will have you snacking, sipping, and strolling your way through Kitchen Kettle Village. This tour includes stops at participating restaurants, bakeries, and retail food shops in the Village.
Saturday, May 7
8:30 a.m. – 11:00 a.m.
Food Truck Friday/Summer Music Series
Shops at Rockvale
Come out and enjoy live music, games, and food and beverage trucks!
Friday, May 13
6:00 p.m. – 9:00 p.m.
The 3rd Annual Spring Show – The Heart of Lancaster Arts and Craft Show
Roots Country Market & Auction
Love arts? Love crafts? Love Roots? Then this event is perfect for you! The 3rd Annual Juried Art & Craft Show will feature artists and craftsmen from across the country.
Saturday, May 14
9:00 a.m. – 4:00 p.m.

Spring ArtWalk
Downtown Lancaster
Discover Lancaster through art! This self-guided tour through art galleries of downtown Lancaster will include special exhibitions, meet-the-artist events, children's activities and live demonstrations.
Saturdays, May 21 and 22
10:00 a.m. – 5:00 p.m.
69th Annual World's Largest Chicken BBQ
Long's Park
Enjoy great food and take in beautiful scenery at the world's largest chicken BBQ event! Hundreds of volunteers will be preparing over 15,000 complete chicken dinners! Stay, eat, and relax the day away in lovely Long's Park with the family! There will also be a Convenient Drive-Thru for those who would prefer to take their chicken dinner home.
Saturday, May 21
10:00 a.m. – 6:00 p.m.
Red Rose Run
Binns Park
Lace up those running shoes and soak up the spring sun during this 5-mile race through Lancaster City and County Park. The Red Rose Run also includes a kids fun run and wheelchair race. Proceeds from the run will benefit the Lancaster Central Market Trust.
Saturday, June 4
8:00 a.m. – 12:00 p.m.
Get Outside
---
Cold and gray winter days have you feeling cabin fever? If you're eager to get outside, take advantage of the spring weather and enjoy one (or many) of the numerous hiking or biking trails Lancaster has to offer.
Hiking Trails in Lancaster
Biking Trails in Lancaster
Adventure Explorations
Challenge yourself at Adventure Explorations!
Together the founders of Adventure Explorations wanted to create an environment helping people discover their full potential. "We realized we could be a bridge…creating those chance moments between people's discovery of their potential, of their possibilities and choices, and the freedom it creates."
Their adventures include hiking, climbing, kayaking, cycling, sporting clays, and fishing. They offer team building activities for school groups and corporate offices, and a "For Women, By Women" all-day adventure!
---
Ready, Set, Celebrate Spring in Lancaster!
We hope this guide to spring activities and events in Lancaster helps you and your loved ones enjoy this beautiful and rejuvenating season.
Download this free event calendar to make your planning easier!*
*Please confirm days and times on event websites in case of changes that may have occurred after this post's publication.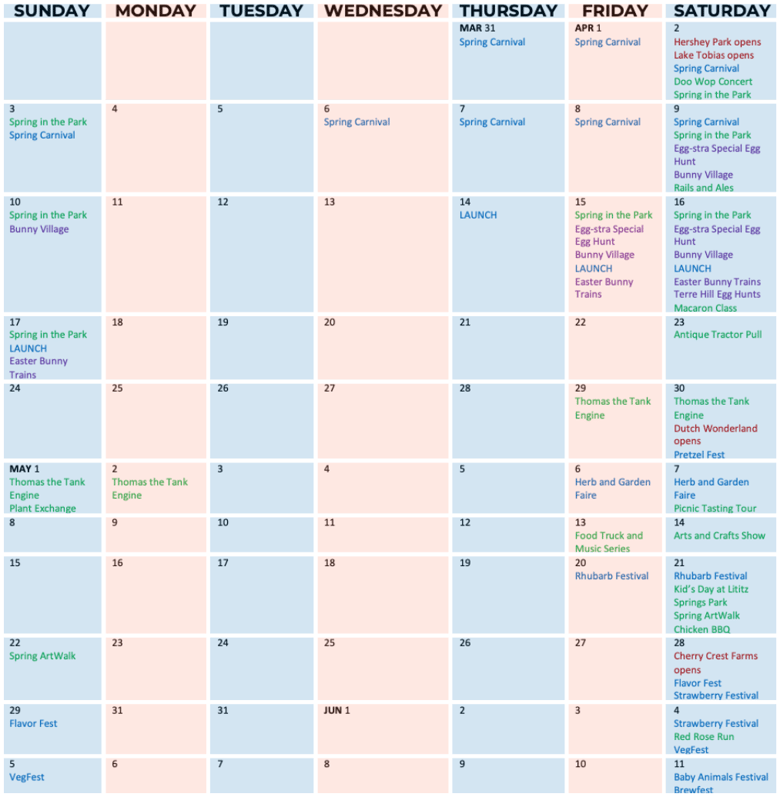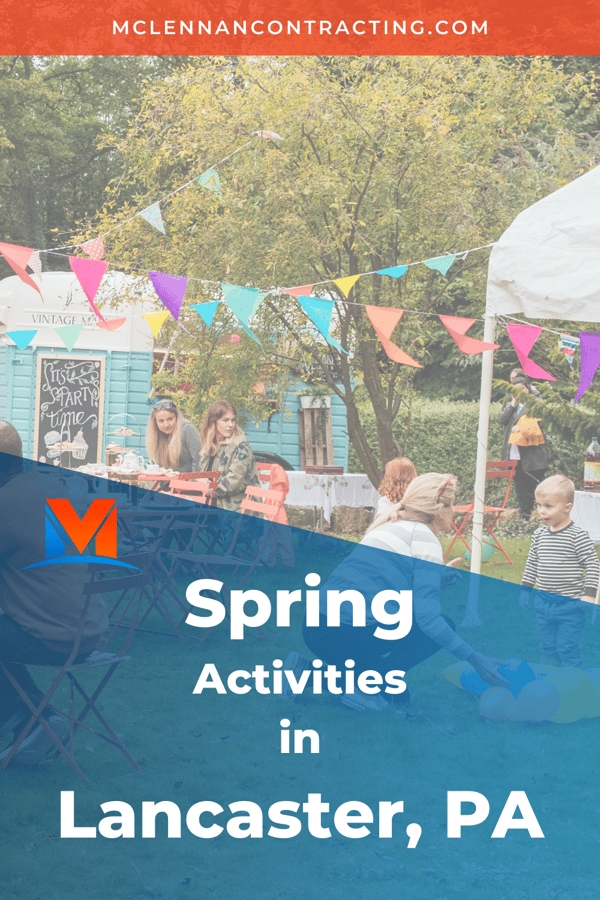 Amanda is the Marketing Coordinator at McLennan Contracting. She and her husband, Alex, have a son and one cat. (Hoping to add a dog to the family in the future!). Amanda is also a health and fitness coach and enjoys spending time in her gym. When she isn't working or working out, she enjoys going on family walks/hikes, reading, bingeing TV shows, healthy baking, adventuring to new parks with her little man, and watching him explore and grow.