7 min read
10 Countertop Materials to Consider for Your Lancaster Kitchen
By: Allie Brannon | May 4, 2023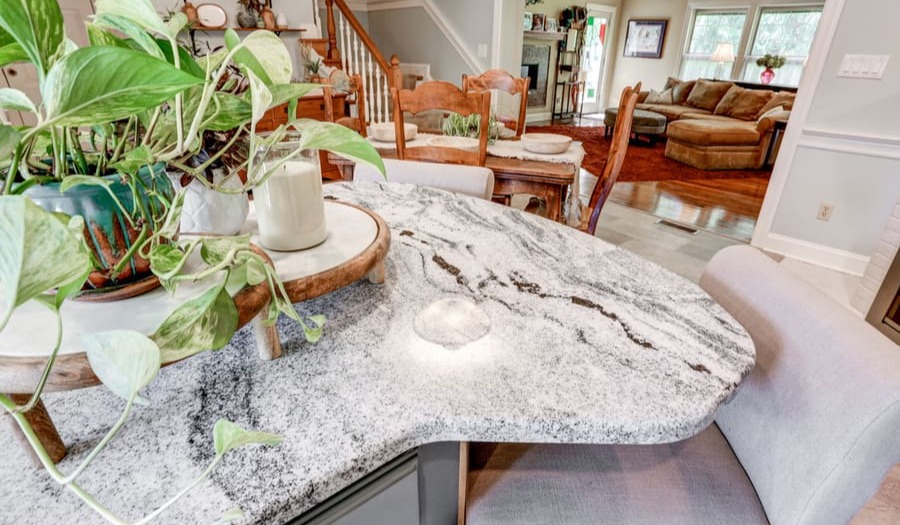 Remodeling your kitchen is an exciting process. A chance to replace outdated or worn-out elements with fresh, new designs that are just your style and make you happy: what could be better?
There are a lot of decisions that you'll need to make as you embark on remodeling your Lancaster kitchen, and one of the biggest is what type of countertop material is right for you. Next to cabinets, the kitchen counters are the biggest design element in your kitchen, and they affect everything from function to aesthetics to remodeling costs to resale value.
If you're feeling overwhelmed, we're here to help. Read on to learn about the pros and cons of ten popular types of countertops, and be confident in your ability to decide what's best for you.
#1. Granite Countertops
Always a popular choice, granite countertops are known for their durability and high-end look. They are sure to catch the eyes of realtors and prospective buyers and definitely raise your home's resale value. Granite countertops can be made of one large slab of granite, meaning it may be possible to have a seamless countertop. You can also choose modular granite countertops, which are made of large tiles of granite pieced together to form the surface of the counter. Granite (both slab and modular) does require some maintenance—it needs to be sealed periodically to protect the surface from stains.

Pros of Granite Countertops:
Durable and strong
Resistant to heat and abrasions
Lots of color choices available—no slab of granite is the same!
Popular among homeowners and raises the resale value of your home
Cons of Granite Countertops:
More expensive choice
Require regular sealing
Heavy and harder to install than other options
#2. Marble Countertops
Marble is perhaps the most beautiful natural stone for countertops due to its delicate and unique veining. It is relatively durable although it is softer than granite and more susceptible to scratches. Marble, like granite, needs to be sealed and maintained. It is a fairly expensive choice for countertops but is very popular and desirable.

Pros of Marble Countertops:
A high-end choice that raises your home's resale value
Every piece is different and unique
Resistant to heat, cracking, and breaking
Long-lasting
Cons of Marble Countertops:
Need maintenance
More expensive option
Vulnerable to scratches and staining
#3. Quartz (Engineered Stone) Countertops
Quartz countertops are made of 93-95% crushed quartz (and other stones sometimes) and 5-7% resin. A quartz countertop is harder than granite and more durable, although it is not nearly as heat-resistant. It does not require sealing or other regular maintenance, and it is easy to keep clean. Quartz comes in many colors—the most popular are white, gray, and black—and can even be designed to look like marble.

Pros of Quartz Countertops
Easy to maintain (no sealing required)
Non-porous, so they're resistant to mold, mildew, and bacteria
Many colors and styles are available
Less expensive than granite and marble, but still give the stone feel
Cons of Quarts Countertops
Not heat-resistant—always use trivets or potholders!
Lighter colors can yellow after years of direct sunlight, and darker colors may fade
Not completely scratch-resistant


#4. Soapstone Countertops
Soapstone countertops are a unique choice in that they develop a beautiful patina over time. Because of their high talc content, they have a warm, milky look that complements many kitchen designs. Generally found in shades of gray leaning toward blue or green, soapstone can also come in black or white. It has beautiful veining that is more subtle than that of marble. Soapstone is softer than granite and can be scratched pretty easily. The good news is that scratches can usually be removed with either mineral oil or light sanding.
Pros of Soapstone Countertops
Come in unique natural colors and patterns
Develop a lovely patina over time
Non-porous, so they're resistant to stains
Can withstand heat
Cons of Soapstone Countertops
More high-maintenance than some other choices. Need to be treated with mineral oil once per month over the first year to aid in the development of the patina
Surface is vulnerable to scratches
Takes time for the patina to develop
#5. Tile Countertops
One of the most affordable options, ceramic tile can be a good choice for countertops. It's durable, impervious to stains and heat, and comes in countless colors and designs. On the minus side, it can be hard to keep the grout lines clean, and it also doesn't help your resale value as some prospective buyers may find it too hard to maintain.
Pros of Tile Countertops
Come in lots of colors, styles, and patterns
Durable and heat-resistant
Inexpensive
Can be a DIY project, easy to install


Cons of Tile Countertops
Hard to keep the grout lines clean
Grout may need to be resealed sometimes
Do not add to the resale value of your home
Tile is brittle and can crack


#6. Solid Surface Countertops
Solid surface is a material originally designed to mimic the look of stone countertops. Made of acrylics, polyester, and resin, the solid surface is shaped into slabs for countertops. They're easy to maintain and clean, and they come in more colors and patterns than just about any other type of countertop. Solid surface countertops can be installed with no seams, and can also be designed with a sink integrated into the countertop. These countertops do not resist heat and can sometimes crack, but overall, they hold up well.

Pros of Solid Surface Countertops
Lots of different colors and styles (can mimic stone or be colored)
Resistant to staining, easy to clean and maintain
Seams (if there are any) are basically invisible
Affordable option
Cons of Solid Surface Countertops
Vulnerable to heat damage and scratches
Can be dented
Seen as a less-desirable option by prospective buyers


#7. Wood Countertops
Wood has always been a popular choice for countertops. It is an eco-friendly option that will last a long time and look more beautiful with age. Wood complements many kitchen designs and styles. It definitely needs upkeep, though. Because wood is an organic, porous material, it needs refinishing and sealing to keep it from harboring bacteria or becoming damaged by water. With care, wood countertops can add warmth and life to your kitchen.

Pros of Wood Countertops
"Green" option, especially if reclaimed wood is used
Beautiful and warm
Durable and long-lasting
Cons of Wood Countertops
Must be oiled and sealed regularly and may need to be refinished sometimes
Vulnerable to stains
Can harbor bacteria, mold, and mildew because of the porous surface
#8. Laminate Countertops
Once seen only as a budget option, laminate countertops are slowly making a comeback as they are being constructed out of higher-quality, better-looking materials. Laminate countertops are made of particle boards, plastics, paper patterns, and resins. The products are melded together using heat and pressure to form a fairly thin board that is glued to a wood substrate to make the countertops. Laminate comes in a variety of colors and designs, some of which look like granite or marble. Laminate is affordable and easy to maintain, but it will not raise your home's resale value.

Pros of Laminate Countertops
Inexpensive, durable option
Lots of colors and styles to choose from
Easy to clean and maintain
Resist mold and mildew and scratches
The newer laminates look better than ever

Cons of Laminate Countertops
Laminate is notorious for peeling
Not heat resistant
Susceptible to scratches and denting
Don't help your resale value

#9. Concrete Countertops
Not just for ultra-modern kitchens, concrete countertops can be made to look at home in just about any space. You can choose from many different colors, from the traditional gray to terra cotta, navy, black, brown, and more. There's even the option of embedding pieces of glass or metal into the concrete for texture and to add interest.
Because it is poured into molds, concrete countertops can be made in just about any shape and design to fit your kitchen perfectly. Concrete is durable, but it does require a fair amount of maintenance, needing to be resealed regularly. It's also very heavy and may require that your floors and lower cabinets be shored up.
Pros of Concrete Countertops
Heat and scratch resistant
Can be molded to fit any size and shape of kitchen
Countless options in terms of color and design
On-trend and will raise your home's resale value
Cons of Concrete Countertops
More expensive option
High maintenance, requiring resealing regularly
Can crack if the house settles
The sink needs to be supported on a frame so the weight isn't on the countertop


#10. Stainless Steel Countertops
While stainless steel kitchen countertops used to be seen only in industrial kitchens, they're becoming more and more popular at home. They are functional, durable, easy to care for, and they look great. Stainless steel is another on-trend option that you may love in your kitchen. It is more expensive and, while it generally cleans up like a dream, it can stain if a spill is left too long. Overall, it's a great choice for countertops.

Pros of Stainless Steel Countertops
Impervious to heat
Durable and easy to clean
Resist mold, mildew, bacteria, and stains
Stylish, clean look
Cons of Stainless Steel Countertops
Can be scratched or dented
May show fingerprints and watermarks
Can stain if a spill is left too long
More expensive option


We hope that reading through this information has helped you narrow down your countertop choices for your Lancaster kitchen remodel. Check out our kitchen gallery page for more ideas and inspiration.
If you find yourself needing expert help, here at McLennan Contracting we have professional designers ready to listen to your wants and needs and help you make the best decision for your kitchen. If you're ready to begin the process, if you're wondering how much a kitchen remodel in Lancaster costs, or if you have any other questions, contact us today. We'd love to help you transform your kitchen into just what you want it to be.
Allie Brannon is a copywriter and content writer specializing in the remodeling and building industry. She is also a pastor's wife and a homeschooling mother of five. In her free time, she can be found sitting outside with a good book and a cup of coffee, learning to garden, or taking a walk with her family or a friend.