10 min read
A Local's Guide to Lancaster's Lovely Coffee Shops
By: Claire Widmer | May 14, 2022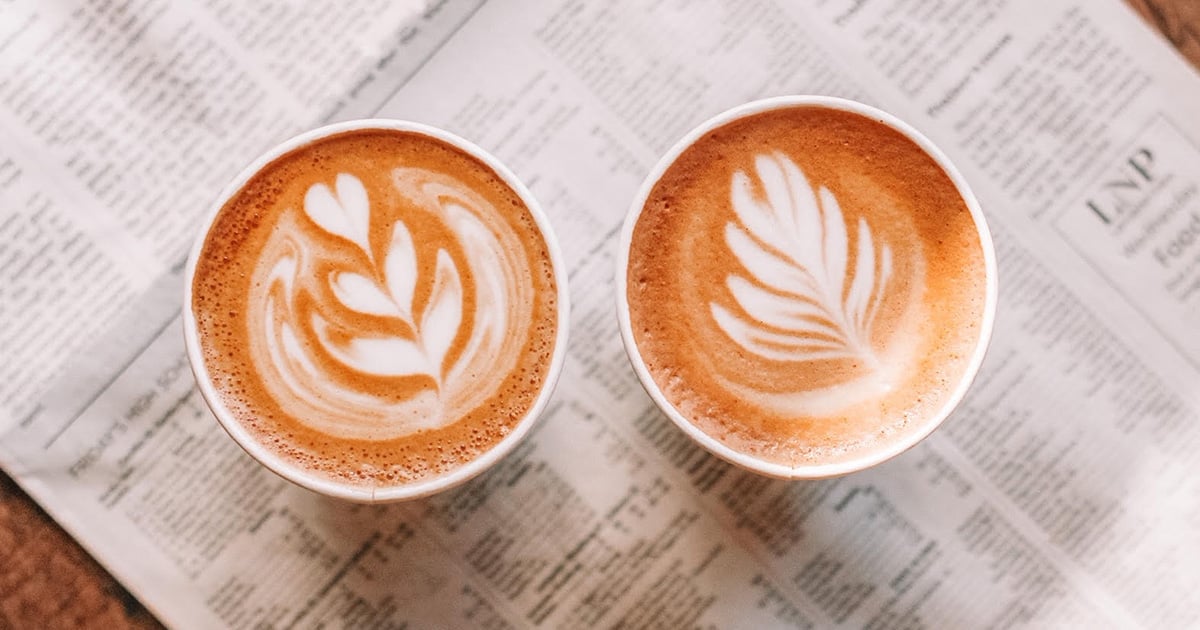 If you're anything like me, your day can't truly begin until you have your morning cup of coffee (or 2 cups… or 3…). And what's better than coffee? Why, coffee that you don't have to make yourself!
Here is our roundup of Lancaster County's most flavorful, unique, and charming coffee spots. Use the key below to check out which shops are perfectly suited for your needs!

Lancaster Coffee Shops
Square One Coffee Roasters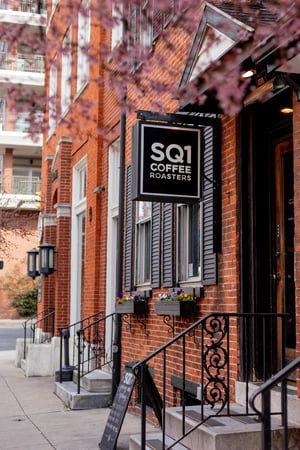 Located in the heart of downtown, Square One is one of Lancaster city's most celebrated coffee roasteries. A popular hang out for studying or just lounging with friends, Square One offers baked goods from local bakers, and some light lunch options. One of their standout features is their charming "secret garden," where their outdoor seating is located off the back of the building. They also offer barista classes at their roastery location (also in downtown Lancaster) where you can learn the art and science of the perfect brew.
Passenger Coffee & Tea Showroom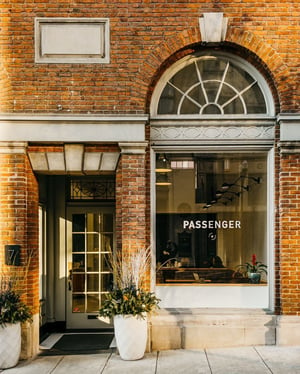 Passenger is located smack dab in the center of downtown, right next to Central Market. Although their menu might seem small at first glance, Passenger has simply found its niche. With its own dedicated roastery, Passenger does the basics, and it does them perfectly. They feature over 30+ blends that celebrate the best and most innovative coffee producers from around the world.
Extremely eco-conscious, the minds behind Passenger have also started a sister brand, Necessary Coffee, that focuses on ensuring sustainability by featuring more approachable coffee blends, which often make up the biggest portion of coffee producers' stocks and income.
With their beautifully minimalist decor and wide, sunny windows, Passenger is the perfect spot to savor a cup of exceptional coffee.
New Holland Coffee Shops
New Holland Coffee Company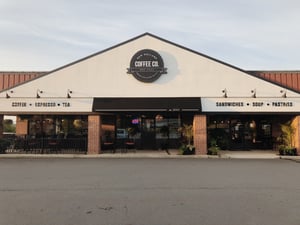 New Holland Coffee Company's goal is to be a gathering place for their community, and they've certainly achieved that. Their cafe's urban industrial style still manages to be cozy and inviting, and the lush plants scattered throughout add to the ambiance.
Although it specializes in coffee, New Holland Coffee Company also offers a hearty brunch menu, along with some light lunch offerings. If you're in a hurry, you can utilize their convenient drive-through. They even have a mobile coffee truck that you can schedule for catering and events. With easy parking and ample seating, this is always worth a visit.
Locations:
New Holland, PA
Lancaster, PA
Coffee Co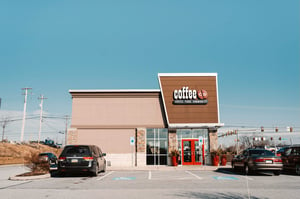 Already a staple in Lancaster with its full-service dining options and specialty drinks, some people are surprised to learn that Coffee Co also has a New Holland location. However, this location has a charming tradition that makes it a true jewel. Beginning as a way to adhere to Covid guidelines, from 5:00-10:00 p.m. during the summer months, Coffee Co's New Holland location turns into a block party's dream. Their "CoffeeCo@Night" events feature gourmet hot dogs, tacos, and myriad ice cream offerings, all of which you can enjoy at the picnic tables or lounging around the cozy fire pits.
Locations:
New Holland, PA
Lancaster Shopping Center
Lititz, PA

Mill C

r

eek Squa

r

e
Strasburg Coffee Shops
Speckled Hen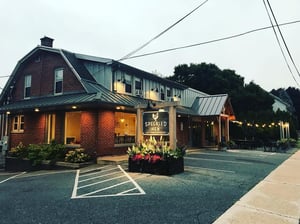 Nestled in a street of historic houses, Speckled Hen truly lives up to its charming name. It features full service dining and is a popular spot for meetings, lunch dates, and group hangouts. They pride themselves on being fresh, local, and simple, and boast an impressive list of local suppliers.
Speckled Hen is one of few shops of its kind that consistently delivers both excellent craft coffee and delicious artisan food, which is one reason the McLennan team has asked them to cater several of our company events.
Rumor has it that Speckled Hen will also be partnering with Bespoke Brewery to turn its upper floor into a dedicated taproom. Perhaps espresso martinis will be in the future? Either way, Speckled Hen is clearly on the move, and is the place to watch for a marriage of good food and innovative drink offerings.
Latte Luv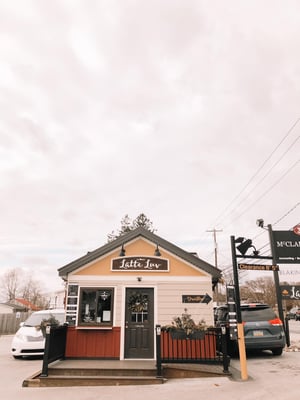 A smaller chain that has two locations, Latte Luv is a Christian company that specializes in exceptionally friendly and speedy service. Their main location in Paradise is a drive-through location that features their full coffee menu and light pastries. You can find their second location in Strasburg Marketplace, where their coffee pairs perfectly with fresh doughnuts, hand-dipped ice cream, or a treat from the chocolate counter. You can even grab an easy meal from the deli on the other side of the store.
With a charming indoor and outdoor seating area, and located conveniently across from extensive antique shops, Latte Luv is an underrated gem in Strasburg that is the perfect start to any day, and I will always be a sucker for their iced salted caramel latte (with an extra shot, of course).
Locations:
Str

asb

urg Ma

r

ketplace

Paradise, PA
Strasburg Creamery, Cafe, & Country Store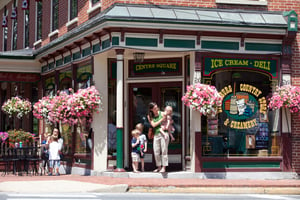 A pillar in the community, the Strasburg Creamery, Cafe & Country Store lives among the Strasburg Shoppes at Center Square, which markets itself as a 'town within a town'. The Creamery and Cafe combines the charm of an old time country store with diner-style fare, and showcases ice cream and waffle cones that are made fresh on-site, using all local dairy products.
After you enjoy your brew, you can wander the shoppes, which include a winery, a bakery, various arts and antiques, and an historic inn to stop at after a long day. A major tourist attraction of Strasburg, the Cafe offers a full breakfast and lunch menu during the on season, and limits it to just lunch during the off season. But, if you're willing to brave the cold, the charming atmosphere makes it an excellent stop during any month of the year.
Lititz Coffee Shops
Copper Cup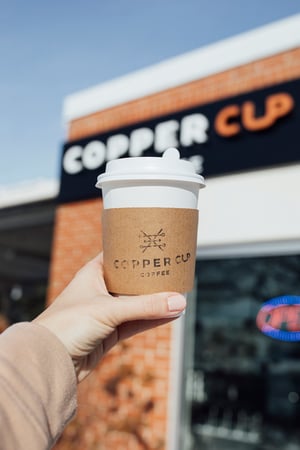 Copper Cup is a refreshing, minimalist oasis in our coffee roundup. It carries all the usual favorites, plus lots of creative and trendy flavors, such as vanilla rosemary and white lavender. They offer pastries, light lunch options, and a convenient drive through window for on-the-go customers. Their industrial chic interior is the perfect spot to snap a quick pic for the 'gram, or to savor your brew with a good book.
Locations:
Dosie Dough

A family-owned business, this unique spot was founded to provide hard-to-find European-style baked goods and soon became well known for their bread and bagels. What started as a bakery stand at the Shillington Farmers Market became a full-blown store with not one, but two locations and grew to offer coffee, lunch, and even Achenbach's donuts.
All of their freshly made wares are a welcome complement to their excellent coffee, and their bustling store serves both breakfast and lunch all day. Due to Covid impacts, they have converted their store into a walk-up/take-out style service, so grab a bagel and a cup of joe from their take-out window, and enjoy your day on their lovely patio.
Locations:
Lititz, PA
Wyomissing, PA
Tomato Pie Cafe

One of the heartiest options on our roundup, Tomato Pie Cafe is a full service dining experience, with a wide selection of sandwiches, salads, and burgers to complement their brunch menu. The shining star is their Tomato Pie, which is described as "seasoned red tomatoes… baked in a flaky pie crust, covered with a rich cheesy topping." This spot is the perfect place to spend a sunny afternoon out on the porch or patio—they have lots of outdoor seating to go around—and with plenty of homestyle, vintage charm, the atmosphere is as pleasingly eclectic as their menu is.
Locations:
Lititz, PA
Harrisburg, PA
Elizabethtown Coffee Shops
EVO 206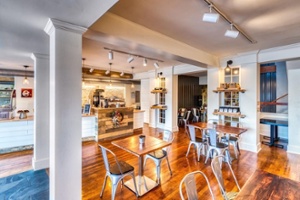 A 10-minute walk from Elizabethtown College sits The Hub on Market. More commonly known as just The Hub, this space houses office space, boutiques, and spas, but most notable to us is EVO 206.
Meant to be the perfect hangout spot for businessmen and students alike, EVO 206 offers light brunch options and a variety of coffee in a cool, industrial barn setting. If you feel like staying on the move, take your coffee to go and wander next door to Whirligig Unique Boutiques, which houses arts and wares from over 70 local artists, or plan your visit during the 2nd Friday of the month, when all of the tenants at the Hub do special events and give-aways.
Elizabethtown Public Library & Coffee Company
Catering to the classic pairing of coffee and a good book, the Elizabethtown Public Library is home to Elizabethtown Coffee Company, a coffee shop that highlights countries around the world and U.S. states through their World Cafe program. Each month, the country/state that is featured inspires the specialty drink menu. You can pick up a free craft and recipe card from that place's culture, and they have recommendations for further reading about their featured location. In addition, the library's event calendar is always packed full of interesting activities for all ages. Personally, this sounds like heaven on earth, and definitely worth a special trip.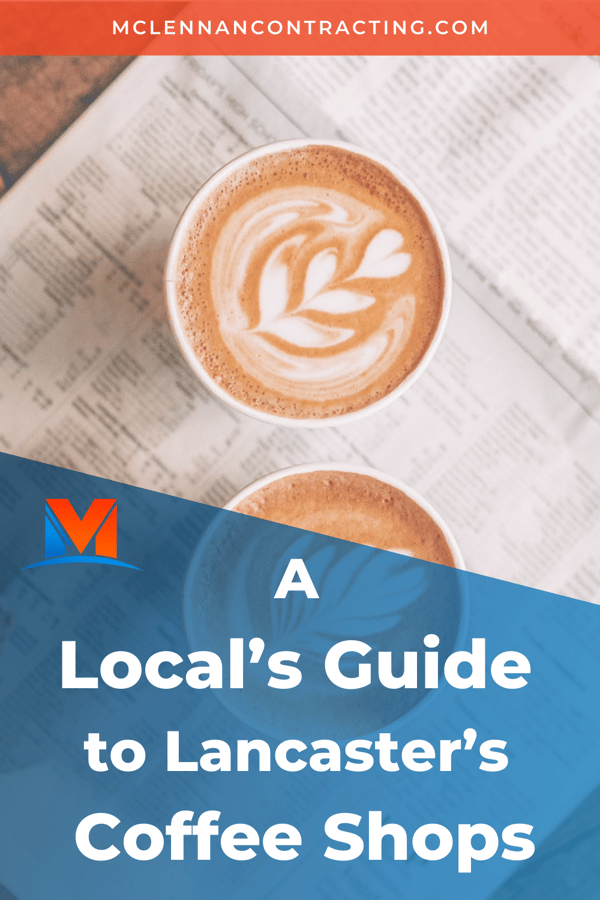 Claire is the Office Coordinator at McLennan Contracting, and is the voice behind the phone and the live chat! A transplant to Pennsylvania, when Claire is not at the office she is working on one of her own remodeling projects, reading, or playing with her cat, Pickles.