8 min read
Make Any Room Look Better With These 9 Things
By: Allie Brannon | November 4, 2023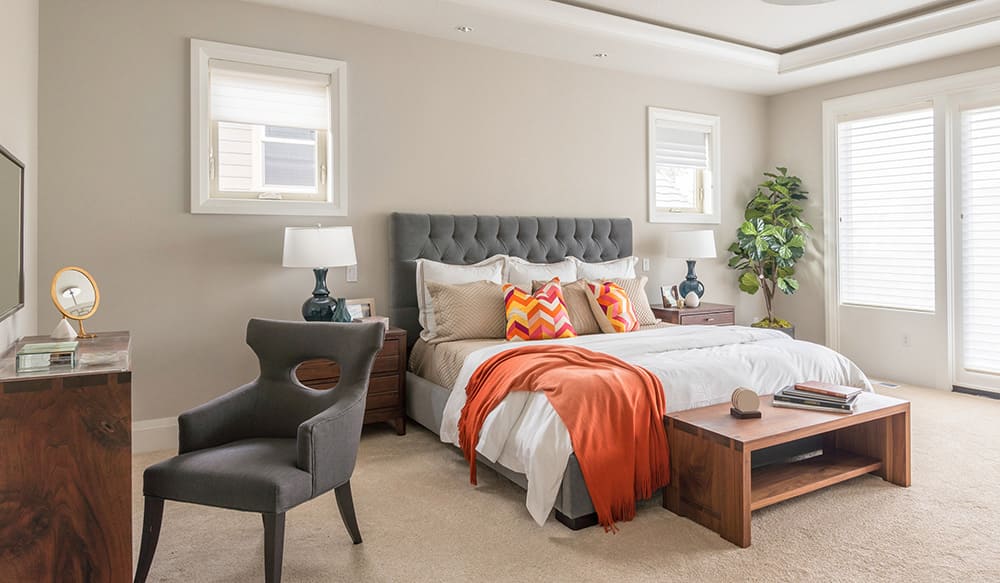 Is your home feeling stale, tired, or uninspiring? It can be easy to start dreaming about big changes you'd like to make: taking out walls, replacing floors, adding on extra space. But if the time isn't right for you to undertake a full remodeling project, there are still things you can do to breathe life back into your home right now.
Read on for nine great ways you can improve, update, and refresh your home without remodeling.
#1. Quiet Your Space
When it comes to making your home feel fresh and new, there's nothing like a good old-fashioned decluttering session. When we live in a space for a while, we stop noticing things: that pile of papers on the corner of the desk, the way the knick-knacks on the mantle have multiplied.
Quieting a space means taking everything that isn't large furniture out. Store it for a few hours or days in another room. Give your space a quick cleaning: sweep and dust. Then spend some time in there with a mug of hot tea or a glass of lemonade, and enjoy the simplicity. Remember what you like about the room. Then slowly add back in your possessions: lamps, artwork, small furniture, plants, decor.
Stop when it feels like enough, and give away or find another place for the items that didn't make the cut.
#2. Give It a Deep Clean
Any time a room is sparkling clean, it will feel new and appealing. Start at the top of the room and work your way to the bottom. Clean your fans, walls, baseboards, and floor. Wash windows, dust, and vacuum. Use an upholstery cleaner on your couch and rug. Clean doors and door knobs. Wipe down cabinets and clean out appliances. Then sit in your newly cleaned space and enjoy it!
#3. Think About Color
— Paint the Walls
You've heard it before: painting a room is one of the easiest and least expensive ways to make a huge impact on your space. You can freshen up a dark room with white or cream, or add drama with a darker color like green or blue. If you're not up for a whole-room repaint, consider painting an accent wall something fun, dramatic, soothing, or complementary.
— Consider Your Color Palette
When you think about the colors in your home, keep the 60-30-10 rule in mind. Designers use this formula to help create a cohesive color palette for a space. Basically, 60% of the room (walls, flooring, carpet, furnishing, decor) should be your primary color. Your secondary color makes up 30%, and the last 10% is a contrasting or accent color. So if your walls are gray and your area rug is gray, your couch and an accent chair could be navy blue, and you could add terra cotta throw pillows and ceramic lamps.
— Remember the Front Door
One of the best, easiest, and most impactful ways to update your home is to paint the front door. It raises your home's curb appeal and freshens up a tired porch or front stoop. What color should you paint it? You can paint it the same color as your outside trim, or—even better—a contrasting color that adds interest and depth to your home. In general, if the materials surrounding your door are light, paint it a dark color, and vice versa.
You can go with a classic neutral like gray, black, or white. Deep red and navy blue are also often considered neutrals for front doors. Or you can use a fun, playful color like yellow, teal, or even burnt orange. For a very classy, minimal look, you can stain your front door instead of painting it. A freshly painted or stained door will make you smile every time you see it.
#4. Refresh Your Window Treatments
Think of your window treatments as the frames for the most valuable piece of art in your home: the view and light from your windows. If your drapes, curtains, or blinds are dated and need replacing, you'll be surprised by how much changing them out freshens up your home.
What does your room need? Use contrasting colors or eye-catching patterns if you want your window treatments to stand out, or use neutrals and solids to soften the room without adding visual clutter.
If your view isn't great or you want more privacy, you can always use sheers to make the room feel finished and warm without blocking the light.
Hang your curtain rods high and wide to make the windows look bigger and the ceiling look higher!
Don't hang artwork or place lamps until your window treatments are done–this helps you get the placement right.
Remember, you have so many options. You can use curtains, blinds, Roman shades, heavy drapes, sheers—whatever look you want that fits in with your aesthetic.
#5. Add Texture
You've heard people say that every room needs texture. Texture refers to the way an object looks and feels—soft, woven, nubby, velvety, shiny, and so on. A variety of textures in a room makes it feel finished and complete. It can make the difference between a sterile, showroom feel and a curated, lived-in, homey feel. Look at each room in your home and see if texture is what you need in order to make it feel updated and cozy.
Include layers of texture in each room: throw pillows on the couch or even on barstools in the kitchen, soft blankets draped over the arm of the chair by the window. Use contrasting fabrics—both colors and textures—in your space. Adding soft textiles is always a great way to freshen up a space.
Use accessories as a way to incorporate texture as well. You can include woven baskets and rattan end tables, metallic frames or candlestick holders, or mercury glass vases.
Don't forget plants and flowers! Adding living plants is one of the best ways to freshen up a space, add texture, and increase your enjoyment of your home. As a bonus, many plants improve the air quality in your home, removing toxins and releasing oxygen. They also help control the humidity inside your home. Consider these easy-to-grow, beautiful options:
Snake plants
Monstera
Spider plants
Boston ferns
Pothos
Spider plants
English ivy
#6. Focus on Artwork
— Choosing
Does choosing and hanging artwork in your home intimidate you? It doesn't need to. For each room, think about the feeling you want to convey. For example, relaxation in the bedroom, connection in the living room, and playfulness in the kitchen. Choose art that you love, that gives you that feeling. Or choose art that connects to a meaningful memory. The bottom line is that you should love the art in your home. And photos count as art! Consider a grouping of a few, large, black-and-white photos of people you love, in matching frames.
— Measuring
Make sure you measure the space! You can mark out a rectangle with painter's tape over your couch or bed to see what size of art you want to hang there. The bigger the art, the bigger the statement you will make. In general, it's better to go bigger. One large frame hung on the wall will almost always look better than several smaller ones. But if large isn't in your budget, you can still get the wow factor with several smaller pieces. Just make sure that they "read" as one piece by using a cohesive color scheme and hanging the frames close together.
— Hanging
Hang it lower! One of the most common mistakes in home decorating is hanging the art too high. The center of the piece of art should be at eye level for the average person–and lower if it's over the couch. If in doubt, lower it a few inches.
#7. Change Up the Lighting
Virtually nothing contributes to the feel of a room more than lighting. If your room needs a refresh, consider whether changing the lighting will help you accomplish that goal. Every room should have a few different types of lighting available, giving you the ability to use different combinations as desired. You should try to incorporate:
task lighting: focused, bright lights that make it easy to see what you're doing. Examples of this include a desk lamp in your home office, pendant lights over the kitchen island, and bright lights next to your reading chair.
ambient lighting: general lighting that reaches the whole room. This includes overhead lights and recessed lights. When you walk into a room and flip the wall switch, you turn on the ambient lights, and you expect even lighting throughout the room.
accent lighting: softer lighting that brings attention to parts of the room you want to highlight. This includes lamps, cove lighting, and lights above artwork. When you want a room to be cozy and quiet, you turn on the accent lighting.
When you use different combinations of these lights, you're able to layer the lighting in a room, creating depth and beauty as light and dark work together. You can use lighting to make a room feel energizing or calming, ready for a party, or ready for relaxation. If your space is missing one or more types of lighting, adding them will give it an instant facelift.
#8. Involve All the Senses
So far, we've talked about ways to appeal to your sense of sight (artwork, lighting, texture) and touch (texture, comfort). But considering all the senses when refreshing your home can take it from "almost there" to "perfect." This is called sensory design, and it involves appealing to more than one sense in your home.
Use good candles to add both movement and visual interest and to appeal to the sense of smell. As a bonus, use candles with wood wicks so you can hear them crackling. There are other ways to appeal to the sense of smell: diffusing essential oils, simmering a pot of potpourri on the stove, bringing in freshness with living plants or flowers, and even cookies in the oven or soup on the stove add to the homey feel.
Make some playlists for different types of moods and play them throughout your home. There's nothing like dance music to motivate everyone to take on a cleaning session. And quiet background instrumentals might be the missing element in your family dinners.
Using food items in your home decor appeals to the senses of taste, smell, sight, and touch. Have a basket of fruit on the kitchen island, or pretty wrapped chocolate in a bowl on the coffee table. Consider putting together a coffee bar on one counter in the kitchen. Use potted herbs to line your kitchen windowsill.
The more your home appeals to all five senses, the more it will feel fresh and intentional.
#9. Fill It with People
Your home is not an end in itself. It's meant to be used—for you, your family, and your friends. Don't wait until your home is perfect to begin using it. Pull out the good dishes for pizza night on Friday. Light your favorite candle when it's just you home alone. Invite the neighbors over even if your living room couch is old and lumpy. Homes are meant to be lived in, to hold memories as well as possessions. And people care more about how your home makes them feel—welcome, enjoyed, loved—than how it looks. So while you continue to improve your home and make it everything you want it to be, enjoy filling it with people now—don't wait until it's perfect.
All these tips will move you closer to the home of your dreams—without a remodel. You can make significant changes to how your home looks and feels by following these steps!
But if you're ready to take it further, our designers and builders are ready to help. We can help you remodel your kitchen, bathroom, basement, and more. We'll walk you through the whole process, from vision to plan to construction to completion and help bring your dream home to life. Contact us today to get started.
Allie Brannon is a copywriter and content writer specializing in the remodeling and building industry. She is also a pastor's wife and a homeschooling mother of five. In her free time, she can be found sitting outside with a good book and a cup of coffee, learning to garden, or taking a walk with her family or a friend.