5 min read
A Local's Guide to the Best Bakeries in Lancaster
By: Lisa Bartelt | October 3, 2023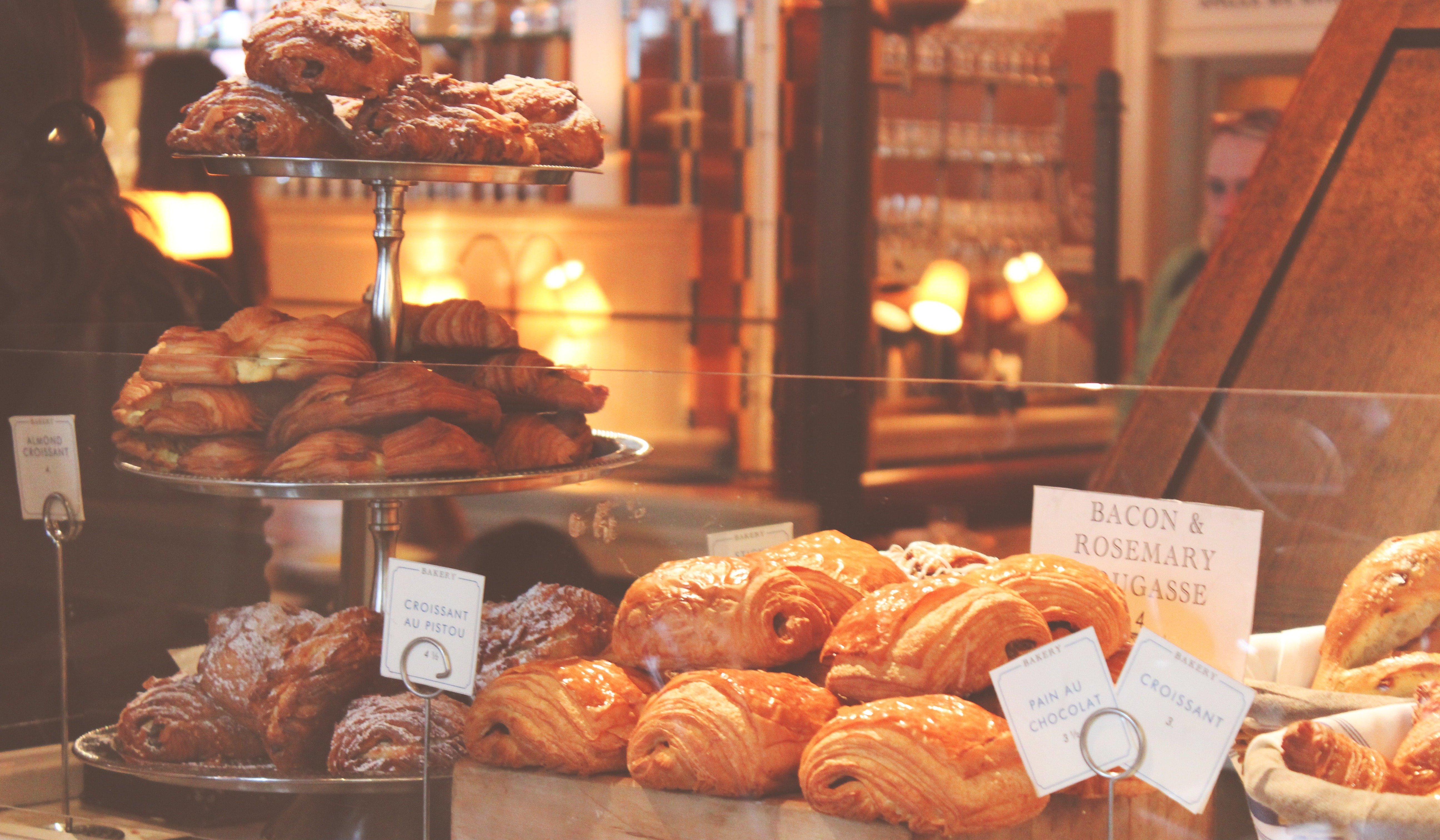 Since its colonial days, Pennsylvania has been part of the "breadbasket" of America due to its fertile soil and rolling farmland. Lancaster County's abundance of freshly baked goods contributes to that moniker, whether we're talking about the neighborhood bakeries throughout Lancaster city or Amish bakeries in the surrounding countryside.
It's nearly impossible to compile a list of bakeries in Lancaster County that doesn't leave someone out, so if your favorite bakery doesn't get a mention here, it's only because there are so many to choose from!
To keep this list manageable, I've grouped Lancaster County bakeries into three categories: breakfast, bread, and dessert. Consider this your jumping off point for exploring the local baked goods scene.
Best Lancaster Bakeries for BREAKFAST
Breakfast is my favorite meal of the day, and while I don't always love a sweet treat that early in the morning, I have been known to eat a donut or pastry on occasion. Like National Donut Day.
Our family celebrated this year by getting donuts from Achenbach's Pastries in Leola. Eating a long john from Achenbach's is a rite of passage for anyone living in Lancaster County, and while that particular baked good is what they are known for (you can even get a long john cake for a special occasion!), we ordered a variety of cake donuts for National Donut Day. They were light and airy, delicious and affordable.
If you can't make the drive to the bakery at 375 E. Main St., in Leola, you can pick up an Achenbach's Long Johns at the Marley's Country Goods stand at Lancaster Central Market, 23 N. Market St., in Lancaster City on Tuesdays, Fridays and Saturdays. (Bring cash if you plan to shop there.)
One of the best breakfast sandwiches I've ever had came from La Dolce Vita Courthouse Bakery, which as its name suggests, is across from the courthouse at 9 N. Duke St. in Lancaster City. My sandwich came with eggs, spinach, and feta on a fluffy croissant and the whole experience was delightful. Other options include breakfast meats like sausage or bacon with eggs and cheese on a choice of bagel, croissant, or roll. The list of pastries this Italian bakery offers is mouth-wateringly long and just the word "cannoli" makes me want to head down there for an afternoon treat.
And speaking of internationally-inspired bakeries, Barberet Bistro and Bakery, also in the city, at 26 E. King St., delivers French baked goods such as pain au chocolat, macarons, eclairs, and decadent pastries like the Napoleon, which has caramelized puff dough layered with vanilla cream and topped with dark chocolate whipped cream. Chef Cedric Barberet recently was honored by the Academie Culinaire de France for promoting French culinary culture in the United States.
Best Lancaster Bakeries for BREAD
But bakeries aren't just about breakfast. Whether you're looking for a baguette to accompany a meal, a homemade loaf that can hold up a hearty sandwich, or a savory snack, Lancaster County bakeries have you covered.
Thom's Bread is one of the more visible bakeries. You'll often find them mentioned on the menu at local eateries with products available at some local groceries as well. The bakery itself is at 113A Butler Ave. in Manheim Township, just outside of the city. They also have a stand at Central Market. Some of the favorites here are the waffles (already baked, just toast them and enjoy!), kalamata olive bread, and tomato pie. Thom's offers bagels, pizzas, and sandwiches as well as beautiful loaves of bread for any occasion.
Ric's Bread is another staple of the bakery community in Lancaster. At its stand at Central Market and its storefront bakery around the corner at 24 N. Queen St., Ric's is continuously offering up unique and seasonal twists on classic favorites. Some of my personal favorites include the raspberry bread and the pretzel bread. And our family usually walks away with 4 muffins every week and rarely in the same flavors as the week before.
Best Lancaster Bakeries for DESSERT
If an Achenbach's Long John for breakfast is a rite of passage, then so is a whoopie pie for dessert. A traditional Pennsylvania Dutch treat, whoopie pies can be found at most farmers' markets and grocery stores in the county as well as at places like The Bird-in-Hand Bake Shop at 542 Gibbons Rd. in Bird-in-Hand (not to be confused with The Bird-in-Hand Bakery and Cafe). Here, whoopie pies come in a variety of flavor combinations (I'm a fan of chocolate with peanut butter icing). The bake shop also boasts that it has the best shoo-fly pie in Lancaster County. Here you can also find cookies, cakes, pumpkin roll, sticky buns and a selection of gluten-free baked goods.
There are plenty of other local places to satisfy your sweet tooth.
Taylor Chip cookies are somewhat of a Lancaster County phenomenon, although I only had my first taste of these delicious creations recently. They've been around since 2015 and advertise cookies "big enough to share." I'd suggest buying several different cookie flavors and cutting them in half or even fourths and sharing with friends or family to get a little taste of everything. Because with offerings like peanut butter explosion (which features numerous Hershey's candies), salted caramel pretzel, brookie, chocolate chip biscuit, s'mores, and snickerdoodle, there are too many tasty options to pick just one. They're located at 1573 Manheim Pike in Granite Run Square.
If you're more of a cake or pie person than a cookie, well, Lancaster's got that, too.
With its two locations (downtown at 24 W. Orange St. and 260 Granite Run Dr.) and a food truck, Lancaster Cupcake is a familiar face on the dessert scene. These moist and flavorful cupcakes are a fun way to celebrate a special occasion or to treat yourself for no reason at all. Rotating regular flavors include strawberry champagne, vanilla party, red velvet, tiramisu and s'mores. The menu changes weekly and includes speciality flavors that often reflect the season. Check their menu (online) to see which week they'll be baking up your favorite.
And while whoopee pies have "pie" in their name, that's not the same thing as the more traditional idea of pie, a slice of round crust-based fruit- or cream-filled goodness. Lancaster Pie and Coffee is a relatively new business in Lancaster city. They opened on Pi Day (March 14) 2023 and have a variety of fruit, nut and cream pies available for purchase by the slice or as a whole pie at 136 N. Prince St. (You can also custom order.) Bring your appetite, or several friends, because you'll want to try one of everything. A rotating menu offers seasonal flavors like peach and blueberry, in addition to favorites like bourbon pecan and banana cream, a savory chicken pot pie, and hand pies with a crust that practically melts in your mouth.
A wise man once said "man can't live on bread alone." But in Lancaster County, he might just be able to attempt it.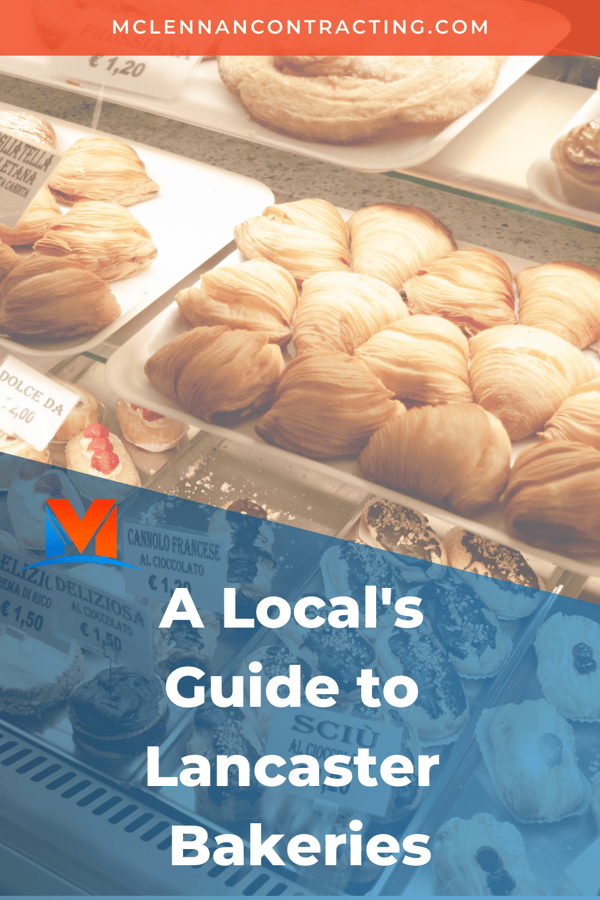 Lisa Bartelt is a freelance writer and substitute teacher living in Lancaster County with her husband and two kids. When she's not shopping local farmers markets, she's browsing the shelves at a local bookstore or reading on her porch. Her other passions include nature, coffee, travel and cheering on her kids' sports.