11 min read
The Top 8 Ways to Increase the Value of Your Lancaster Home
By: Allie Brannon | December 15, 2022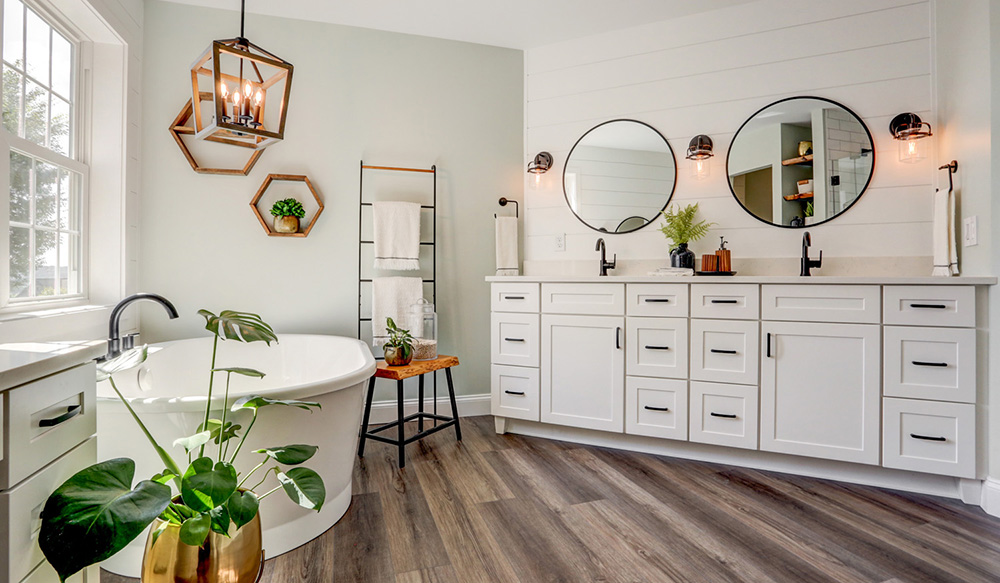 Remodeling your home has countless benefits, including increasing your enjoyment of your home and keeping it in great shape by doing necessary repairs and upgrades. Remodels also add value to your home, an important benefit both for those looking to sell soon and those who plan to stay put but want to make wise financial investments.
So, which remodels boost your Lancaster home's value the most? Where should you focus your energy to increase the return on your investment, or ROI?
How to Calculate ROI
Return on investment is a way to determine how improving your house will pay off if you sell or refinance. It allows you to understand how various improvements raise your home's value and which ones raise it the most based on the cost of your remodel.
It's helpful to know how to calculate your ROI if you're considering a remodel specifically to add value to your home. The good news is it's not hard to figure out: value added / cost of remodel x 100. Let's look at a hypothetical remodel as an example:
Your home is valued at $400,000. You invest $85,000 in a kitchen remodel. According to Remodeling magazine's 2022 Cost vs. Value report, your home is now worth approximately $450,000. Your home value added is $50,000. Divide this by the cost of your remodel, and multiply by 100 to get the percentage. $50,000 / $85,000 = .59 x 100 = 59%. This is your ROI.
Knowing which home improvements add the most value to your Lancaster home will help you decide what to prioritize when you're ready to start a remodeling project. Here are the top eight projects that will increase your home's value and give you a great ROI.
Best Exterior Remodels for ROI
With most of us spending more time at home, it's not surprising that making our homes into havens is at the top of our lists. Research shows outdoor remodels are currently bringing the highest ROI. Consider making these renovations a priority in your Lancaster home.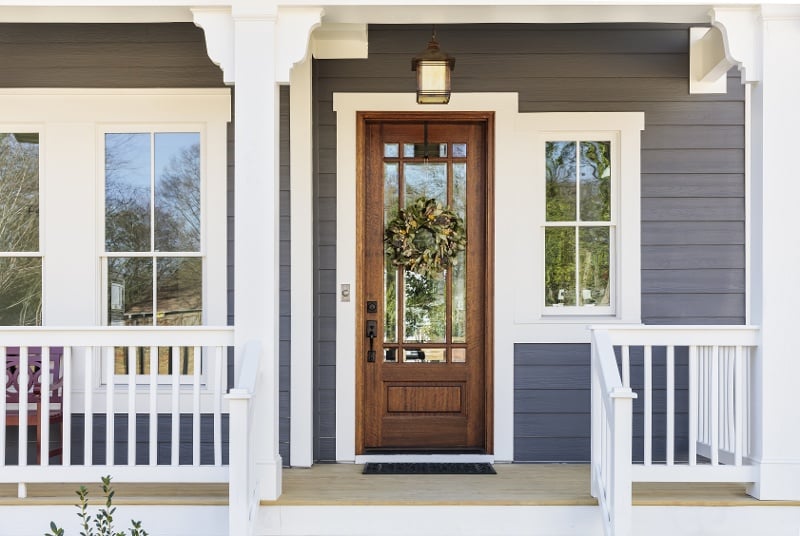 #1: Replace Your Garage Door
While this might not be the most fun renovation, it is the improvement that currently ranks highest in terms of ROI. The average garage door is opened and closed around 1,500 times per year. That's a lot of use! Because of this, motors break down, paint gets chipped, and panels look worse for wear.
A new garage door:
makes the whole exterior of your home look better, increasing curb appeal.

increases energy efficiency by more effectively sealing the garage from the outside air.

just works better. You will be surprised at how much smoother and quieter your new garage door can be.
#2: Level Up Your Curb Appeal
There are several renovations that increase curb appeal, and they are almost always a good investment in your property. Consider these projects—large and small—to add value and beauty to your home.
Switch out old siding with new vinyl or fiber cement board siding. This improvement is among the top renovations for your home in terms of ROI. Replacing the siding also helps with energy efficiency, especially if you use insulated vinyl.

Consider adding stone veneer, especially around the front door, to boost interest and character, making your home stand out.

Invest in landscaping. Keep it simple and classic if you're considering selling soon. Potential buyers can be turned off by a yard that looks too difficult to keep up. You may consider planting trees, which can add anywhere from $1000 to $10,000 in value to your property.

Don't forget the front door! Replacing an old front door actually gives you a great ROI–it's a fairly small project that pays big dividends. Steel doors tend to be the best investment. They are durable, offer good security, and increase your home's energy efficiency. A low-maintenance, lightweight fiberglass door is another good choice, also offering great energy efficiency and coming in many designs to fit any aesthetic. Consider using a fun, bold color like red or yellow to make your front door really pop!
#3: Add an Outdoor Feature
Many people prioritize a beautiful place to relax, spend time with family, and enjoy the outdoors. The best part of this type of renovation is the enjoyment you will get out of it even as it builds value into your home.
Add a great deck or porch. Decks in particular have stood the test of time, consistently ranking in Remodeling magazine's list of renovations that add value to a home. Consider using composite decking for low maintenance and increased durability, and make sure to add the perfect outdoor lighting.

You may also want to add a firepit or outdoor fireplace, or an outdoor kitchen. These features act as focal points and gathering places for your outdoor space, adding a lovely ambiance. Firepits especially are high on the American Society of Landscape Architects' list of most desirable outdoor features.
#4: Replace Windows
Like a new garage door, new windows may seem like they don't really change your day-to-day life as much as, say, a new kitchen might. But if your home has old, drafty windows, or windows that won't open, getting new ones installed might well brighten your day.
Vinyl window frames are cheaper than wood, so your ROI is higher.

Make sure you choose Low-E windows (Low-Emissivity, meaning it's an energy-saver) in order to save as much money as you can on energy—and it could be a lot. New windows can save you as much as 21-31% if you replace single-pane windows with double-pane, according to a study by Energy Star.

The cost of replacing your Lancaster windows could possibly be recouped in ten years or so, just by saving you money on heating and cooling your home.
Best Interior Remodels for ROI
While exterior remodels ranked higher in terms of ROI this year, interior changes can really make your Lancaster home more enjoyable while adding value to your property. While some remodels on this list are pretty large, also consider small remodeling projects that will refresh your home and raise its value. Some renovations consistently rank among the best ways to give you a great ROI, increasing not only your home's value but its desirability and marketability to future buyers.
#1: Kitchen Remodels
In terms of ROI, the best type of kitchen remodel to increase your home's value is a minor one. By painting your cabinets (if they're in good shape), buying new appliances, adding a backsplash, and installing new countertops, you'll be giving your kitchen a new, fresh look while keeping the original footprint. This means the kitchen remodel cost is comparably low, but the changes are dramatic.
If you want to do a major kitchen remodel, you will definitely be adding value to your home, but your ROI won't be as high due to the investment required. However your dream kitchen—with a new layout that fits your lifestyle, including new cabinets, flooring, and appliances—will be an exciting improvement to your Lancaster home. Click here to read about whether a minor or major kitchen remodel is right for you.
Some kitchen features with a high ROI include:
new, updated lighting.

a quality sink and faucet.

a large pantry.

a kitchen island.

lots of cabinetry and drawers.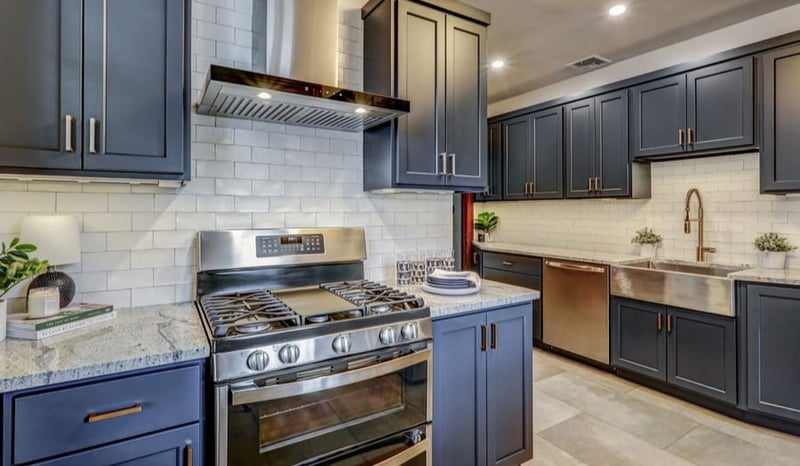 #2: Bathroom Remodels
Like the kitchen, the bathroom remodel that gives the best return on your investment is a minor one. This kind of project includes keeping all the plumbing where it is, but making such improvements as:
replacing the vanity. The best ROI for a vanity is a double-sink model. This is a great selling point for a bathroom and something the majority of potential buyers look for.

re-doing the flooring. Upgrade to a quality tile floor, or replace existing laminate with LVT or LVP.

installing a new toilet.

repainting walls.

upgrading light fixtures. Consider adding lights on both sides of the mirror, as well as an overhead light.

possibly installing a new shower surround or tub, or refinishing an existing tub. You may want to add well-placed grab bars to increase desirability for people who need the extra stability, or for yourself if you decide to age in place in your home.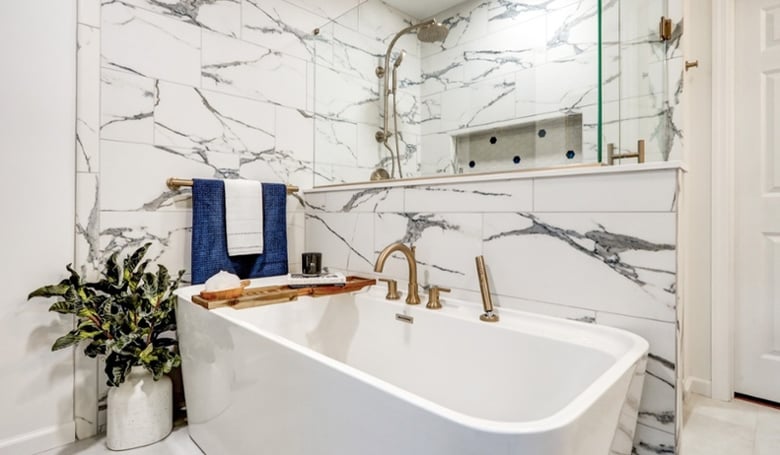 #3: Finishing a Basement
While finishing a basement is a big project, it adds so much value to your home. It increases your liveable space and allows you to add a bedroom, bathroom, game room, in-law suite, or home office to your house without increasing its footprint. It can give you an ROI of as much as 70-75%, potentially more if it's a walkout basement (a basement with an exit to the outside). It boosts your resale value and increases your enjoyment of your home.
The most important factors to consider in terms of ROI when finishing your basement are also probably the most important factors in terms of your own enjoyment. Things like good lighting, LVP flooring (instead of carpet), keeping it as open as possible (instead of a few small rooms), and if possible, adding a bedroom and bathroom, go a long way to increasing your home's value and desirability.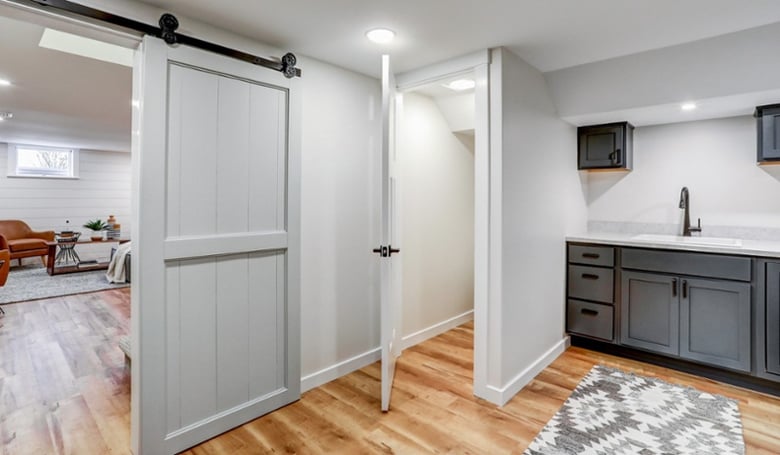 #4: Additions
Square footage always sells. The more you have, in general, the more your home is worth. If you build an addition onto your home, you will almost always see a good ROI, and if your family needs more space, you will certainly enjoy the breathing room. Popular additions include:
adding living space—expanding the footprint of your existing living room or building a new, bigger one.

adding a bathroom. This is one of the best additions in terms of ROI, especially if your home only has one or two bathrooms now. It's a more expensive addition, but causes the value of your home to rise dramatically. Adding a half bath near a mudroom or laundry room is another great option.

adding a bedroom or a home office. If your family is growing, or if you, like many people, work from home more often now, these additions will give you space to spread out. A home office may give you as much as an 87% ROI, as many people now see it as a vital feature in a home.
Moving On, or Staying a While?
If you're planning a remodeling project or two because you want to list your house soon, the projects you choose will likely be different than they'd be if you plan on staying put. If you're moving, you will want to choose remodels that offer the highest ROI possible, address problem areas in your home that may turn potential buyers off, and up curb appeal as much as you can. You may not be as interested in long-term investments like new windows or major kitchen remodels that will benefit your buyer a lot more than they will you.
If this home is where you plan to stay, your priorities may be different. While you want to make wise financial decisions and raise the value of your home, you will give a lot more weight to your family's enjoyment of your space. You may decide to forgo the firepit that would appeal to the majority of buyers if your family would rather have an awesome home theater. You might prioritize a freestanding tub that gives you a luxurious bathing experience, rather than making room for a double vanity just because that's what future buyers might expect.
As you decide what projects to focus on, think through how long you plan to be in your home and what your priorities are. Then you can confidently choose remodeling projects that will increase your home's value and add to your enjoyment of your space.
Whatever you decide, McLennan Contracting is here to help. For those looking to increase their home's value through small improvements, we offer home repair and handyman services to our existing clients and select new clients. If you're considering a high-value remodel, such as a kitchen, bathroom, or basement, you can schedule a free consultation and take the first step toward making your dream home a reality.
Allie Brannon is a copywriter and content writer specializing in the remodeling and building industry. She is also a pastor's wife and a homeschooling mother of five. In her free time, she can be found sitting outside with a good book and a cup of coffee, learning to garden, or taking a walk with her family or a friend.