SOAK UP SOME INSPIRATION
Bathroom Remodeling Ideas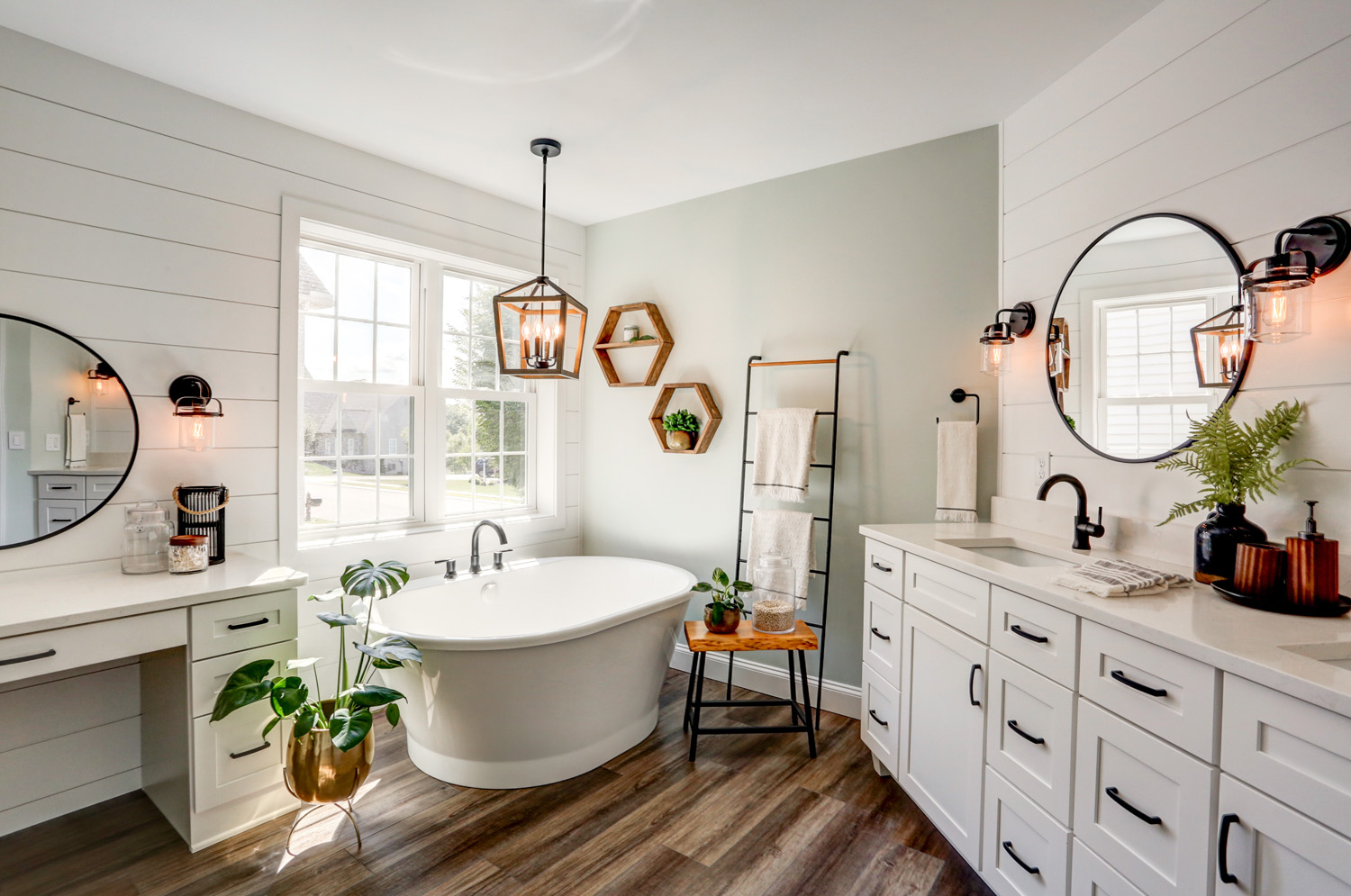 This large master bathroom traveled decades in style over the course of this dramatic, modernizing remodel.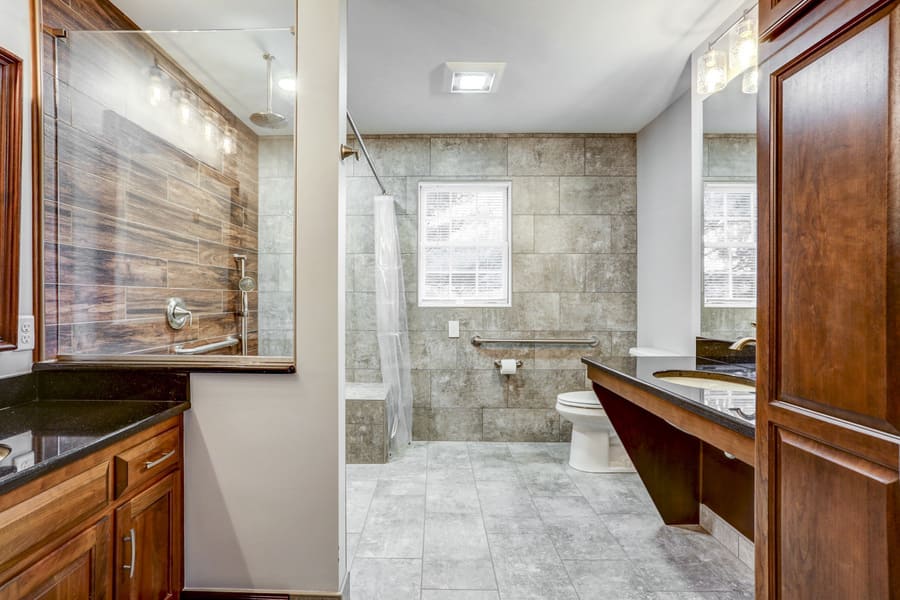 This project provided an accessible and safe bathroom for these clients while also being aesthetically pleasing.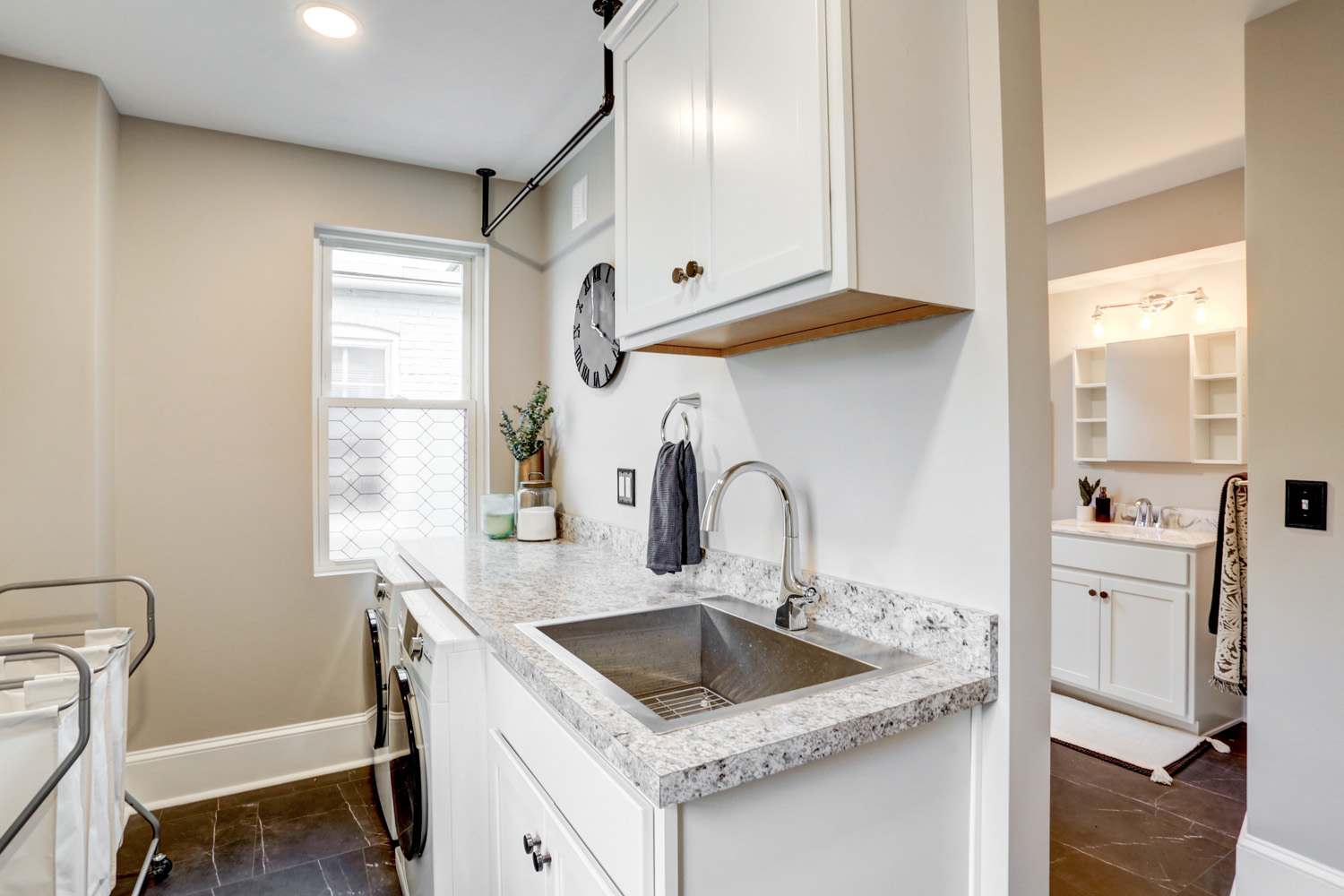 By reconfiguring the layout, this home gained a laundry room, updated bathroom, and a new half bathroom.
2022 Lancaster Bathroom Remodeling Cost Guide
Considering a bathroom remodel and not sure how to budget? This free guide walks you through features and cost ranges to anticipate for Design-Build bathroom remodels in Lancaster, PA.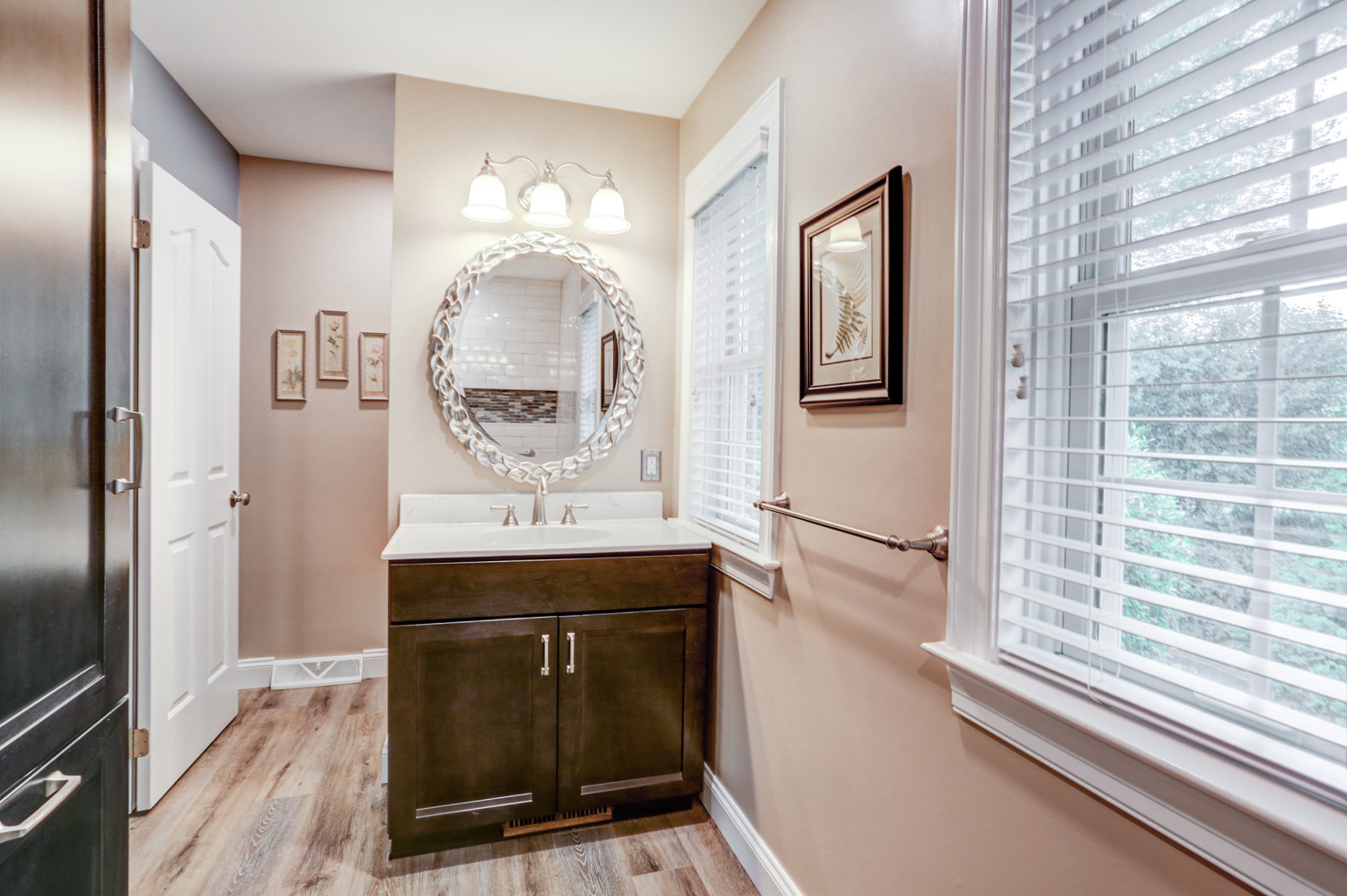 A creative new layout is at the heart of this bathroom's stunning transformation.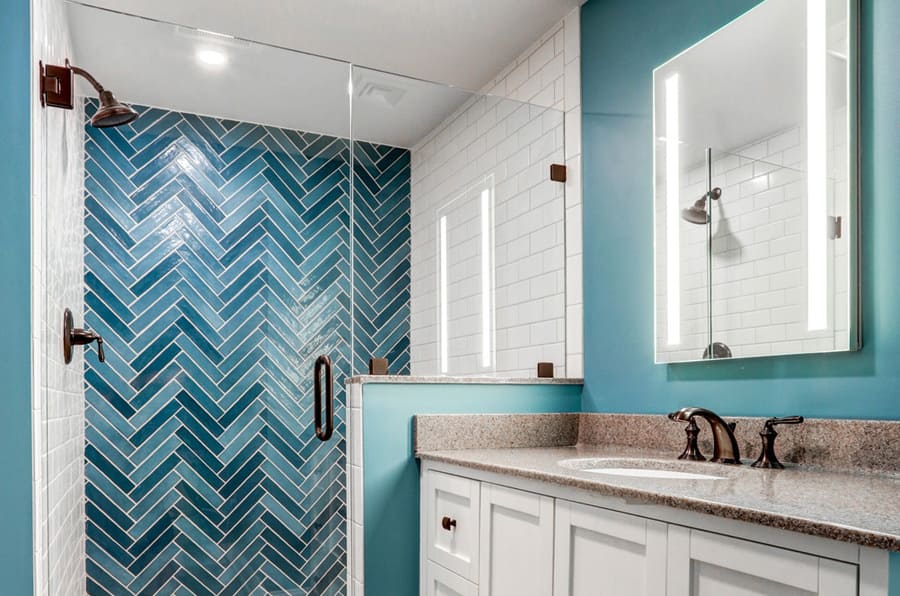 This bathroom is the perfect addition to a finished basement, giving the clients more living space as they grow their family.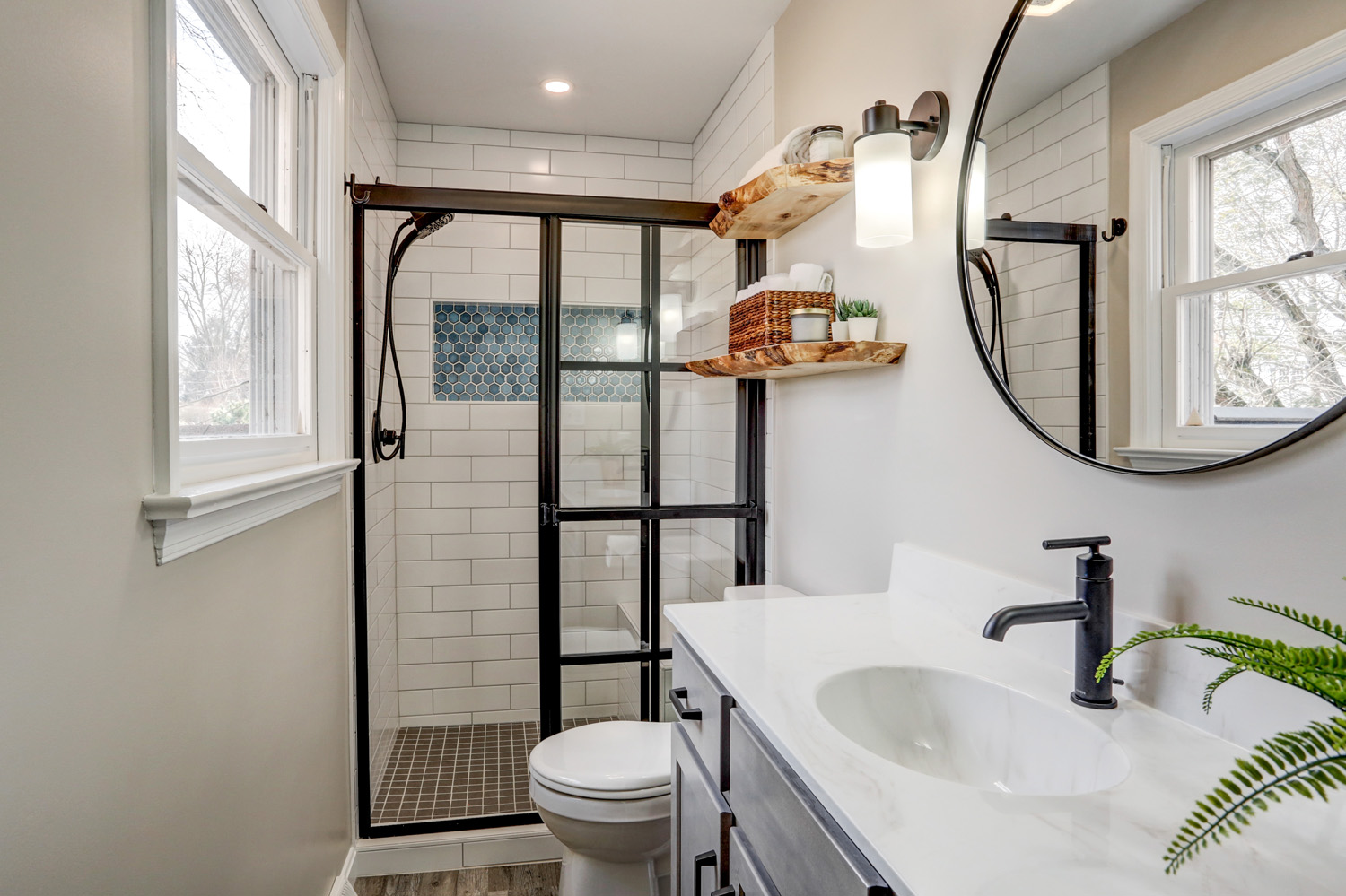 This remodel features a farmhouse shower door, live-edge floating shelves, and sleek fixtures for a perfect blend of rustic and modern.
"We could not have been more pleased with McLennan. From project planning to completion, we felt that we were being taken care of. Each member of the team was detail oriented and precise in their work. The team uses an online platform that makes it easy to track the progress of your project. They are open and transparent and were always easy to get in contact with, often responding to online messages within minutes."
Richard A.
HOME REMODELING CLIENT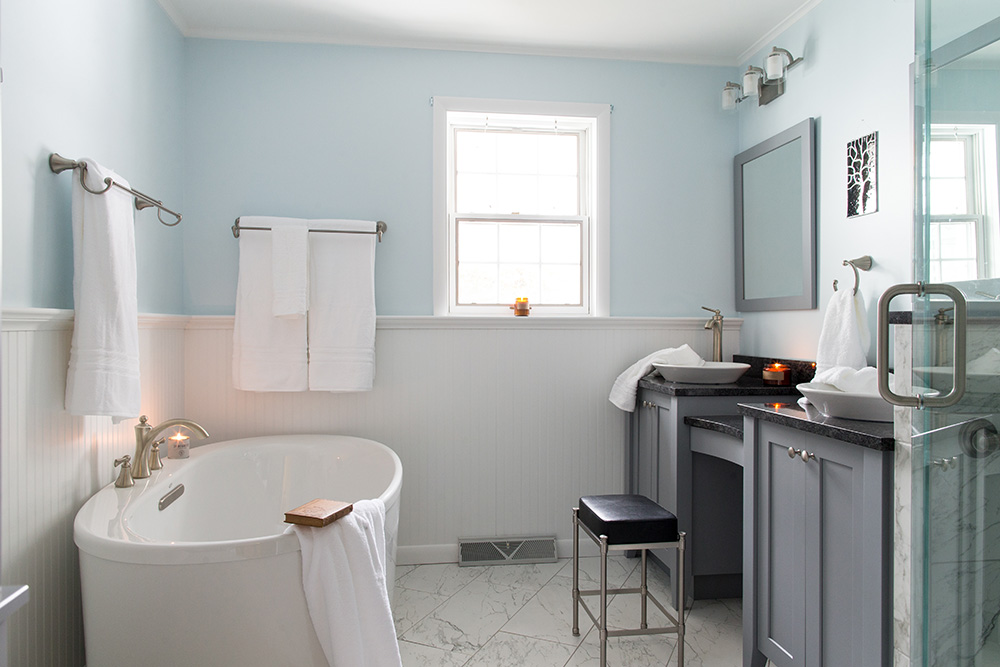 This bathroom remodel was designed to make the most of the space, with relaxation in mind.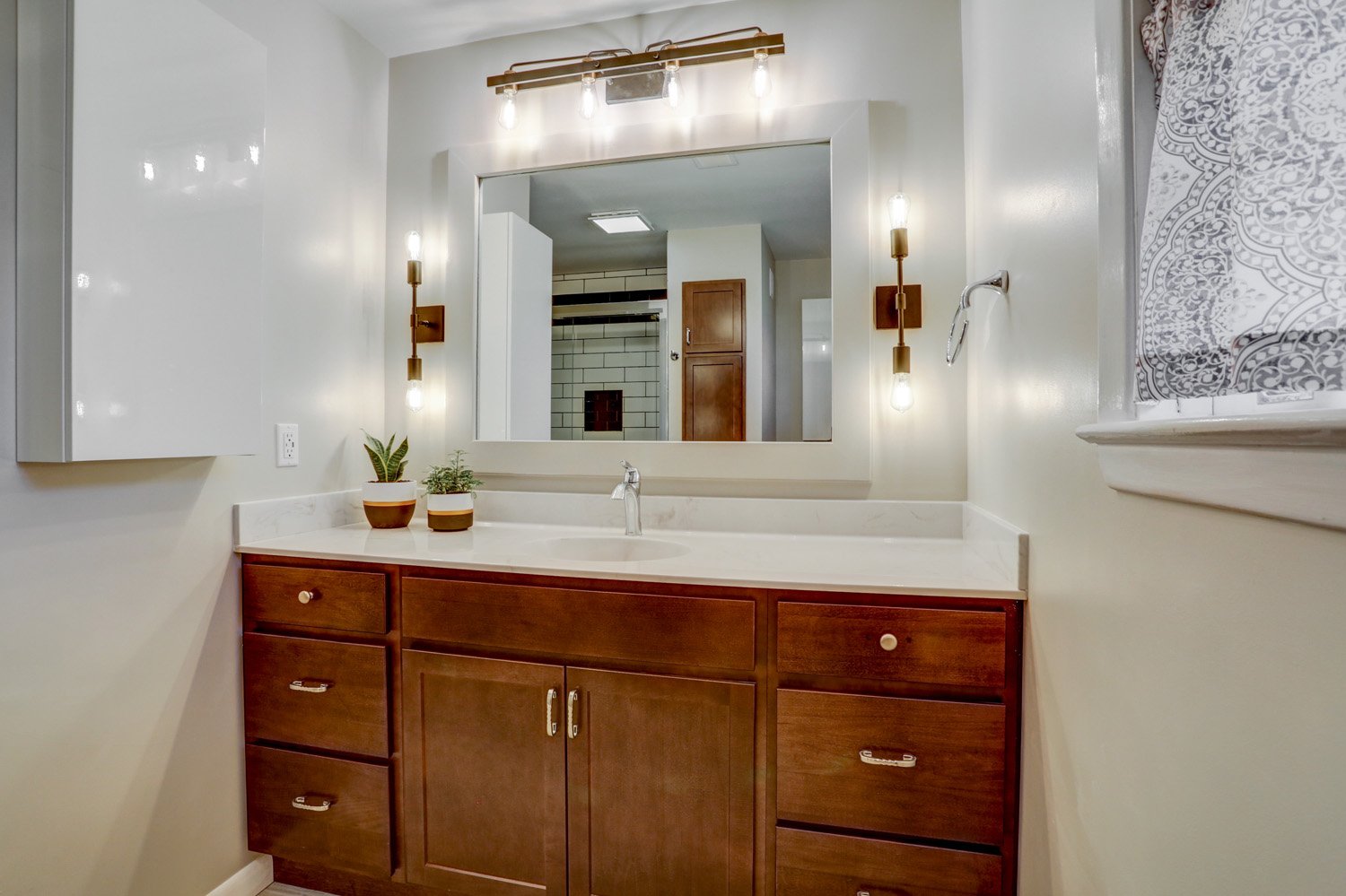 rom pink tile to modern and polished spa finishes, this bathroom remodel is definitely an eye-pleasing upgrade.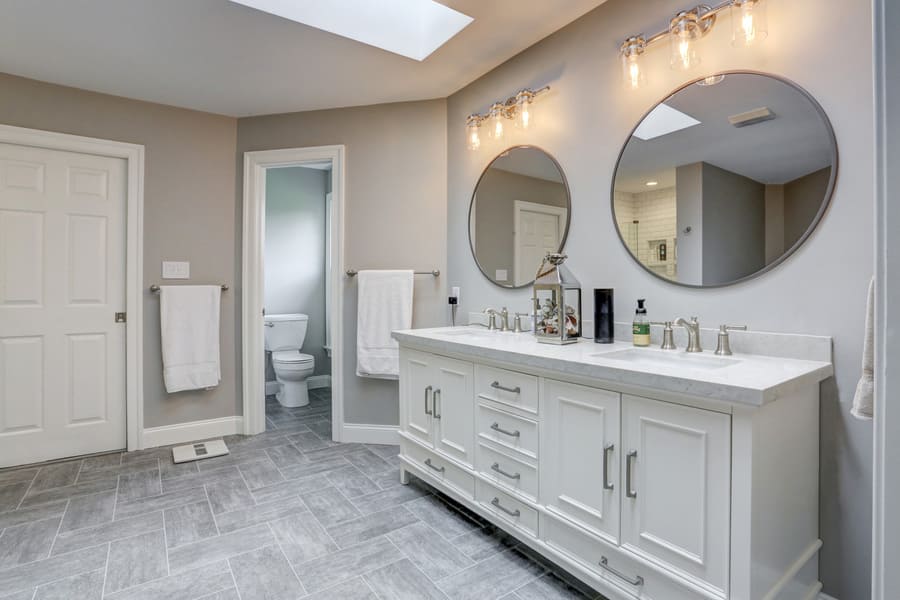 This master bathroom already had great bones, but a bright, spacious remodel really maximized its potential.
"McLennan Contracting renovated my bathroom and did an exceptional job. They were reliable, friendly, professional, trustworthy, and delivered a stunning bathroom. I had a demanding timeline to get the project finished and they were willing to work with me to get the project done on time and in-budget. The entire process was stress-free, the work is high-quality, and I would recommend McLennan Contracting to anyone."
Anna U.
BATHROOM REMODEL CLIENT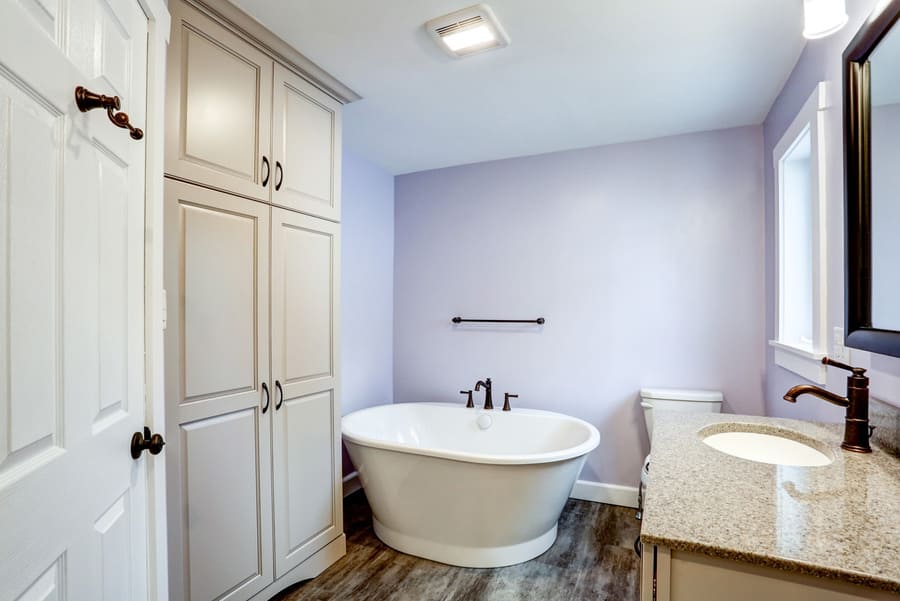 This remodel required removing walls to create a spacious bathroom that met all of the client's needs.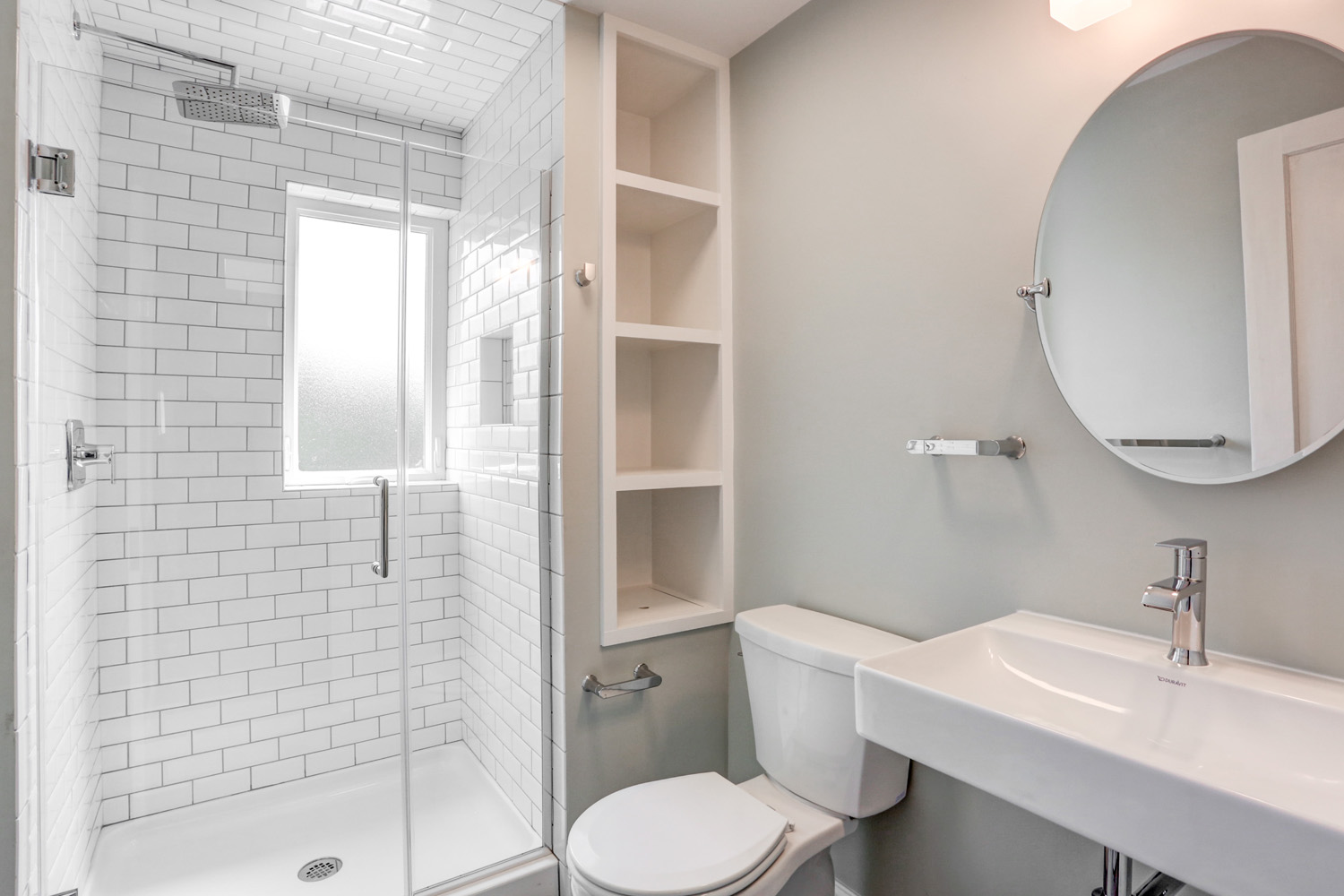 Our designer's creativity transformed this bathroom so drastically it's hard to believe it's the same space.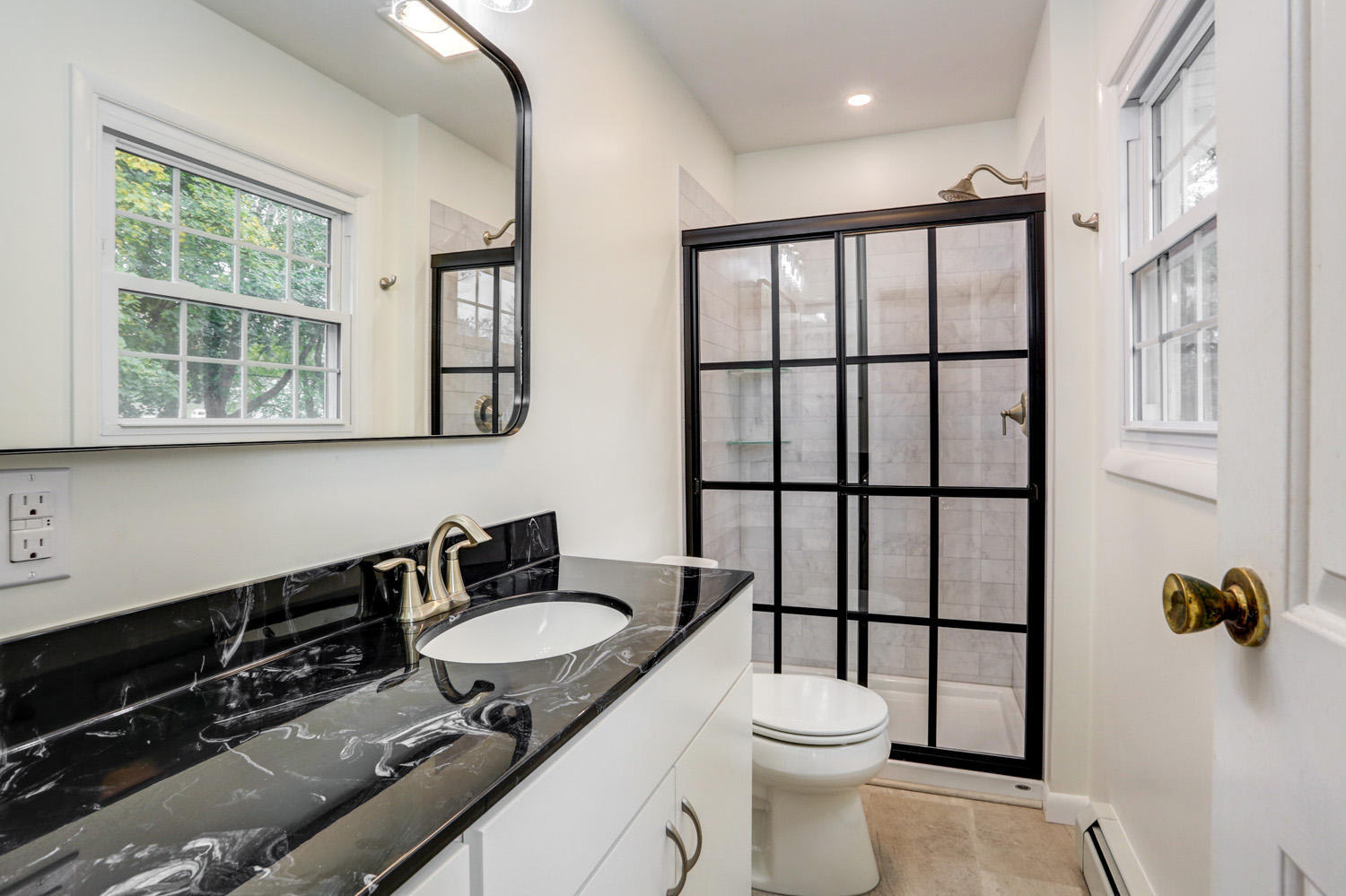 These two remodels called for a plan to maximize smaller spaces while keeping styles unique from one another.
"The entire McLennan team has set the bar so high, I don't think we'd be able to work with anyone else. We signed for this project right before the pandemic started. Their professionalism never waivered during those uncertain times. The project started as soon as they were able to work again. The finished product is so much greater than we could have ever imagined. We have been blown away by their integrity every step of the way."
Heather M.
BATHROOM REMODEL CLIENT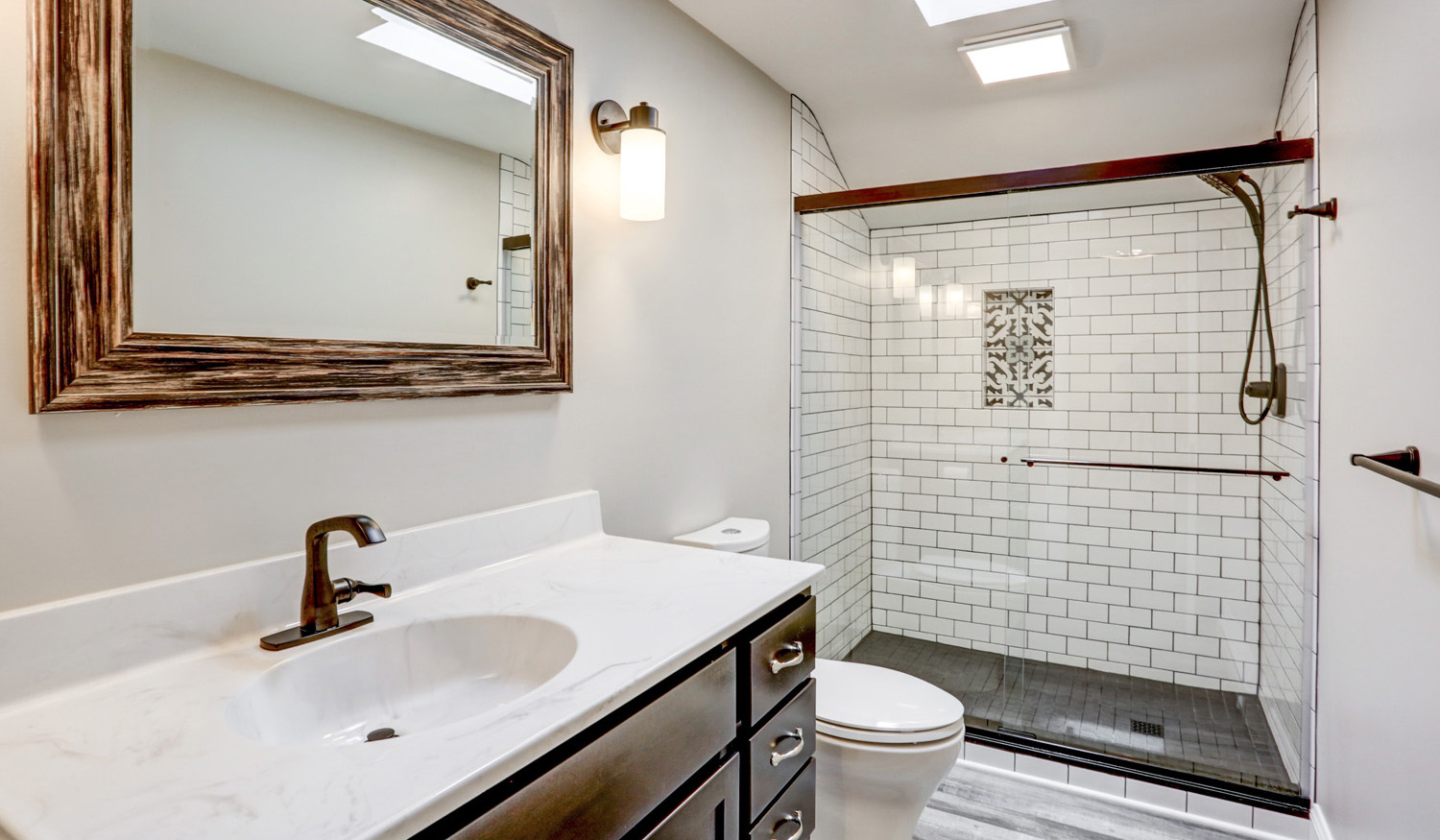 A modified footprint and modernized finishes elevated this bathroom into a fresh, welcoming space.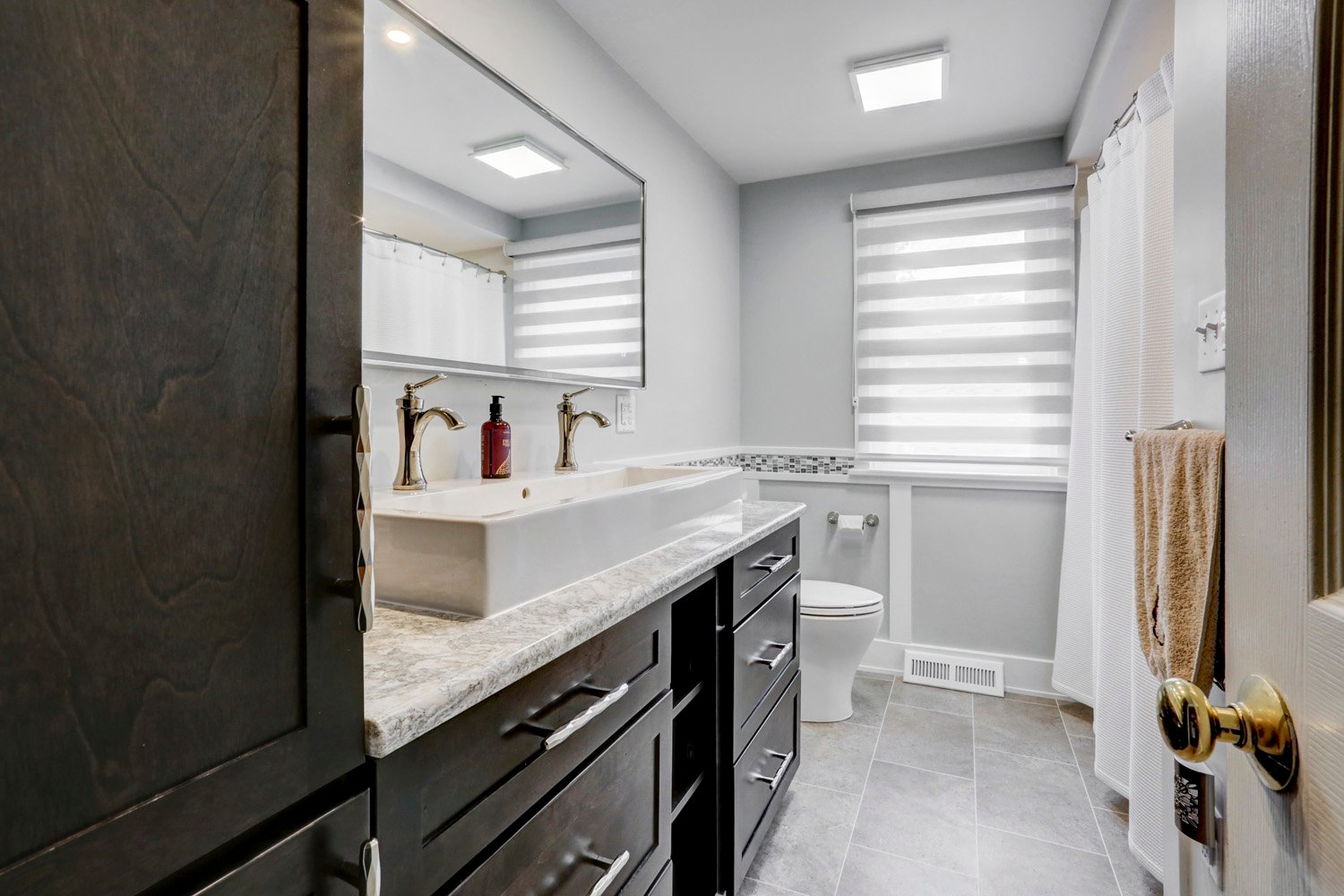 This bathroom design required a plan to maximize the narrow space while adding storage and a polished look.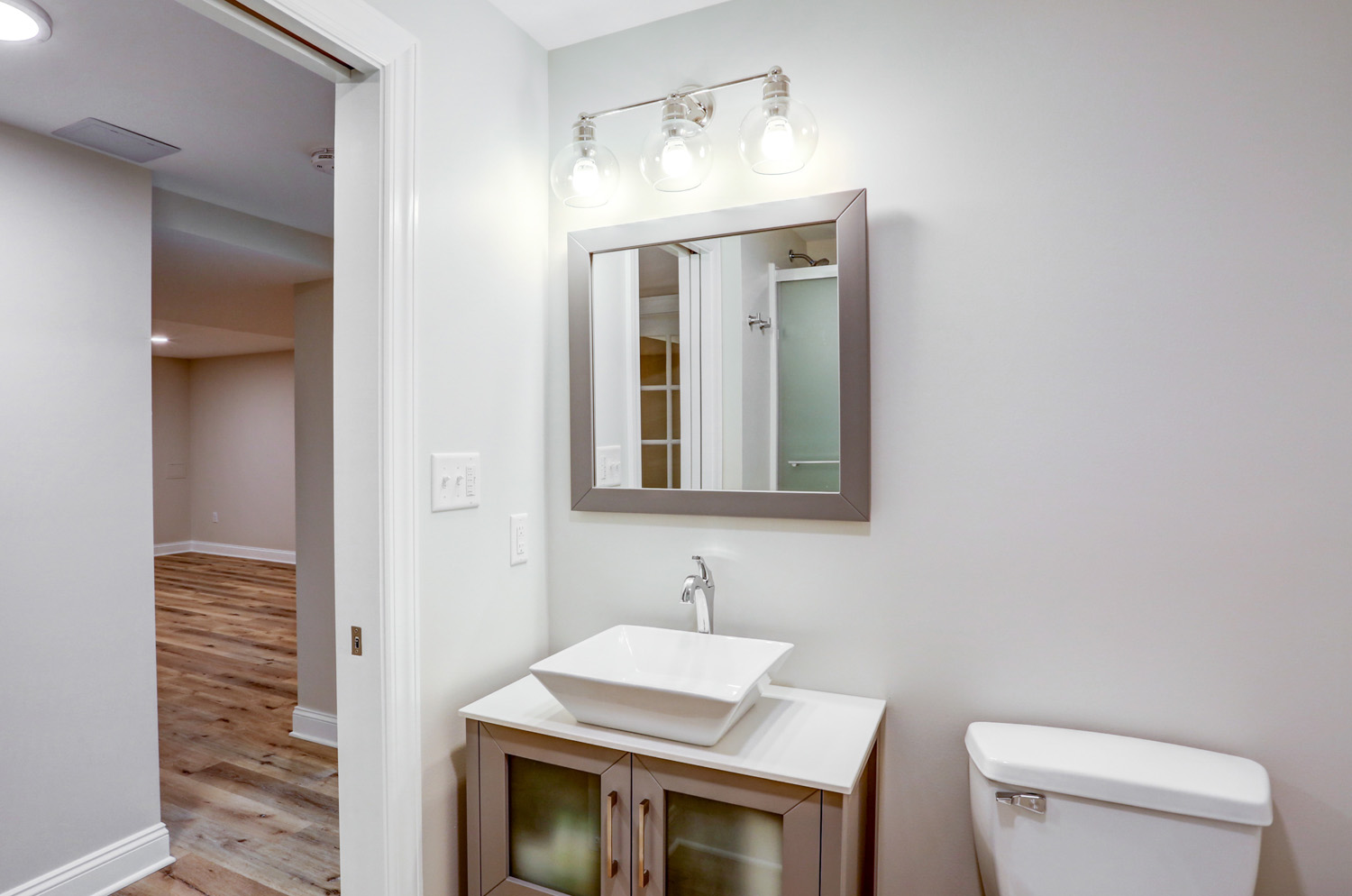 This bathroom addition was a necessity for finishing a complete basement remodel to create more living space.
"We used McLennan Contracting to remodel our master bathroom and we could not be happier with the results. Our entire experience from start to finish was easy and enjoyable. They are very detail oriented and make communication a breeze. Every person involved in the process of our remodel was courteous and professional. We would definitely recommend McLennan to anyone wanting a great remodel experience!"
Lauren T.
MASTER BATHROOM CLIENT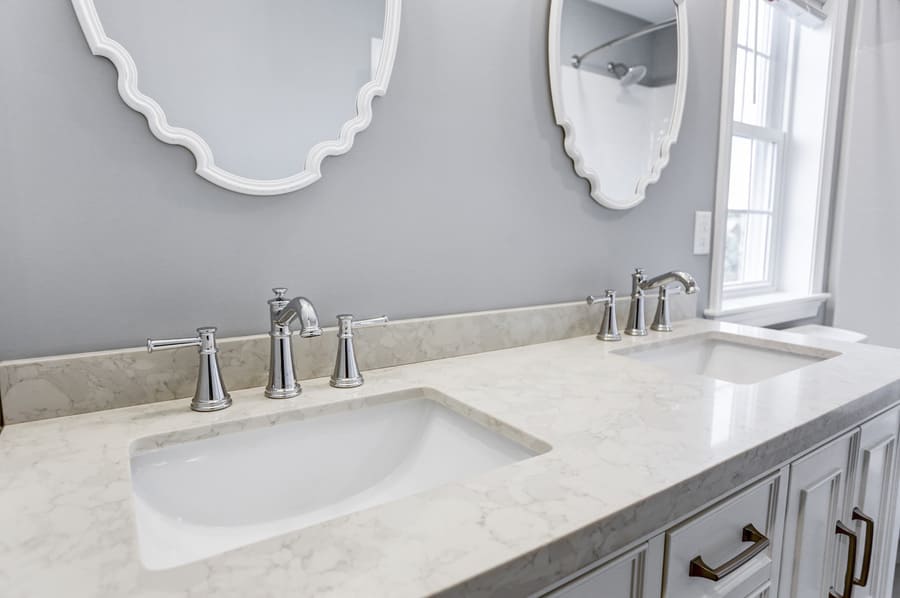 This bathroom addition was added above a garage to give the clients the spacious master suite they always wanted.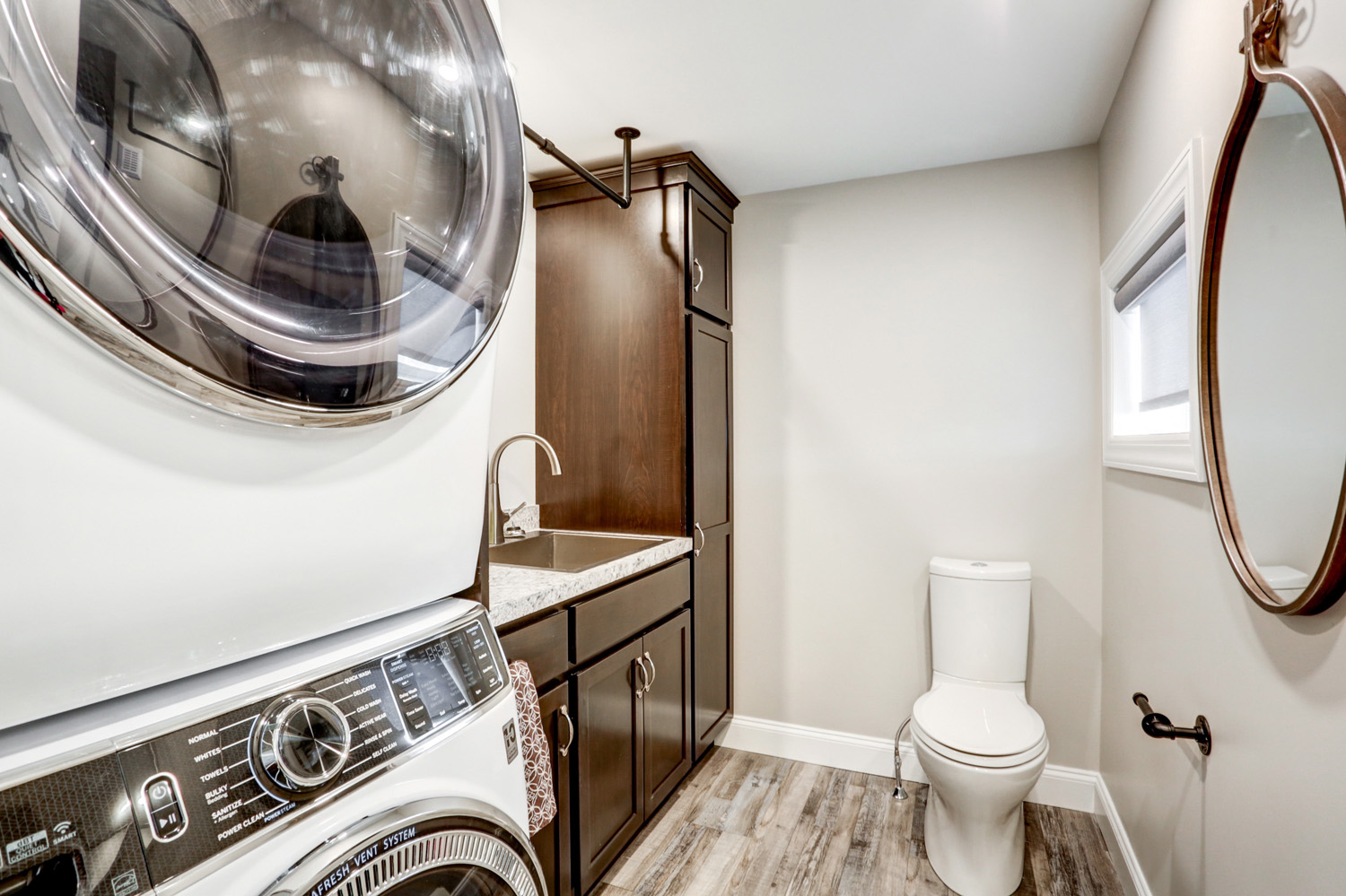 This combination bath and laundry room remodel added space and storage while maintaining the dual function of the room.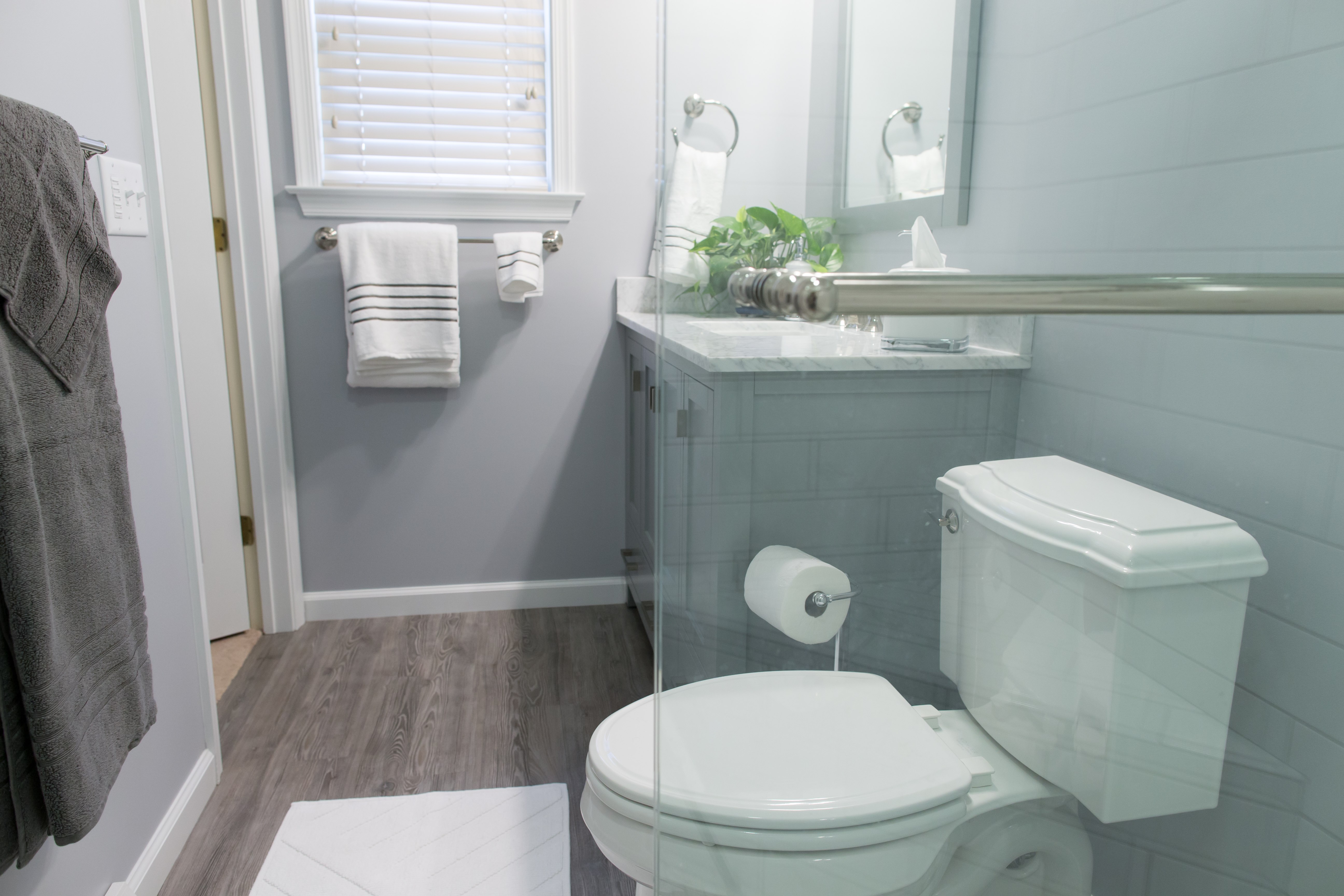 This remodel tackled not one, not two, but three bathrooms—two full baths and a powder room.
"Three things that have impressed us the most about the McLennan team: quality of workmanship, excellence in communication, and genuine care for the customer's satisfaction. (We've worked with enough contractors in the past to know how rare it is to find this combination!)"
Hannah J.
BATHROOM REMODELING CLIENT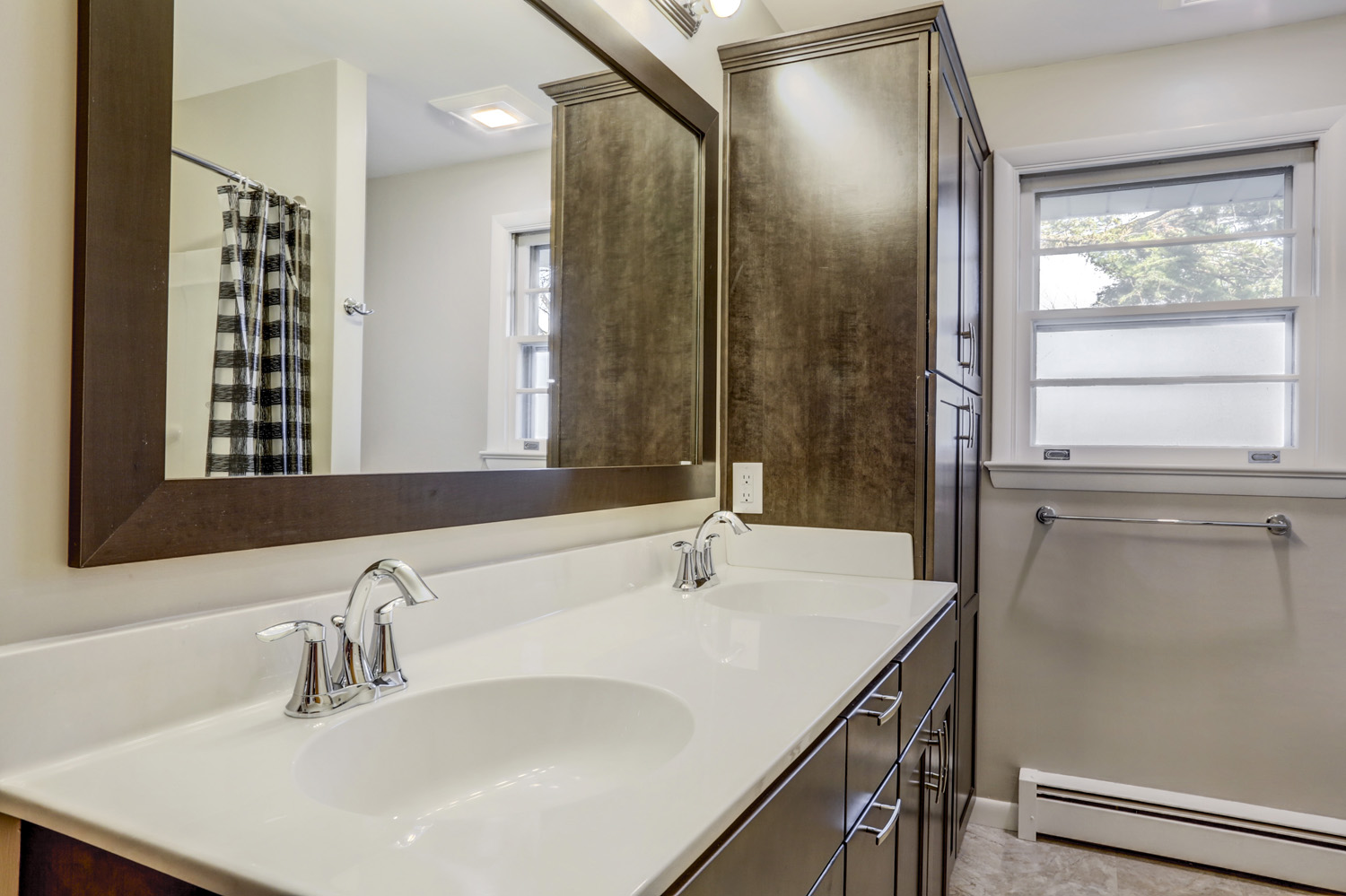 This bathroom remodel required a plan to renovate two bathrooms while still staying within a limited budget.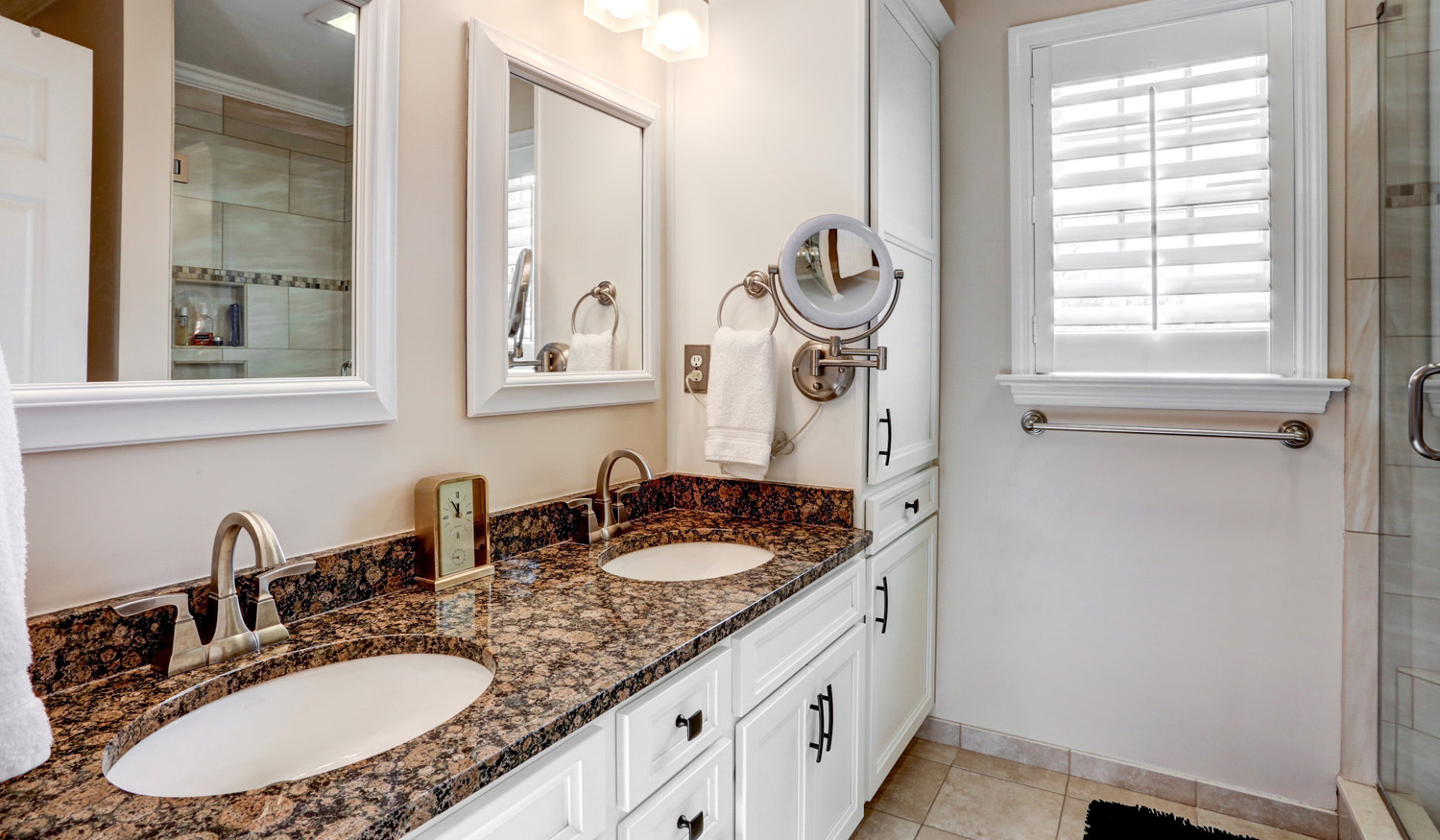 Freshly painted cabinets and updated doors and hardware give these spaces a sleek new look.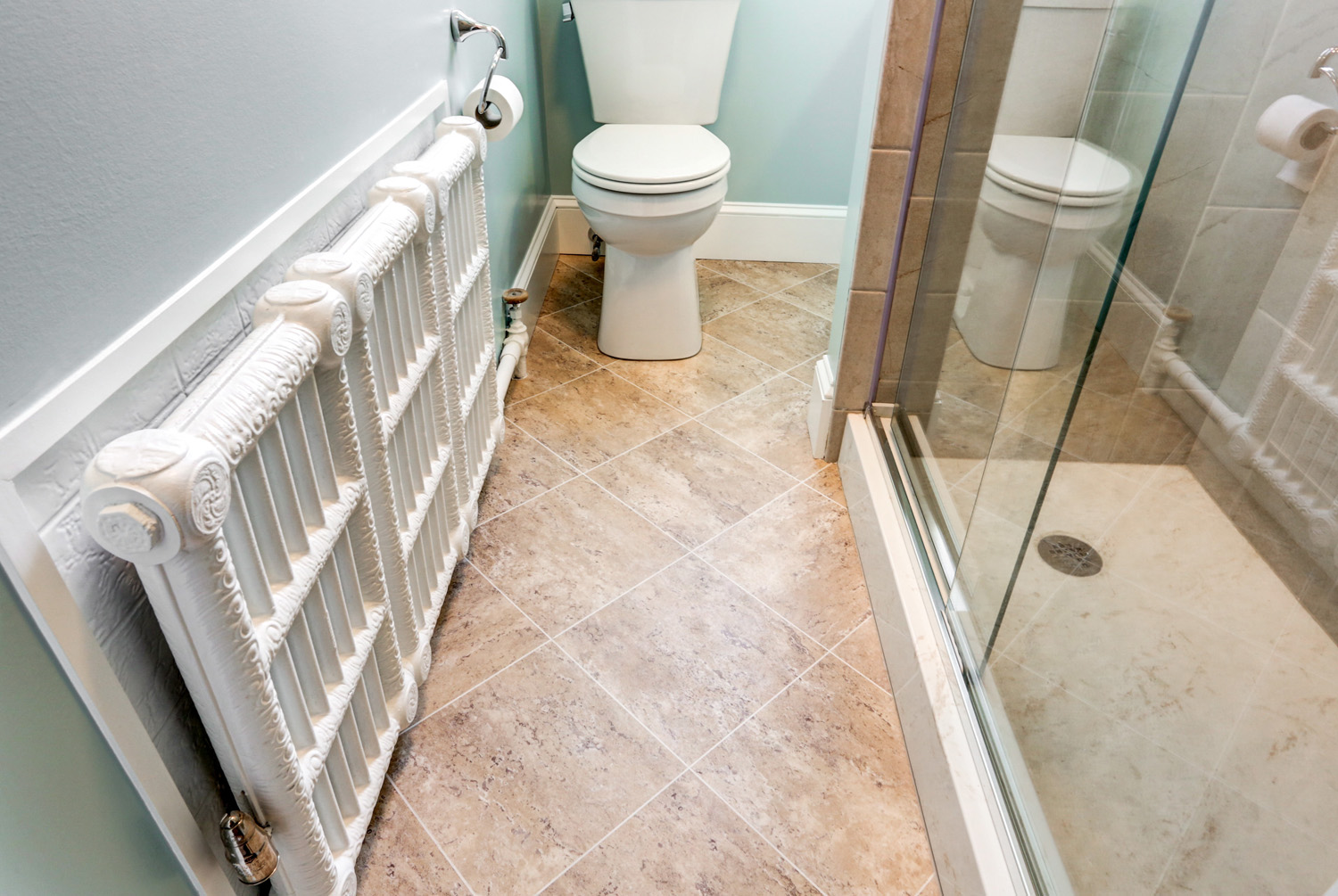 This home, built in 1880, required creative design to make the most out of the limited space.
"McLennan Contracting is a great company to work with for any type of renovation or remodeling job! They are responsive, detailed, honest, and extremely trustworthy with great people to collaborate on any type of project."
Elizabeth C.
HOME REMODELING CLIENT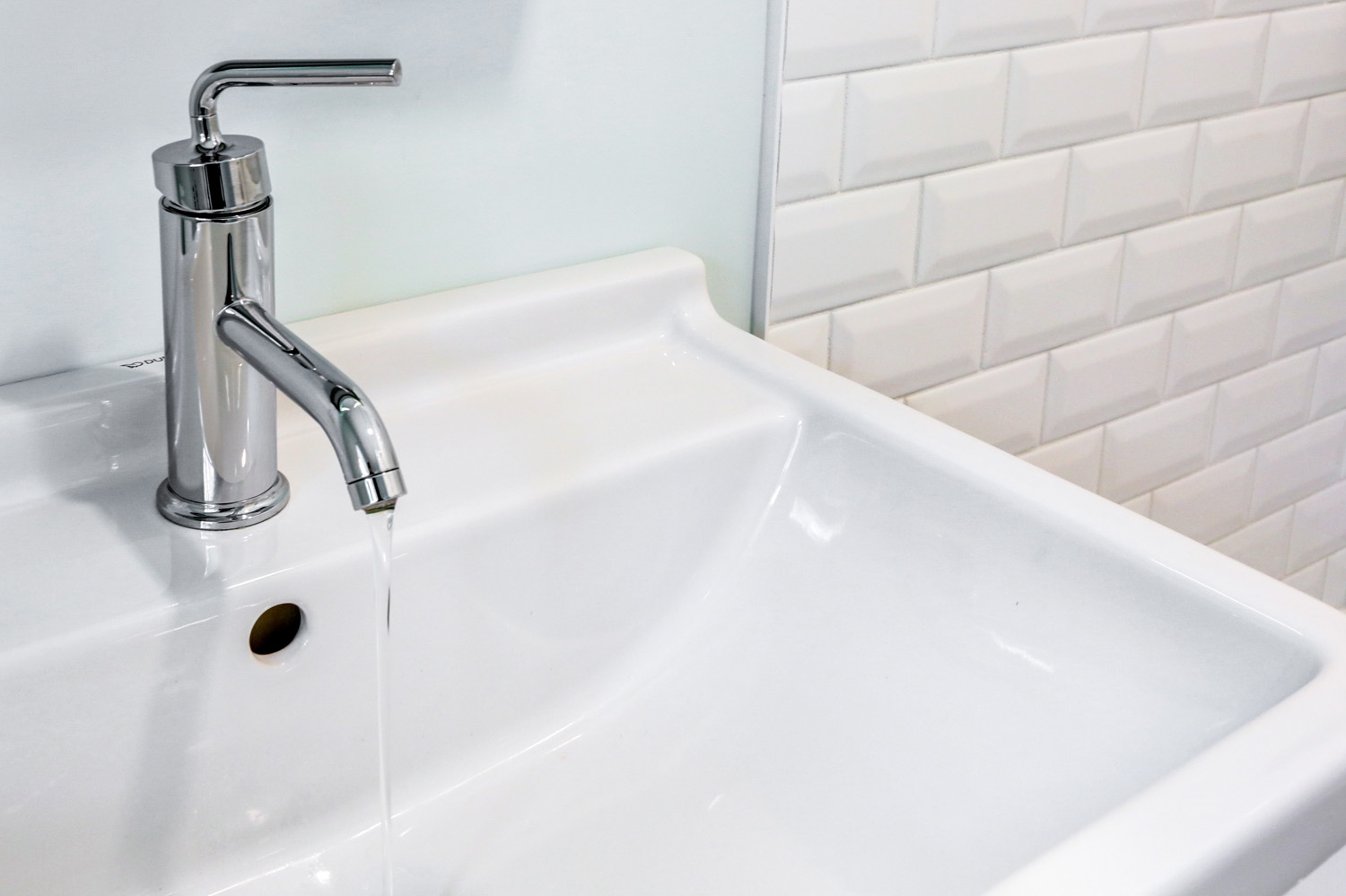 This project created a new, updated, and bright space for the clients and their children to enjoy.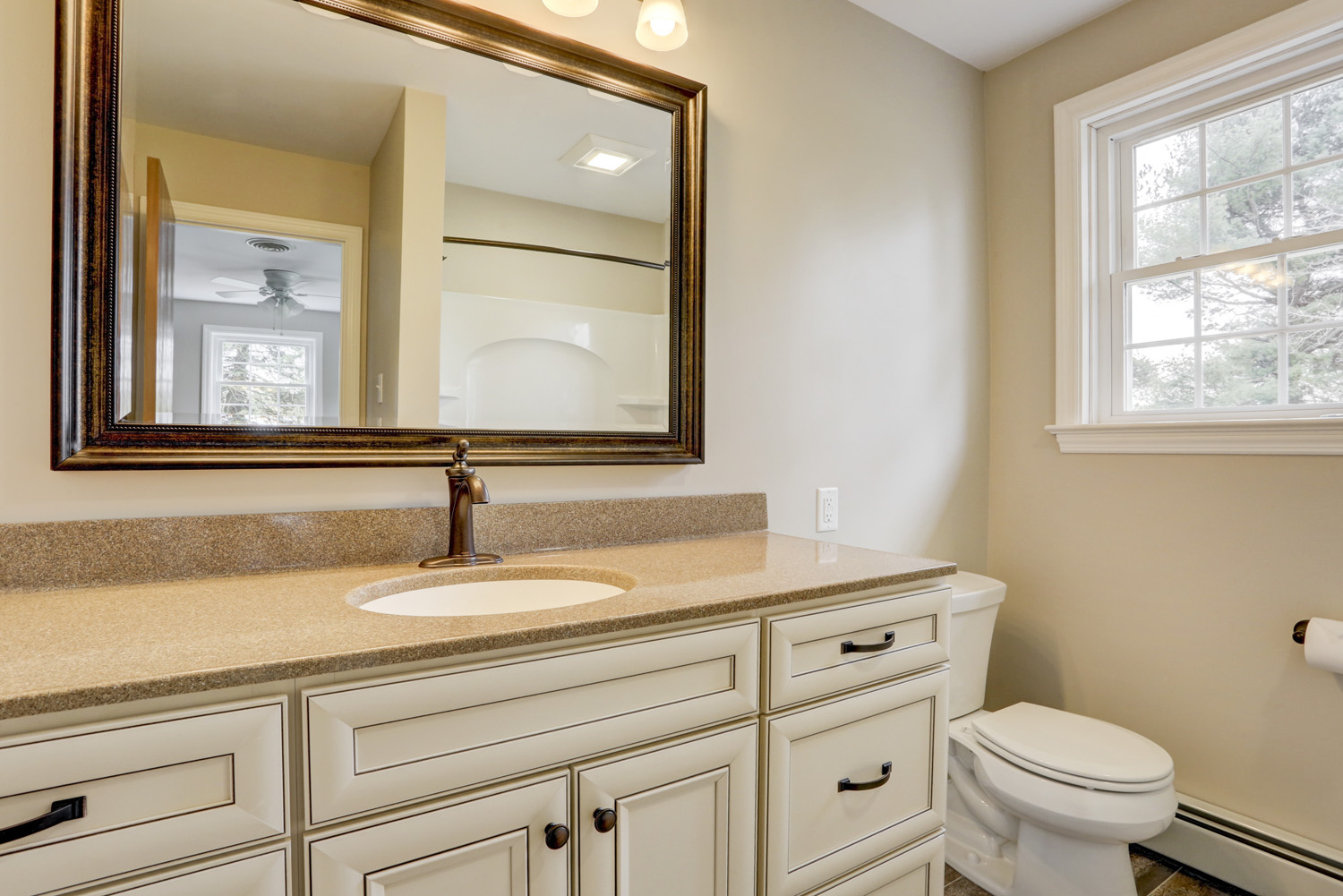 This bathroom remodel transformed a master bathroom and guest bathroom into two simple yet beautiful upgrades.
Our Team
Meet our team of talented remodeling specialists dedicated to enriching your life at home.
Our Process
Our five-step Design-Build process is client-focused and crafted to give you a smooth remodeling experience.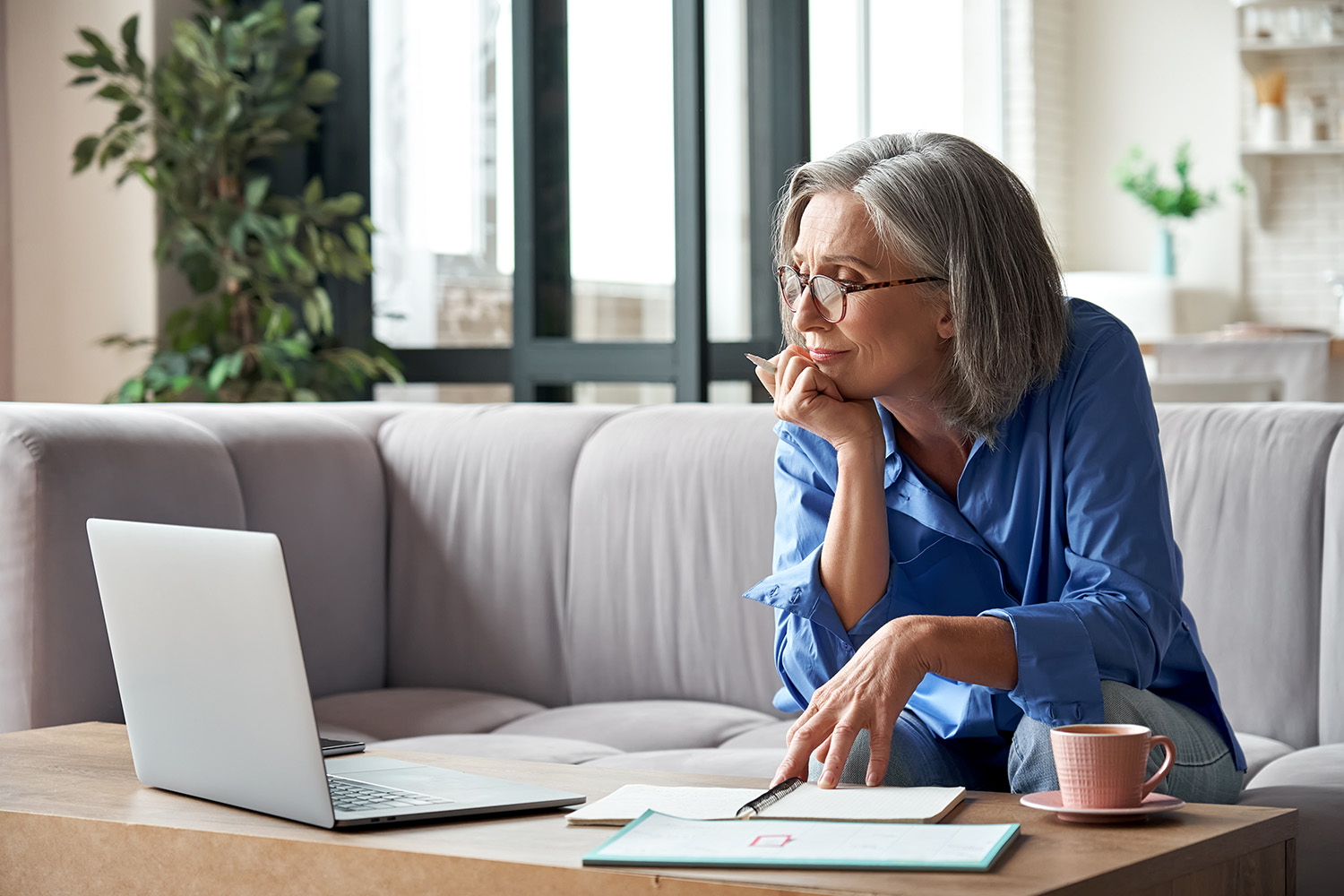 Have Questions about Your Bathroom Remodel?
We offer free, virtual consultations to give you a convenient way to discern the next right step toward your remodeling goals.