5 min read
Lancaster Basement Remodeling Trends in 2023
By: Alison McLennan | January 1, 2023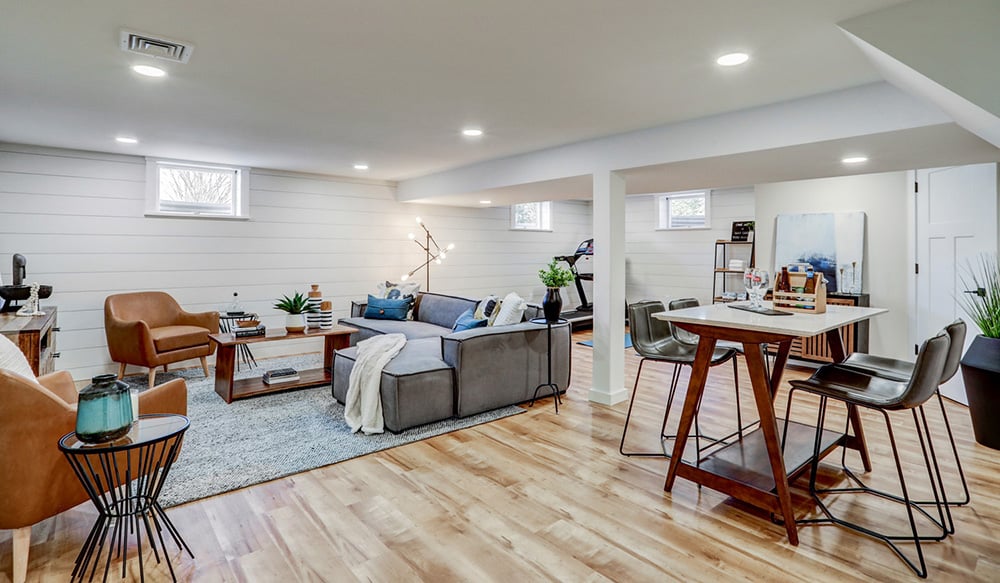 The basement is one of the most exciting rooms to finish in the home because it could become almost anything! The best use for your basement depends on what you and your family would benefit from the most. After ensuring the technical needs of finishing your basement have been met, you can indulge in exploring all of the best features to include in your new finished space!

1. Home Office
Working from home is no longer for the few. Even with many going back to the office, having a home office for work and school has proven its usefulness again and again. The basement is a perfect location for an office! It's more secluded, so kids won't be running through, and the usual noises from other family members are muffled if heard at all, depending on how well the space is sound-proofed.
When you complete the basement office space with a bathroom and an additional break area with comfortable furnishings and a tv, you won't find yourself having to dredge up and down the stairs for every need throughout the day.
Basements tend to have low or no lighting, so if a home office is the goal for your finished basement, focus on the quality and placement of lighting to avoid eye strain. You will also want to include custom storage that's thoughtfully placed for the utmost convenience.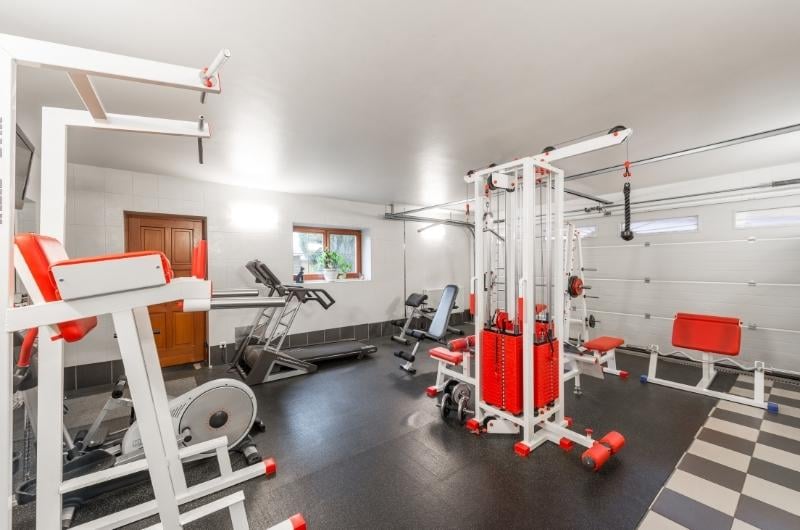 2. Personal Gym
With its expansive footprint and isolated location, the basement is the ideal space for a personal gym. Hard flooring, as opposed to carpet, is the best option for easy clean-up, supporting heavy exercise equipment, and nailing those challenging yoga positions. If you prefer equipment that requires electricity, be sure to communicate that need to your design-build remodeler.
Other amenities that would go perfectly in your home gym would be a bathroom with a shower and a Bluetooth sound system for your favorite workout playlists. You may also want to plan for a full wall of mirrors for weightlifting, barre, or pilates. However, you would like to use the space, be sure to let your Lancaster remodeler know every detail so they can assist you in planning out the floorplan to accommodate large equipment.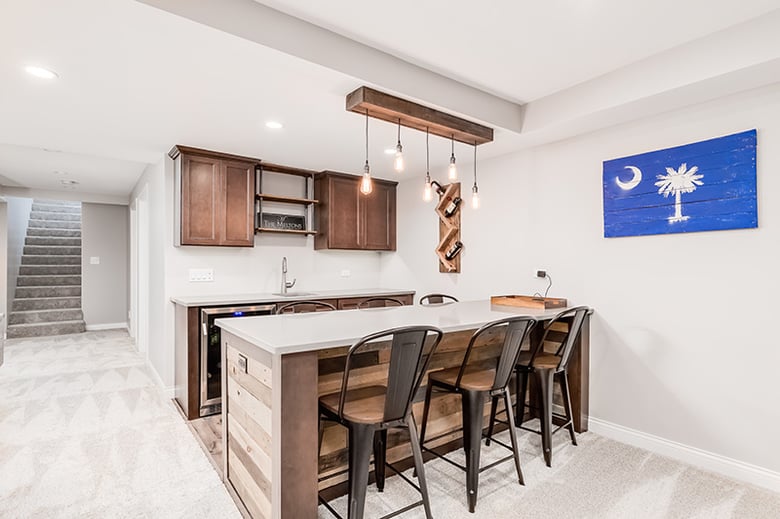 3. Custom Bar
Why go out when you can entertain at home? Another popular basement remodeling idea is a custom home bar. There are so many different styles and themes to work with, such as sports, lounge, pub, and even parlor. Lighting, materials, colors, and layout will all reflect what style suits you best. However, no matter the style, every bar should have a sink, refrigeration, storage, a bathroom, and areas for seating. Let your design-build remodeler know if you plan to install multiple tvs and a sound system. You may also want to create space for lounging, playing games, or room for a billiards table.
Additional bar necessities might include a dishwasher for easy cleanup, theater seating for watching the game, and soundproofing to allow for music to go all night without waking up others in the house. As for custom cabinetry, be sure to let your remodeler know if you need to plan for a wine fridge or a kegerator. Think about your favorite watering holes, what you like about them, and incorporate them into your basement remodeling design!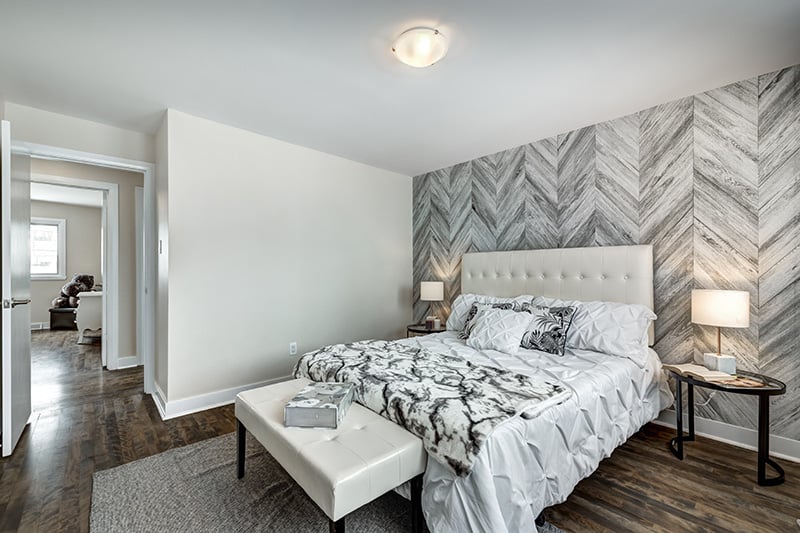 4. Guest Suite
If you tend to have visitors frequently throughout the year, family that likes to drop in at the last minute, or sleepovers for the kids, turning your basement into a guest suite would pay off big time! Consider a guest suite in the basement as a separate apartment, with a small kitchen and bathroom. You may even consider installing a murphy bed so that the floor space can be used for activities during the day.
A small basement kitchen can be very versatile if planned properly with your design-build remodeler. With plenty of access to electricity and plumbing, even a small kitchen can house a refrigerator, a microwave, a coffee maker, and cabinetry for dinnerware and dry goods.
A small sitting area for morning coffee or a quiet meal alone would be a perfect retreat for your parents, for example, to have a little privacy while the hustle and bustle of a school morning is happening overhead. If possible, having an exterior door to the basement would also be ideal for a guest suite, so visitors may come and go as they please.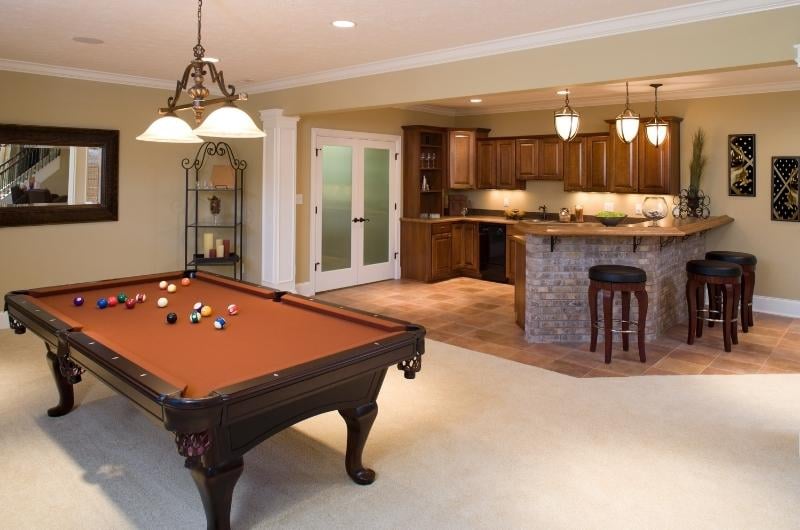 5. Game Room
What better place for a game room than the basement? The low- or no-light atmosphere that's tucked away from the rest of the home is an ideal place for multiple tvs, chairs, and lounging areas for your gaming enthusiasts. As always, a bathroom is an important asset, as is an area designated for refrigeration for beverages and snacks.
A gamer's ideal custom space would also include programmable lighting and a Bluetooth sound system. Be sure to plan to wire the basement for a second wireless internet router. A game room won't be a game room if the internet lags or won't connect to the router upstairs!
Ready for an Exciting Change?
With so many options for your basement, it can be difficult to weigh them all out. An experienced design-build team can help you sort out your ideas and possibly bring new ones to the table, making it easier to land on the best idea for you and your family. McLennan Contracting is ready to help you sort out your options. Contact the friendly team at McLennan to learn more about what your basement can do for you, how the remodeling process works, and what you can expect a basement remodel to cost.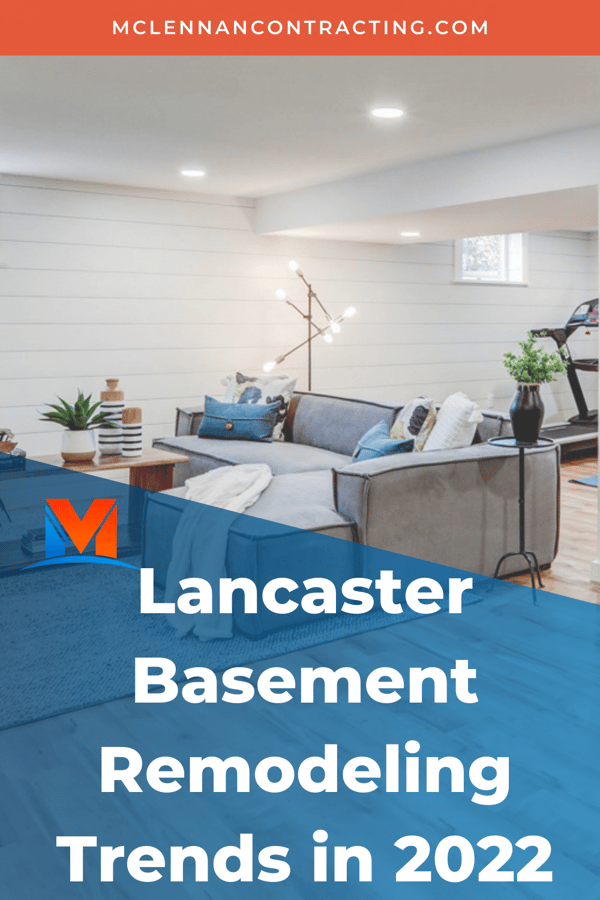 Alison is President of McLennan Contracting, which she owns alongside her husband, Tim. Together they have three children, whom they homeschool. When she isn't working, teaching, or planning the family's latest RV trip, Alison can be found introverting with a book in one hand and coffee in the other, or playing video games with her kids.