4 min read
Interior Design vs. Interior Decorating: What's the Difference?
By: Amanda Witherow | September 29, 2022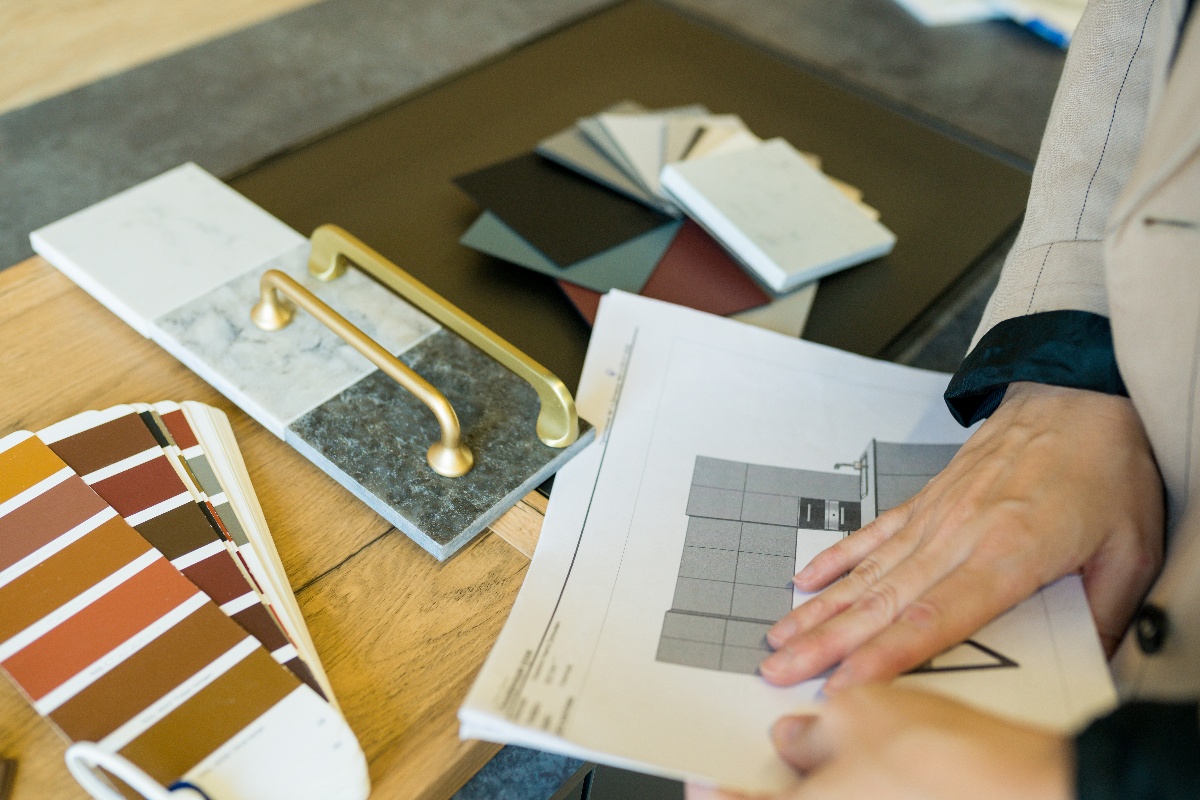 There is often confusion around interior design and interior decorating in remodeling. Though they are similar and can sometimes overlap, they are not interchangeable. One refers to aesthetics, where another refers to function.
The type of project and the desired outcome will greatly influence if you need interior decorating or interior design for your project. Before diving into which one you need, you must first understand the difference between the two.
What is Interior Decorating?
Interior decorating refers to purely aesthetic and cosmetic design. Decorators are skilled at coming into a room and changing the visual look and feel without making structural alterations. They help clients decide on a style, a color scheme, furniture, and accessories.
Though many professional interior decorators have college degrees in a related field, it is not a requirement of the profession. They are not required to have formal training, certifications, or degrees, due to the fact that they focus primarily on aesthetics. However, there are many programs and courses available to help educate the decor specialist. The courses often focus on color, fabric, layout of furniture, space planning, styles and more.
Since structural work is usually completed before an interior decorator comes in, they generally do not work with contractors or architects. Interior decorators most often work closely and directly with homeowners.
What is Interior Design?
Interior design refers to planning the structural, mechanical, and cosmetic elements of each home remodeling project. Interior designers are comfortable with spatial planning, structural changes, floor plans, as well as decorative accents. Not only do designers enhance the look of a room, they can also enhance the function of a room.
Interior designers are required to have specific schooling and training. Education usually includes studying color and fabric, computer-aided design (also known as CAD), drawing, space planning, structural and mechanical elements and codes, and more.
Most interior designers will have one or multiple certifications and belong to an association, like the National Kitchen and Bath Association (NKBA). The NKBA is the world's leading trade association for the kitchen and bath industry, providing tools, research, certification, and events to thousands of professionals.
Interior designers work closely with architects and contractors to help achieve the desired function and appearance of a space. A Design-Build company will have an interior designer on staff that will work closely with the other departments that will be working on a client's project.
So what's the difference? Think of it like this:
An interior decorator adds color to the coloring page. An interior designer creates the coloring page.
So what does that mean when it comes to remodeling?
What does "Design" mean in remodeling?
Before learning the difference between interior decorating and interior design, you may have thought that the design phase in a remodel focuses primarily on aesthetics; colors, fixtures, etc.
However, in remodeling, specifically Design-Build remodeling, design includes everything from gathering information about the existing space, identifying problem areas, developing ways to creatively solve those problems, creating plans and renderings, and making the decorative selections.
Design can be done a few different ways. If a homeowner has some background knowledge, they can develop a design on their own. This is known as homeowner design. A homeowner can also work with an independent designer to develop the plans for their remodeling project. This is known as independent design. In both of these options the design and plans are then given to a contractor to bring to life.
Another option is for a homeowner to work with a design-build company. Design-Build remodeling incorporates all aspects of a remodel under one roof and into one streamlined process. The homeowner works with a Design-Build company to clarify their needs and wants, create a functional design, make product selections, and flesh out all detailed specifications for the project.
In this decision-making process, designers make sure the project is being constructed correctly while also meeting the needs and expectations of the client. For that reason, no remodel is too small for project design.
Does your project need a designer or a decorator?
Who you should work with depends on your needs, the type of project, and desired outcome. If your project requires changing paint colors, adding wallpaper, switching out furniture, picking window treatments or light fixtures, or any other aesthetic updates, an interior decorator will be right for you.
If you are looking to remodel a room by altering or replacing mechanical elements, walls, or layout of fixtures, you will want to hire an interior designer. Even if you think your project is small and simple, most remodeling projects require a designer. Whether it's finishing a basement, changing the layout of a kitchen, or updating a vanity in a bathroom, design (a.k.a. project planning) is needed.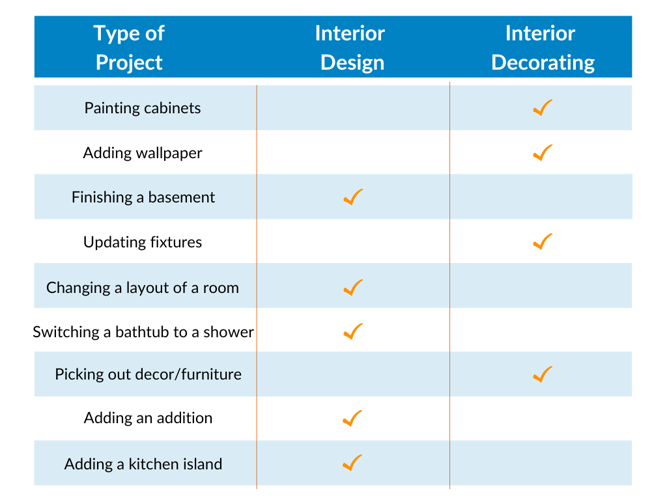 If you are still unsure whether your Lancaster home project needs a Design-Build remodeler or an interior decorator, we're happy chat with you and make a recommendation. Reach out today to schedule a virtual consultation.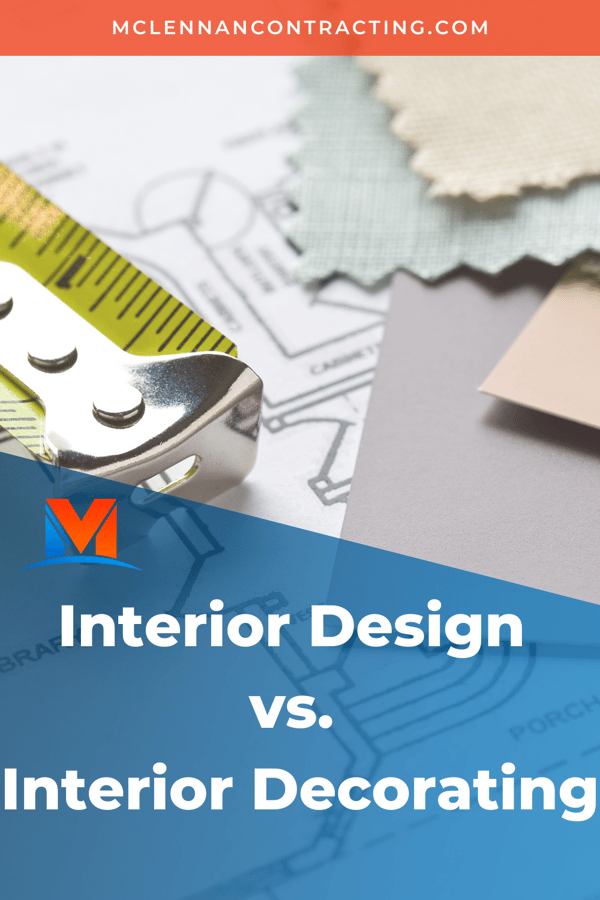 Amanda is the Marketing Coordinator at McLennan Contracting. She and her husband, Alex, have a son and one cat. (Hoping to add a dog to the family in the future!). Amanda is also a health and fitness coach and enjoys spending time in her gym. When she isn't working or working out, she enjoys going on family walks/hikes, reading, bingeing TV shows, healthy baking, adventuring to new parks with her little man, and watching him explore and grow.