6 min read
7 Small Remodeling Projects That Make a Big Difference
By: Alison McLennan | August 17, 2022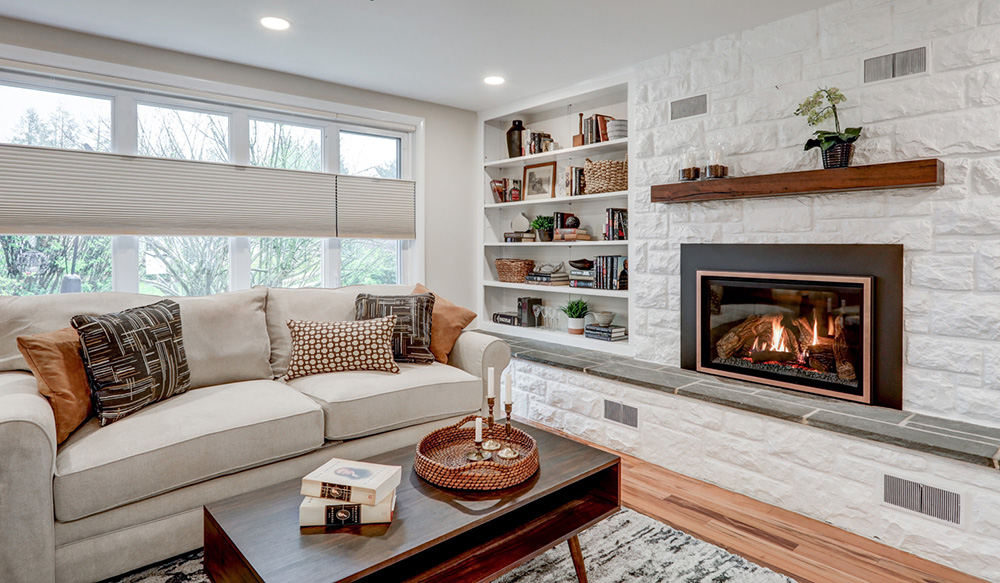 HGTV has taught us to adore large-scale remodels. (Who doesn't love sitting on the couch with a pint of B&J's while an entire home gets Fixer-Uppered in under an hour?)
But as fun as "reality" shows (ahem) can be, remodeling looks a little different for most homeowners. Renovations have to happen in an occupied space, and the average budget doesn't allow for a full-house gut and remodel.
The good news is that remodeling doesn't have to be about massive overhauls. Small remodeling projects pay off in a big way.
The Principle of Small-but-Impactful Things
The principle of small-but-impactful things plays out consistently in so many areas of life:
RELATIONALLY: Investing an extra ten minutes at bedtime each night to listen to or pray with our children will pay dividends in trust, security, and sense of worth.
PRACTICALLY: Whether the kitchen is left clean or dirty at the end of the night has a profound impact on our attitude and schedule the following morning, which in turn affects our interaction and relationships with others.

FINANCIALLY:

Micro-loans and savings groups radically affect impoverished nations. The amount we spend on one night in a hotel can allow someone on the other side of the globe to start a business, provide for a family, and create jobs for others in need.
PROFESSIONALLY: From the way we organize and manage details to the way we conduct ourselves in difficult conversations, the principle of small-but-impactful things is a key element to successfully operating our business.


7 Small-but-Impactful Home Remodeling Projects
1. Refresh Your Kitchen
You don't have to demo and replace your entire kitchen to make it feel like new! A kitchen refresh creatively re-uses your cabinets and existing floorplan to transform your space with minimal disruption. New paint, cabinet hardware, and various other finish elements can have a dramatic impact, without the cost of a full kitchen remodel.
Kitchen refreshes are a good option for homeowners whose cabinets are perhaps dated but in good condition, and without heavy grease build-up.

2. Add an Accent Wall
If you're looking to add style to your bedroom, bathroom, living room, or home office, an accent wall provides endless options for customizing the look of your space. You can simply paint one wall a bold or distinctive color, or pair the new color with a simple trim detail to create texture and increase the wall's visual effect. If you're looking for more of a statement, you can use wallpaper or even LVT to create a visually stunning accent wall.
You can also greatly enhance your wall's appeal with intentional decor selections, such as live-edge floating shelves, wall sconces, or inspiring artwork. When it comes to accent walls, there is an option to fit every personal style!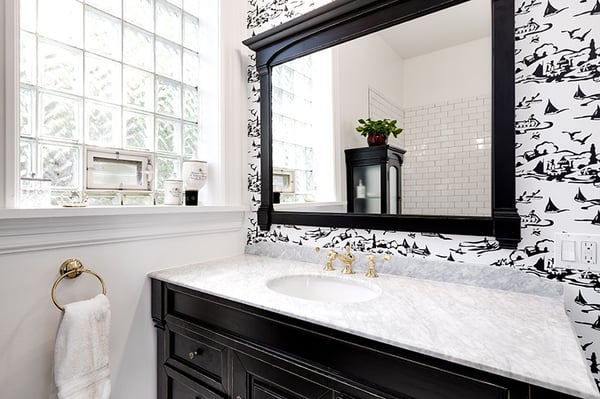 3. Reimagine Your Fireplace
Raise your hand if your fireplace is still sporting the dark, drab look of 1993. One of the hottest small remodeling projects in Lancaster is fireplace makeovers. For all those fireplace surrounds built of red Lancaster brick, a professional paint job, stucco overlay, or stone veneer can make your fireplace look brand new.
You can also add a statement-making mantle, or frame your fireplace with built-in or floating bookshelves to enhance the cozy ambiance of a winter fire.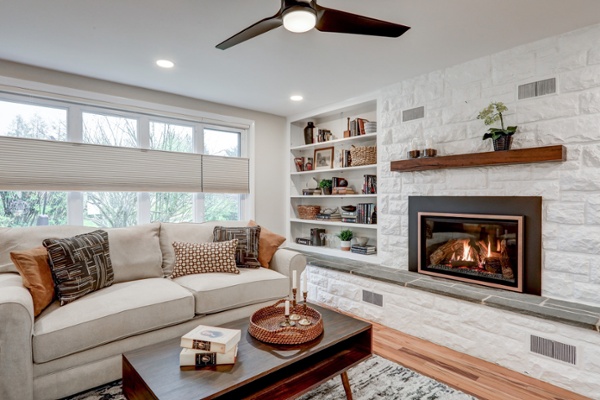 4. Patch and Paint
Smooth walls and fresh paint make a big difference, especially when you're intentional about color. If you haven't read about the psychology of room color and how it can affect your mood, it's worth doing some research. And for practical tips on how to paint a room without losing your cool, check out our post, 10 Tips for Frustration-Free Painting.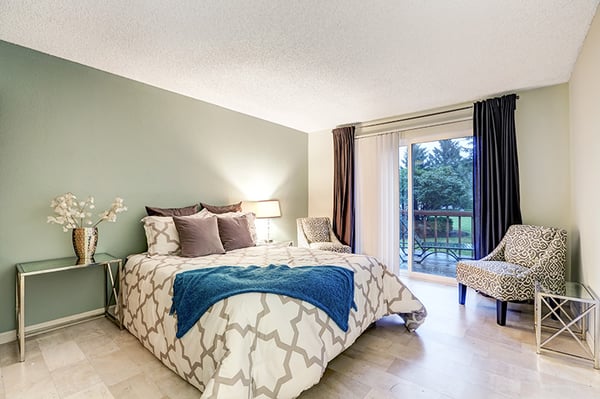 5. Enhance Lighting
Some of our favorite projects involve removing walls or adding windows to allow for more natural light. These relatively small projects consistently transform a living space from dark cave to bright sanctuary, which can positively impact emotions in the darker months.
On an even simpler level, switching out fans and ceiling lights or adding recessed lighting affects the ambiance of a space and its functionality. Depending on the fixtures you're replacing, it can also improve energy efficiency.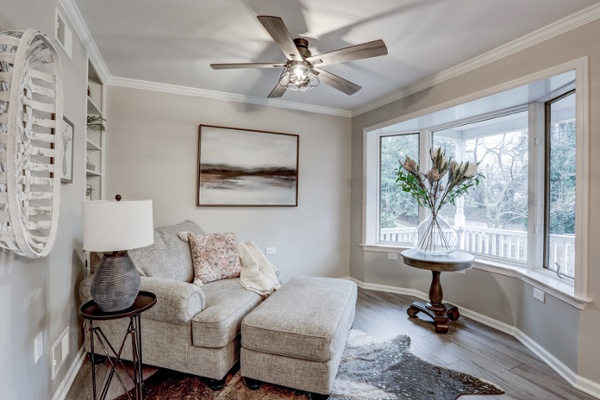 6. Open Up Your Floor Plan
Just because a home didn't start out with an open floor plan doesn't mean it has to stay that way. Most walls (even many load-bearing) can be altered or removed if done by an experienced pro who understands the engineering of a home and local code requirements. This can powerfully impact the way homeowners experience a space, making small homes feel larger and providing a sense of togetherness even when family members are in different rooms.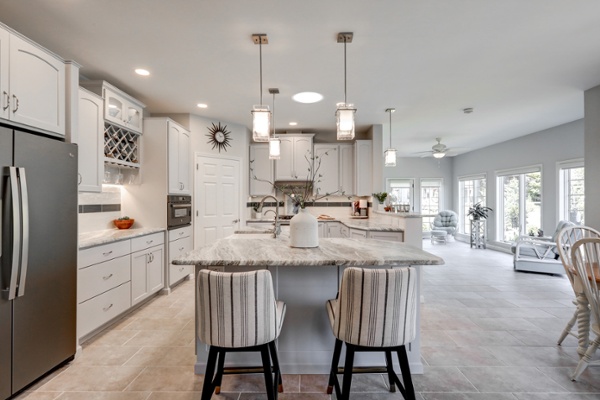 7. Door Replacement & Repair
Door replacements might not sound sexy, but they pack a serious design punch. Replacing a solid front door with half or full glass brings in light and thoroughly alters the ambiance of an entryway.
Want the privacy of a glass-less front door? You can still add a stylish storm door with interchangeable full glass or screen to provide the option of light and airflow on pleasant days.
Aside from door replacement, don't underestimate the satisfaction factor of well-functioning existing doors. Interior or exterior doors that drag on the carpet or won't close without a shove are a daily annoyance. Having them fixed is usually a simple process, and one that will likely be appreciated multiple times each day.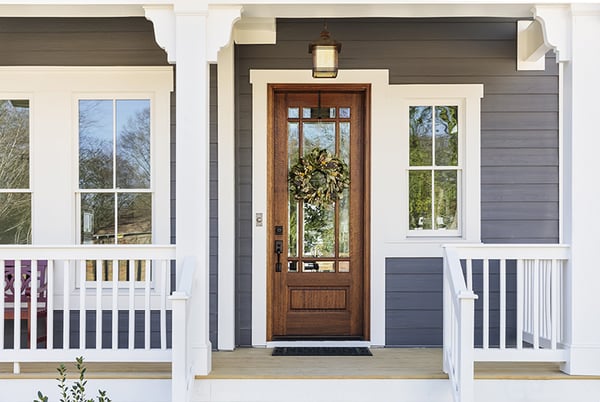 At McLennan, many of these small remodeling projects fall under our Lancaster Home Repair & Handyman services, which we offer to existing clients and select new clients. Some of our small project and handyman services include:
Kitchen and bathroom refreshes
Painting and drywall
Safety rail and grab bar installation
Sink and faucet replacements
Replacement windows and doors
Rot repair
Siding repairs
Staircase makeovers
Fireplace makeovers


When should I DIY, and when should I hire a remodeling contractor?
As much as we love helping homeowners transform their homes through full kitchen, bathroom, and basement remodels, we also recognize and value the enormous impact small changes can make for Lancaster families.
Sometimes it makes sense to tackle these small projects as DIY, and other times you might benefit from hiring a contractor to make your life easier. It all depends on the intricacy of the project and whether you have the time, technical skill, and inclination to take it on.
We love helping homeowners choose between remodeling projects and decide if or when they should hire a remodeling contractor rather than tackling small DIY remodeling projects themselves. If you'd like to chat about one of the projects mentioned in this post, or another remodeling project that could enrich your life at home, click below to schedule a free consultation with one of our Project Consultants.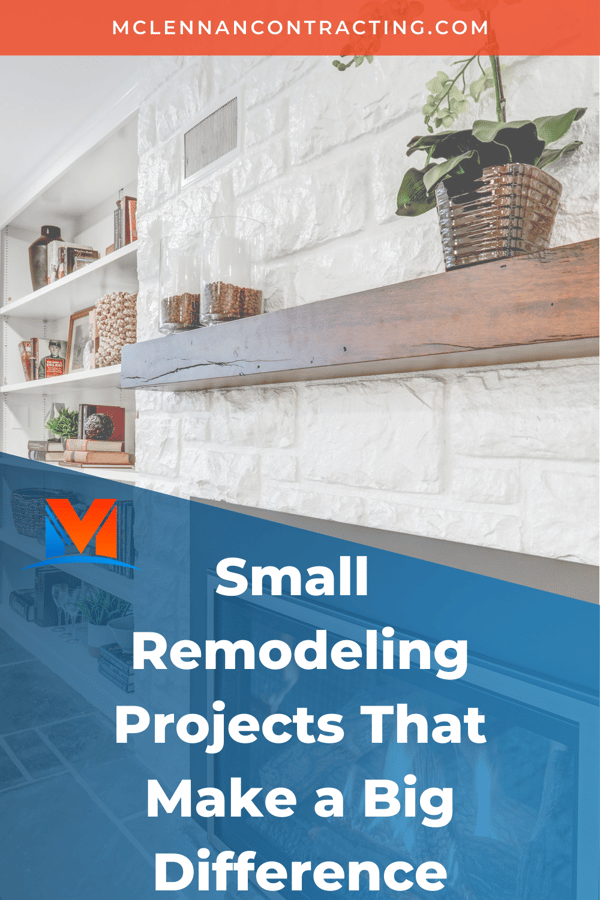 Alison is President of McLennan Contracting, which she owns alongside her husband, Tim. Together they have three children, whom they homeschool. When she isn't working, teaching, or planning the family's latest RV trip, Alison can be found introverting with a book in one hand and coffee in the other, or playing video games with her kids.