5 min read
Lancaster Home Remodel: How Much Will It Cost? [2022]
By: Alison McLennan | February 23, 2022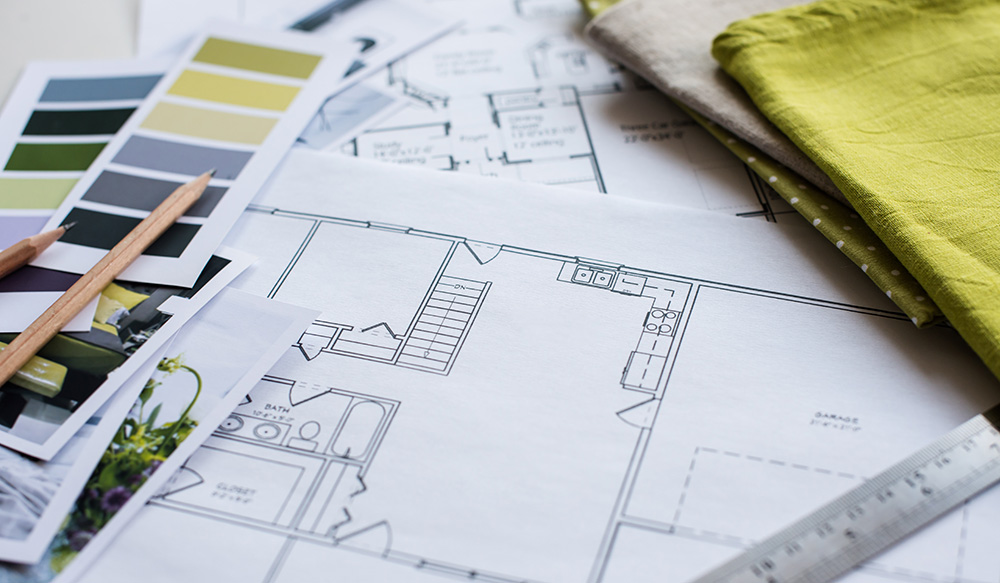 So what does a whole home remodel in the Lancaster area cost? If you were to remodel at least one kitchen, bathroom, and basement, in addition to other miscellaneous home improvements including windows, doors, and siding you could spend between $100k and $450k+. We know what you're thinking, that's such a large range! This is because no two houses are the same, and there are too many variables to give an accurate snapshot of what your remodel will cost without delving into the details.
Even the most trusted source for home remodeling prices by the research group Hanley-Wood will have estimates for the same room ranging several tens of thousands of dollars in the annual Cost vs. Value Report. Each room or project is subdivided by two or three classifications, however, the range is still so wide it begs the question: What creates such a wide variation in some home remodeling projects?
Let's dive in, one room at a time.
Common Lancaster Home Remodeling Projects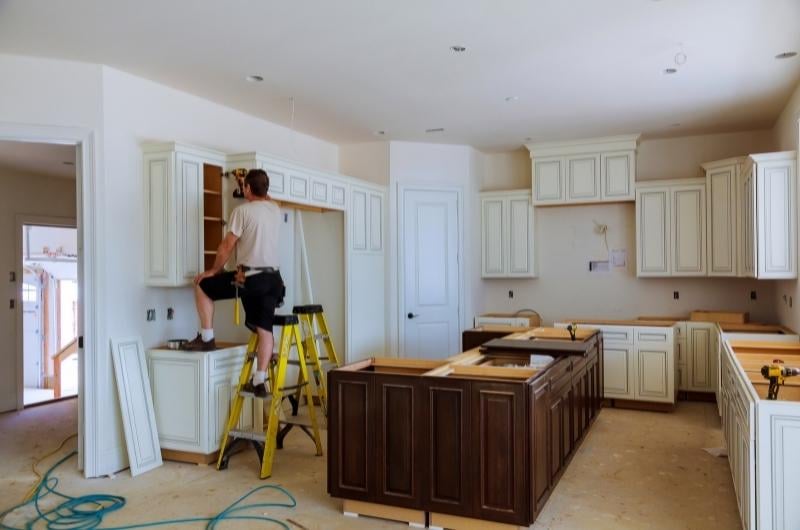 Kitchen
Kitchen remodel estimates are the most varied and expensive because of the vast amount of possible changes, materials, and additions you could include in your remodel. Because of this, the 2021 Cost vs. Value Report lists three categories for kitchen remodeling costs: Minor Midrange; Major Midrange; and Major Upscale. A Lancaster kitchen remodel is estimated to cost on average $25,302, $73,442, and $143,793, respectively.
Most kitchen remodels in Lancaster tend to fall in the major midrange category, and because this can still vary so widely, let's break down that category and determine what each could include and their estimated costs:
Midrange Economy ($52K): Replace cabinets, hardware, fixtures, countertops, and flooring; layout of the cabinets and footprint would remain.
Midrange Designer ($74K): All of the same replacements but of higher grades; cabinetry layout may change; appliances may be relocated.
Midrange Premium ($92K): Relocating or removing walls; change layout of cabinetry; replacing and upgrading all finishes.
Of course, there are variations across the different categories. For example, a homeowner who budgeted for a Midrange Designer kitchen remodel may choose to only replace the cabinet doors while upgrading the countertops to the Premium level. Combinations like this are very common.
Bathroom
A bathroom remodel in Lancaster is as difficult to price neatly as a kitchen remodel for the same reasons. There are so many variations and materials to choose from, that the average prices as found in the 2021 Cost vs. Value Report ranges from a Midrange at $23,910, a Universal Design at $37,554, and an Upscale design at $73, 670. These estimates don't include Midrange and Upscale bathroom additions, $54,866 and $101,461 respectively, which range drastically due to similar variations as remodeling projects.
Lancaster bathroom remodels, just as kitchen remodels, favor the Midrange level. Once again, this will vary, so let's look at each category, what they could include, and the average cost:
Midrange Economy ($24K-$34K): Stock cabinetry and countertops; new flooring; acrylic or fiberglass tub; and fresh paint.
Midrange Designer ($35K-$52K): Might include a change of layout on the higher end of the range; stock or semi-custom cabinetry; fresh paint; upgraded countertops and fixtures.
Midrange Premium ($53-$70K): Might include a change of layout; upgraded finishes and fixtures; perhaps a glass shower enclosure; custom cabinetry.
Beyond the Midrange, categories would be Upscale, and this is where you begin to see finishes, materials, and features that would be considered luxury.
Basement
A finished basement offers an incredible amount of versatility as to what the space could become. Unlike the use of a kitchen or bathroom, the future purpose of a basement is completely up to the homeowner, lending to even more variability in estimates. A finished basement could include anything between simple walls and a concrete floor to a suite with a full bathroom. There is, however, a short list of the most common finished basement go-tos that are a great place to start when estimating what it might cost to finish a basement in Lancaster.
Finished Storage ($20K-$40K): Painted masonry or drywall and concrete or vinyl flooring.
Home Gym or Recreation Room ($40K-$60K): Painted drywall; tile, plank flooring, or carpet; recessed lighting and drywall ceiling; concealed ductwork.
Entertainment Area ($60K-$80K): Higher grade materials and finishes; could include crown molding and built-ins; perhaps a bar or a small bathroom; increased access to electricity and plumbing.
Guest Suite ($80K-$150K+): A multi-room layout; full bathroom; high-grade finishes and fixtures; increased access to electricity and plumbing; windows to meet building codes.
Having an idea of what the basement will be used for is imperative to having an idea as to what the budget for finishing a Lancaster basement should be.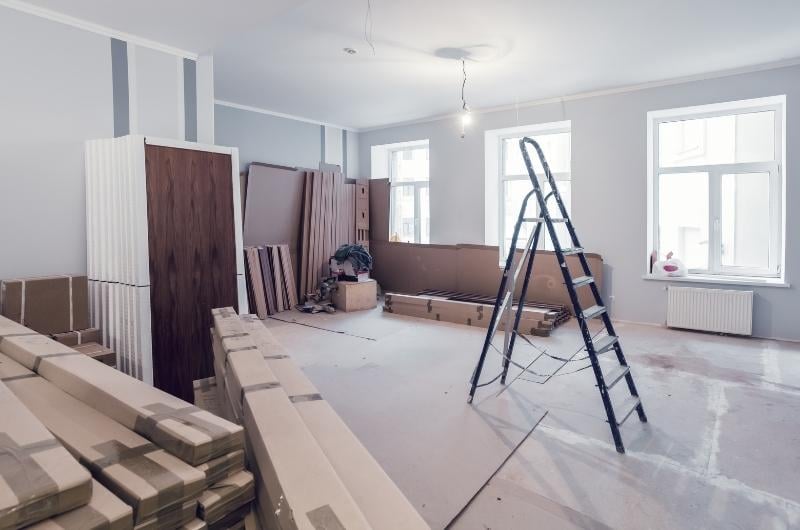 Other Lancaster Home Replacement Projects
Other remodeling projects are more straightforward in their estimates because they are simply less complex. Projects that would be considered replacement or maintenance jobs are predictable in that they perhaps offer fewer choices of materials and the labor costs are consistent because the labor itself tends to be consistent.
Windows
Standard residential window replacement would typically be a choice between vinyl or wood. The 2021 Cost vs. Value Report published its estimate based on the replacement of ten windows of either material. It is estimated that replacing ten vinyl windows would cost $18,588 and ten wood windows would cost $22,553 in Lancaster.
Entry Door
Updating the home's front entrance can be as simple as replacing a door or upgrading the curb appeal by installing a grand entrance. The 2021 Cost vs. Value Report puts the replacement of a steel front door at $2,012. As for installing a grand entrance, the Lancaster remodeler would have to cut a new opening to make way for a new frame, as well as move electrical elements like switches and sconces, and color match the new and existing details. Installation of a grand entrance in Lancaster is estimated to cost $9,770.
Siding
As with the window replacement estimate, the Cost vs. Value Report compared 1,250 square feet of two different siding materials. Replacement of vinyl siding in Lancaster would cost $15,683 and the replacement of fiber-cement siding is estimated to cost $18,588. The labor is very similar, so the difference is in the quality of materials.
Ready to Dream Up Your Lancaster Home Remodel?
McLennan Contracting knows just how complex budgeting for a remodeling project can be. With the availability of so many materials, finishes, and custom options, remodeling a home might get overwhelming. That's why McLennan Contracting offers a free virtual consultation to get the conversation started and to explain the remodeling process. Allow McLennan Contracting to answer any question you may have to take the confusion out of budgeting for a home remodel in Lancaster.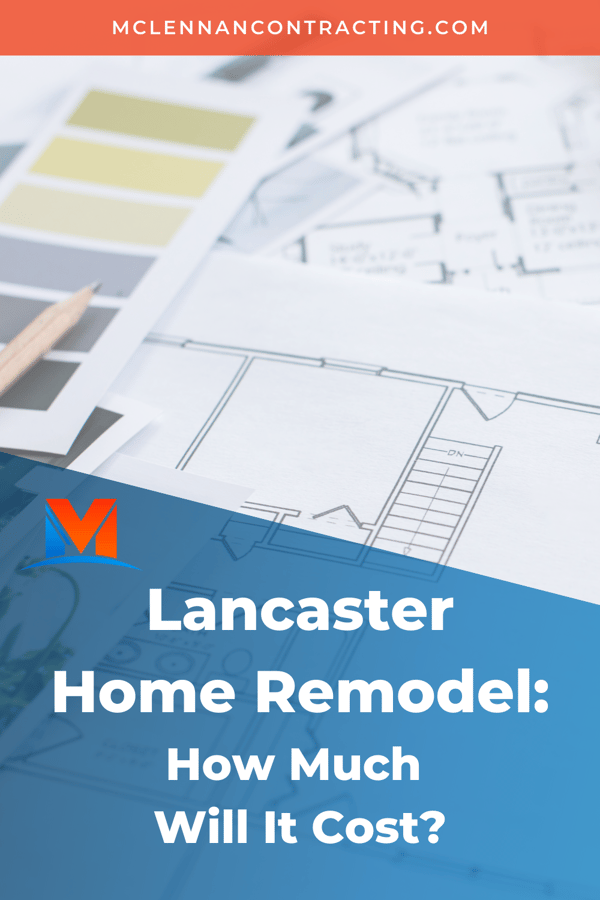 Alison is President of McLennan Contracting, which she owns alongside her husband, Tim. Together they have three children, whom they homeschool. When she isn't working, teaching, or planning the family's latest RV trip, Alison can be found introverting with a book in one hand and coffee in the other, or playing video games with her kids.