5 min read
7 Best Trends for a Lancaster Bathroom Remodel
By: Alison McLennan | April 12, 2022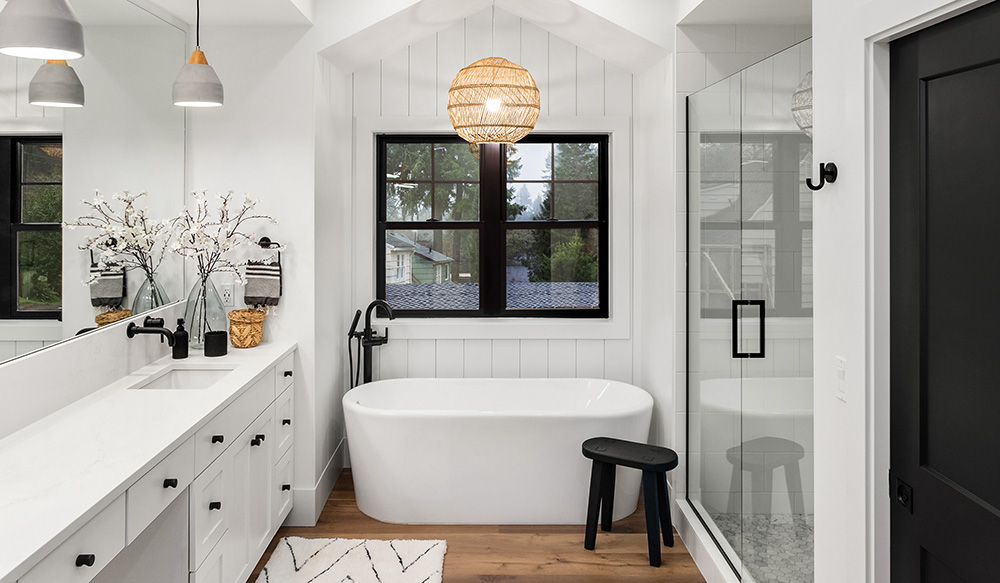 When it's time to remodel your bathroom, it can be overwhelming to consider all of the great design ideas. Scrolling through Pinterest and binge-watching home improvement shows can, unfortunately, create a long list of possibilities. Start with how you use the space and work with your Lancaster remodeler to figure out the best solutions! A great place to start? Check out this list of today's most popular features in bathroom remodels!
1. Dual Vanity
A bathroom remodel is the perfect time to look at every part of the space and consider how it could serve you better. Installing a dual vanity is a popular go-to bathroom design idea. With double the lights, sinks, counter space, and mirrors, what isn't perfect about the dual vanity? If space is an issue, consider a more compact design or work with your Lancaster remodeler to explore the idea of expanding the footprint of your bathroom.
2. Color
Now is the time to incorporate color! Choose colors that are soothing but stylish, such as an earthy green or a soft and cool slate blue. Natural wood tones are rising in popularity once again. In the bathroom, choose teak or bamboo—both materials perfect for withstanding hot and humid conditions.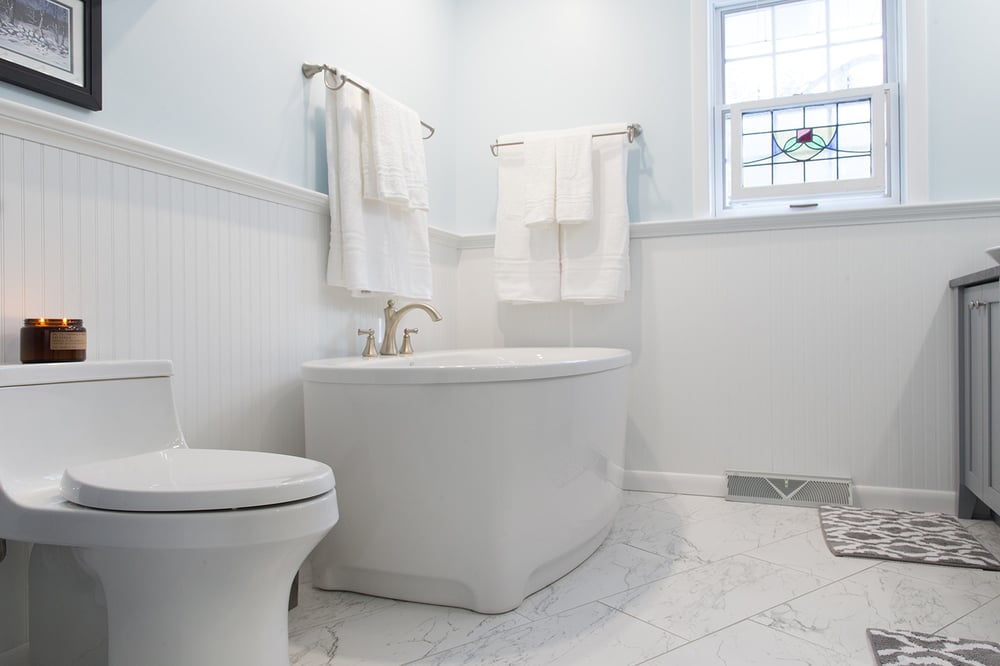 3. Freestanding Tub
The freestanding tub is back and better than ever! With beautiful sloping edges and rounded designs, the new styles of modern freestanding tubs feel like both a luxury and a work of art. Treat it like a focal piece in the bathroom and have custom-designed tile on the floor and the surrounding wall. A freestanding tub is a great spa-like addition to your shower. Homeowners who remodel their bathroom to include an oversized freestanding tub and a shower are glad they've made plenty of room to fit both. Your bathroom remodel should include a footprint that can accommodate both, leaving you the option for a quick shower before work and a long soak later in the evening.
4. Curbless Shower
A curbless shower has a very modern appeal with clean lines and an openness that feels high-end. Incorporate this bathroom remodel idea into your new space with a few more custom touches, like a built-in bench seat and custom tile. Your curbless shower could include a door, a curtain, or simply an opening to a glassed-in surround.
Besides being very stylish, curbless showers prepare a home for aging in place or unforeseen disabilities. The lack of a curb means no stepping up, no tripping over the threshold, and easy wheelchair access, if necessary. If including a curbless shower is an intentional addition for these purposes, talk with your Lancaster remodeler about other attractive design ideas for aging in place and accessibility.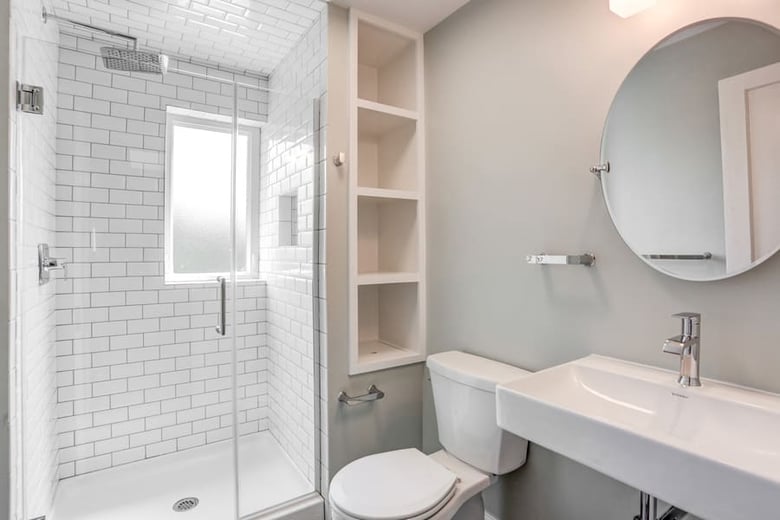 5. Custom Storage
One of the most popular features you should include in your bathroom remodel won't even be noticed at first glance! Custom storage is not only popular today but necessary and has become increasingly dynamic and personalized. Think cabinet drawers with outlets and heat-resistant holders for hair styling tools, or perhaps pull-out lower cabinet shelving for easy-to-reach bath towels and bathroom tissue. Shallow vanity drawers with built-in dividers keep you from having to find inserts that are just the right size. A tall end cabinet door that actually pulls out to reveal shelving for bottles is perfect for backup shampoo and conditioner, hair styling products, or cleaning products.
Custom storage doesn't end with the bathroom vanity. Recessing shelves or cubbies into the wall is a creative way to add custom storage to a smaller bathroom. In-bathroom walk-in closets also offer loads of opportunities for custom storage! Incorporating a small wash closet with a whisper-quiet washer-dryer combo in the master bath or walk-in closet, for example, is a highly practical option for your Lancaster bathroom remodel.
6. Heated Floors
Traditional forced-air heating systems warm the air but leave surfaces cold. Heat escapes through leaks in the ducts on the way to each room, the airflow can create drafts, and the heat might not even make it to certain corners of each room. Radiant heated floors are far more efficient at making you comfortable in the colder months by heating the surface, bringing warmth directly to you evenly and without drafts. Heating your floors is also more energy-efficient, saving you in heating costs in the long run.
You have the choice between electric floor heating and hydronic, but electric is best for remodeling because it is easier to retrofit into a space. If you're worried about maintenance and repairs, electric floor heating systems are known to last decades before needing any maintenance, making this an ideal bathroom remodel idea.
7. Bathroom Tech
Today's popular bathroom features use technology in whole new ways! From floor to ceiling, tech in the bathroom is offering comfort, convenience, and even entertainment. Heated floors, steam showers, programmable shower sprayers, waterproof Bluetooth shower speakers, and custom adjustable lighting are some of the most popular tech available in bathrooms.
Some of these innovations are even programmable! Your new heated floors, for example, can be scheduled from your smart device to turn on automatically, such as in the morning before you wake up and start your routine. The steam and spray features in your newly remodeled shower can also be programmed to follow a certain sequence. Consult with your Lancaster remodeler to discuss different technological opportunities in your bathroom.
Your Perfect Bathroom Remodel
Whether you decide to include all or just one of the most popular bathroom remodeling features in your remodeling project, having a great design-build firm should be a priority! McLennan Contracting specializes in bathroom remodeling and will work with you to design a bathroom that is perfect for your needs and lifestyle. Download the remodeling cost guide, check out the online gallery of beautifully completed projects for very happy homeowners, then contact McLennan for a consultation.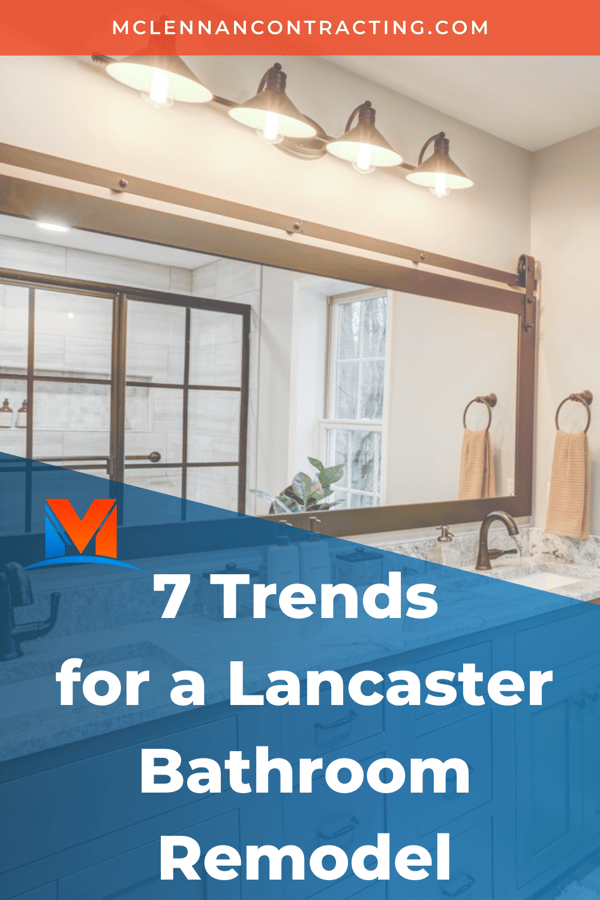 Alison is President of McLennan Contracting, which she owns alongside her husband, Tim. Together they have three children, whom they homeschool. When she isn't working, teaching, or planning the family's latest RV trip, Alison can be found introverting with a book in one hand and coffee in the other, or playing video games with her kids.