5 min read
5 Popular Kitchen Cabinetry Ideas for Your Lancaster Home
By: Allie Brannon | October 14, 2022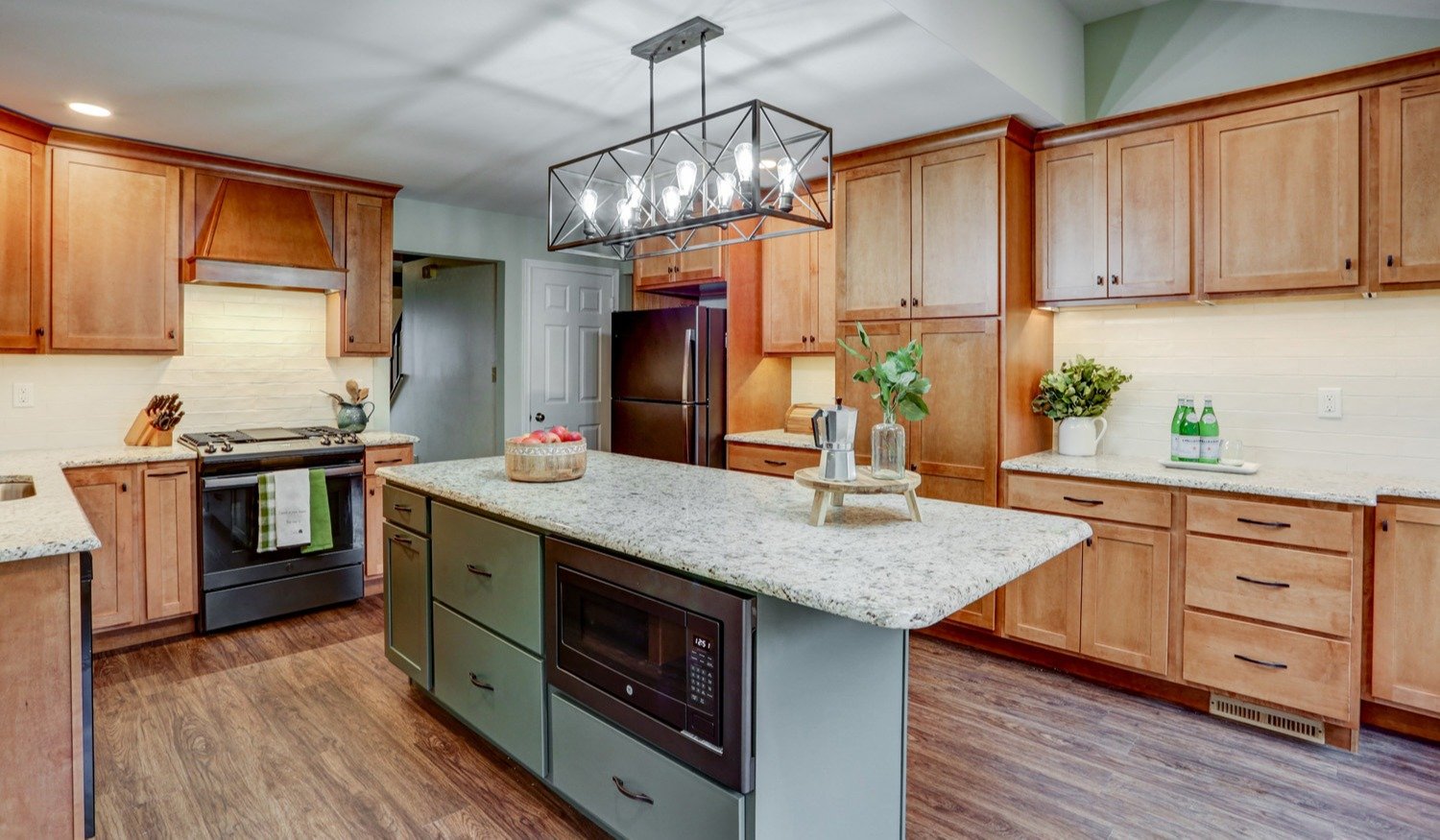 Your kitchen is one of the hardest-working places in your home. Whether it is used to cook for one person or a crowd, to learn new culinary skills or perfect your grandmother's cookie recipe, to welcome kids doing homework or a friend for coffee, your kitchen needs to be both practical and welcoming.
Kitchen cabinets — one of a kitchen's major features — are important in terms of storage and ease of use. They also contribute to the look and feel you're going for in your Lancaster kitchen. Here are five popular kitchen cabinetry ideas for you to consider, whether you're looking to make a drastic change to your cabinets or just some minor tweaks.
1. Warm it Up with Wood
If you want to install new kitchen cabinets, consider using natural wood tones. All types of wood are making a comeback in kitchen cabinets. Wood is eco-conscious, beautiful, and classic. With so many types of wood to choose from, it's easy to find something that fits your aesthetic.
Walnut kitchen cabinets make a dramatic statement, especially when under-the-cabinet lighting is used as a kitchen cabinet feature. The wood's dark color makes it feel luxurious and rich.
Ash offers a lighter and more subtle solution while still adding interest and warmth.
Oak is returning in popularity. Its lovely grain and color fit seamlessly with every kitchen style, from cottage to farmhouse to modern.
Consider using locally-made custom cabinets to personalize your space. This will give you high quality products, straightforward upgrade options, and attention to detail that is specific to your Lancaster kitchen.
Curious about how much money a kitchen remodel with new cabinetry would cost? Check out this blog post for details.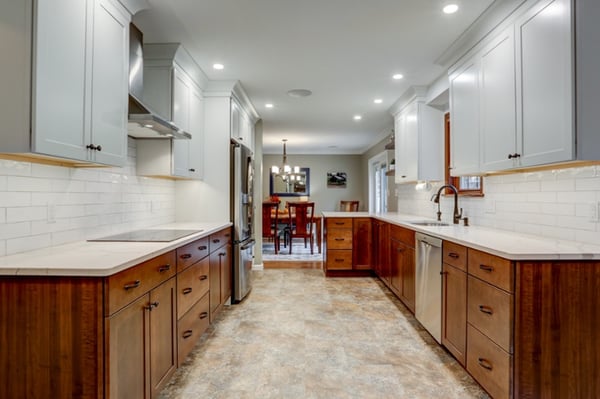 2. Cool it Off with Minimalism
In today's world, many people are turning toward simplicity and minimalism to counteract the busyness of everyday life. The kitchen, where so much life happens, can be a haven of peace for you and your family.
A completely minimalistic home might seem out of reach, but it's easy to move toward more clean and simple spaces by making a few changes.
Try using all-white cabinets with sleek features such as handleless designs with push-open and close doors, or recessed handles. This puts the focus on simplicity and kitchen cabinet details.
Modern designs, matte-black hardware, and metallic finishes can bring interest and warmth to a minimalist kitchen.
Clearing and reducing visual clutter helps bring a sense of calm. Try storing appliances and other countertop items in your cabinets instead. If you are having trouble figuring out how to organize your kitchen cabinets for optimum storage space, try customizing the space with pull-out corner cabinets, space-saving wire storage units for pot lids and other large items, and pull-out shelves for easy access.
3. Add Color
Painted kitchen cabinets are in! They are easy to maintain, fit in with any style or design, and give practically endless options. Painted cabinets can also be a lower-cost solution to change up your kitchen than a complete cabinet overhaul. And an added benefit is that the color can be changed just by repainting. Current color trends include:
Neutrals, like soft blue and gray
Cheerful colors such as yellow and light green
Dramatic colors including navy, jewel green, plum, and even black
Check out our kitchen remodeling gallery for pictures and ideas.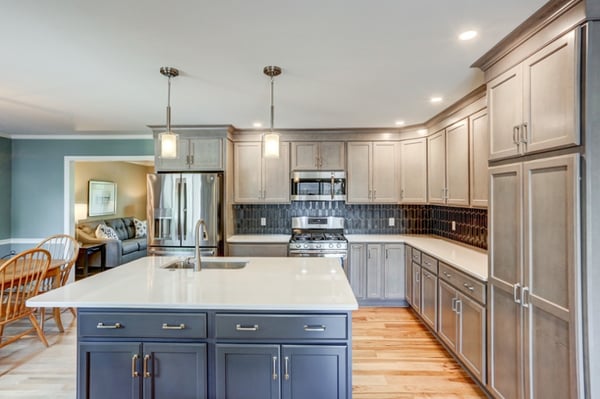 4. Mix it Up
It's becoming more popular to use a mix of materials and colors in the kitchen. This can add a fun, modern twist to your Lancaster kitchen. Try:
Mixing materials such as metal, wood, and marble or granite. If your countertop is granite, consider wood-grain cabinets and metal stools around the island.
Using interesting metals for cabinet hardware, such as brass on dark wood cabinets, or matte black on white cabinets.
Mixing cabinet colors for painted cabinets. For example, use white on the upper cabinets and green on the lower ones. Or use blue on all cabinets, and white or cheery yellow for the kitchen island.
Using white cabinets as a backdrop, and adding texture and color elsewhere, like a colorful backsplash or a jute rug on the floor.


5. Customize Everything
Your kitchen is the room you use most to care for your family. Make it a reflection of you, your priorities, and your desires, so that you enjoy the time you spend there.
Think about what specific needs you have, and consider adding customized cabinets to support them.
Are you an avid baker? Make sure you have easy access to your mixer and measuring cups by building an appliance garage or using deep drawers to keep your supplies together.
Do you love cookbooks? How about adding some open shelving to store them within easy reach?
Do you always have music playing or your tablet within reach? Built-in charging or docking stations, wireless speakers, or televisions are options to add to your cabinetry.
Don't forget to make your kitchen feel like the important part of your home that it is. Add art you love, handwritten framed recipe cards, or special nostalgic items to open shelving or empty walls.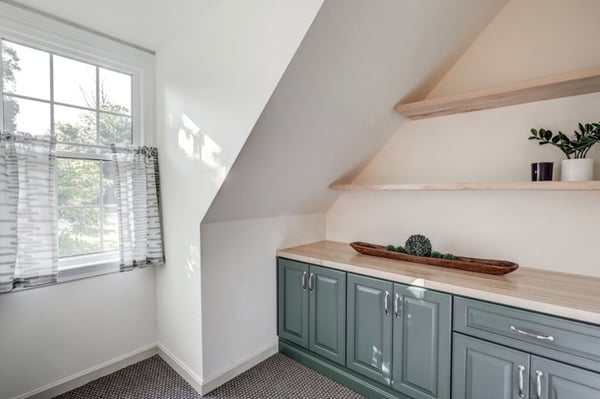 You spend a lot of time in your Lancaster kitchen. Your kitchen cabinets play a huge role in making your kitchen work for you, and in making it an enjoyable, lovely place to be.
Whether you're considering a kitchen remodel or a kitchen refresh, we can help you design and build the perfect kitchen for your family.
Schedule a no-obligation discovery call today to speak with a Project Consultant about your needs.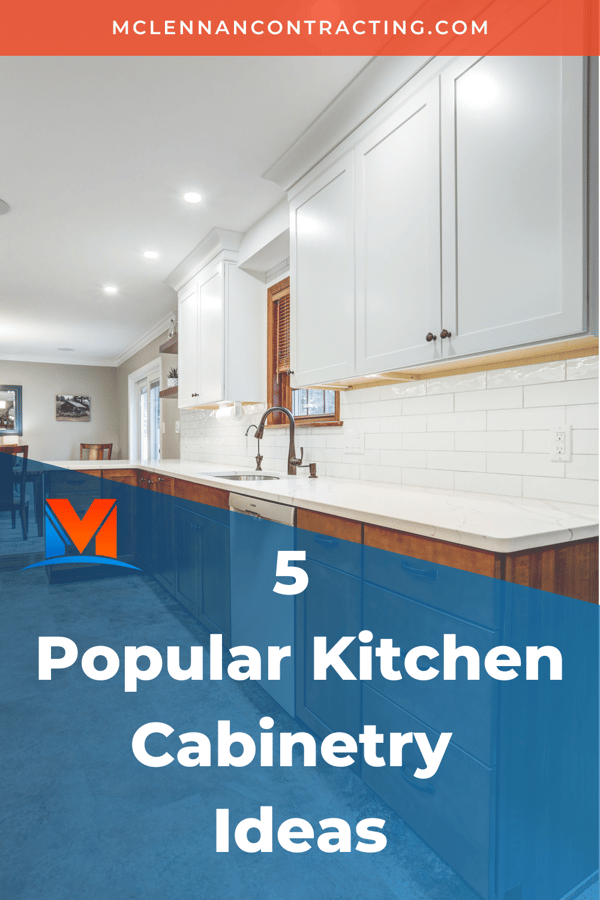 Allie Brannon is a copywriter and content writer specializing in the remodeling and building industry. She is also a pastor's wife and a homeschooling mother of five. In her free time, she can be found sitting outside with a good book and a cup of coffee, learning to garden, or taking a walk with her family or a friend.