6 min read
6 Mistakes You Can Easily Avoid When Renovating Your Lancaster Home
By: Allie Brannon | November 28, 2022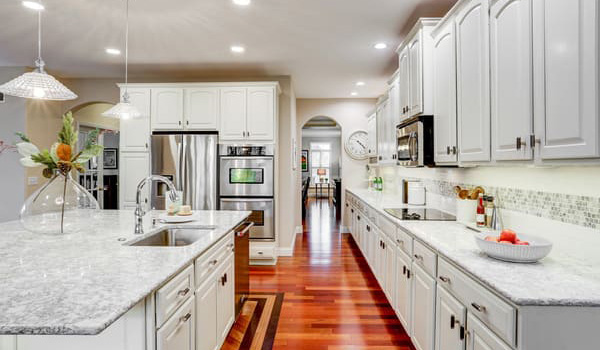 The decision to begin remodeling your home is a big one—in terms of time spent, financial commitment, and ultimately, the degree to which your remodeled home will suit your family.
Whether you are considering renovating your kitchen, bathroom, or basement, you may feel overwhelmed at the number of things that might go wrong. Fortunately, the most common mistakes when remodeling your Lancaster home can easily be avoided.
Mistake #1: Jumping the Gun
In order to be fully satisfied with your Lancaster home remodel, you've got to put in some serious planning before you start. Think about how you use the space now, and how you plan to use it in the future.
Who will be in the room most often, and what will they be doing?
What parts of the room are causing you problems right now, and why? How can you solve those problems with this remodel?
Are there details you can include now that will save you trouble later? Think in terms of storage, upgrades, and tech usage.
A Design-Build remodeling company (which is different than a traditional remodeling company) can help you answer these questions. Interior designers are uniquely qualified to assist not just in coming up with a layout for your improved space, but making sure nothing is missed in terms of structural, mechanical, and cosmetic considerations. They can also help you avoid Mistake #2.
Mistake #2: Being Surprised by the Cost
Remodeling project costs vary greatly according to the scope of the work. In order to plan for your remodel financially, you need to be clear on what your room needs. For example, if you want to remodel your bathroom, will your layout require that the plumbing be moved? In a basement, do you need to add an egress window? Will you be painting your kitchen cabinets or installing new ones?
You can avoid unpleasant budgetary surprises by:
Talking with your contractor about exactly what you want done in your room (You thought through it all already, right?).
Asking about local codes and restrictions, or special considerations for your specific remodel, and how they will play into your final cost.
Downloading our Home Remodeling Cost Guide to give you an idea about how much you can expect to spend for different types of Lancaster home remodeling.
Using a Design-Build company, so all details and costs are clear upfront—before you sign a construction contract.
Mistake #3: Skimping on Lighting (or Using the Wrong Kind)
Nothing makes a room seem "off" more than poor lighting.
In a kitchen, you want bright, overhead lights for cooking and chopping, and also softer lighting for ambiance.
In a bathroom, it's great to have lights on both sides of the mirror, and maybe one over the mirror as well. If you just use the overhead light, it could feel jarring and unpleasant.
And in a basement, lighting is one of the most important features, as most basements tend to be dark with little or no natural light. If you skimp on lighting here, your basement might not be the cheerful, cozy hangout you are hoping for.
Aim for lots of different kinds of lighting in your remodeled room in three main areas:
overhead (can lights, ceiling fans with lights, chandeliers)
eye-level (accent lighting, sconces)
tabletop (lamps, under-cabinet lighting)
Mistake #4: Not Focusing on Layout and Storage in Your Kitchen
One of the biggest kitchen remodeling mistakes you can make is not paying attention to the layout of your kitchen.
Think about the work triangle—the sink, stove, and refrigerator—and the traffic flow between those three spaces.
Streamline the cooking areas by making sure you have enough, but not too much, space between them. You want to have plenty of elbow room while you work, but you don't want to have to walk all the way across a big room to get the knife you need, or to stir something on the stove.
Make sure the space can accommodate multiple cooks, giving them enough room to move around without bumping into each other.
Maximize counter space and storage whenever possible. Keep in mind that special details—storage drawers, lazy susan cabinets, toe-kick storage—are easier and cheaper to add in when you are doing a remodel than down the road when you realize you do want them after all.
Consider special items you want to store: a large coffee maker? A bread machine? Your grandmother's china? Think about where those items will go.
Mistake #5: Ignoring the Hard-Working Components of Your Bathroom
It's easy to get caught up in the fun parts of remodeling a bathroom, like choosing tile and a new vanity. But bathroom remodeling mistakes can happen if you forget the unique mechanical and electrical details your bathroom needs.
In a bathroom, ventilation is key. Make sure you have a good bathroom fan, or your room will suffer from mold and/or mildew, which can destroy walls, paint, and wallpaper, and can even pose health hazards.
If you want to move plumbing, make sure to comply with local codes (ask your contractor for help with this).
Add plenty of code-compliant electrical outlets, thinking about where you want them to be located based on how your family uses the room.
If you are thinking about aging in place in your home, consider a doorless, curbless, walk-in shower, and a comfort height toilet.
Make sure you use quality fixtures, especially in the plumbing, which have metal parts inside, instead of the more breakable plastic you will find in cheaper fixtures.
Mistake #6: Forgetting the Special Concerns of Basement Remodels
Basement remodels are unique because they are generally at least partially below grade (ground level). This presents special considerations and challenges to a great basement remodel. Moisture is always a top concern, so be sure to address this with your contractor. You may need moisture barriers, French drains, or other forms of waterproofing.
It's also important to deal with utilities. Most basements hold the home's air conditioner, furnace, and water heater, and you will want to be able to easily access these for repairs. This may mean building a utility room or closet with lighting and an outlet. Your contractor can help you come up with a plan that safely accommodates utilities while concealing them from view.
Because basements are below grade, they may require the use of special materials for flooring, insulation, and drywall.
For example, because it's not usually recommended to use carpeting in a basement due to potential moisture issues, LVP might be a great option, with area rugs added for coziness.
You may want to use high-grade insulation in your basement ceiling to muffle the sound of people walking above.
Be sure to consider areas that may need moisture-resistant drywall, which is treated to prevent mold. (Proper moisture control will limit how much this may be needed.)


There's a lot to think about when renovating your Lancaster home. But don't worry! While it may seem overwhelming, the process can be smooth and enjoyable if you avoid these potential remodeling mistakes. A good remodeler, especially a design-build firm, has the experience and expertise to walk you through your project, from start to finish. They will inspire confidence and give you a beautiful home remodel that you and your family will love.
Interested in learning more? Schedule a free, no-obligation consultation with one of our project consultants.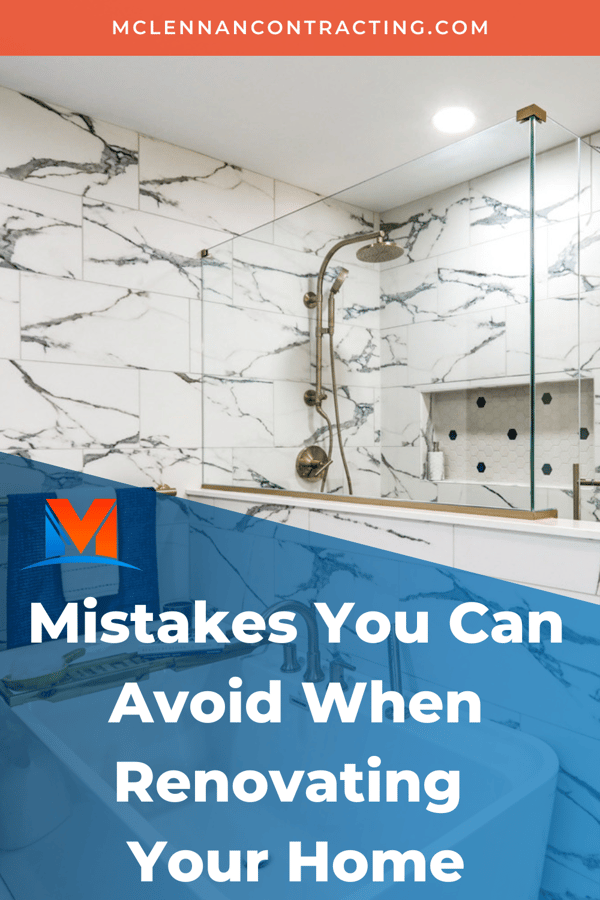 Allie Brannon is a copywriter and content writer specializing in the remodeling and building industry. She is also a pastor's wife and a homeschooling mother of five. In her free time, she can be found sitting outside with a good book and a cup of coffee, learning to garden, or taking a walk with her family or a friend.