7 min read
Lancaster Kitchen Remodel: How Much Will It Cost? [2023]
By: Alison McLennan | December 6, 2022
One of the first questions you'll probably ask when thinking about renovating your kitchen is, "How much is a kitchen remodel going to cost?"
It's a natural and practical place to start, since pulling the trigger on a remodel is dependent on having the funds available to do so.
Unfortunately, getting a straight answer to this question can feel like a shell game. Run a Google search on average kitchen remodeling costs and you'll find numbers differing by tens of thousands of dollars.
What accounts for this disparity, and how do you determine which sources to trust?
What Is the Average Cost of a Kitchen Remodel?
The reason this question is hard to answer is that "averages" are based on assumptions about project elements that range broadly in cost. Below are four of the most significant elements that may differ from one source to another.
1. Scope of Work
An average kitchen remodel cost is affected not only by the size of a space, but by the extent of change taking place over the course of the project. Some kitchen remodels are more of a cosmetic refresh, while others are a full rebuild.
Changes to a kitchen's layout, such as moving appliance locations or altering walls to expand the space, are one of the largest variables. In addition, there's a broad spectrum of changes related to cabinetry, countertops, backsplash, flooring, lighting, and fixtures that significantly impact the budget. For that reason, estimating the cost of remodeling a kitchen before defining the scope of work usually leads to unmet expectations.
2. Grade of Materials & Finishes
As with vehicles, electronics, and other consumer products, kitchen remodeling materials are available in varying levels of quality. Entry-level lines are often less durable and tend to come with fewer features or options than midrange products, while upscale materials seem to have no end to luxury and customization.
And it's not only the visible fixtures and finishes that impact the quality and the cost of remodeling a kitchen. What's behind the walls matters, too.
3. Omitted Costs
Many contractors have a love/hate relationship with HGTV shows like Fixer Upper. On the one hand, they're fun to watch and have inspired millions of homeowners to remodeling's potential impact on their everyday lives. On the other hand, these feel-good shows can foster a host of unrealistic expectations about remodeling budgets and timelines. Their proclaimed budgets almost always omit or reduce costs that the average homeowner will need to cover, such as permits, project management, and labor. Online remodeling cost guides, often geared toward DIYers, sometimes leave these expenses out as well.
4. Location
Just as income and housing numbers differ dramatically from one part of the country to another, remodeling costs are impacted by location. A kitchen remodel in the Pacific Northwest is likely going to cost more than an identical remodel in rural Tennessee. While some of this may be due to market demand, the greater contributing factors are regional labor and material rates, which profoundly affect a remodeling company's operating expenses.
Even our service area, which is primarily limited to Lancaster County, has location-based pricing considerations. How much to remodel a kitchen in Lancaster City? Most likely more than the same scope of work in a suburban Landisville kitchen remodel. Why? Kitchen remodeling cost is impacted by available parking and storage space, parking permit requirements, and whether work vehicles can park near an entrance, where tools and materials can be loaded and unloaded efficiently.
Location-specific building permit costs, and special considerations such as historical preservation can also come into play with kitchen remodel pricing. An historic Strasburg or Lititz kitchen remodel will likely cost more than a Leola kitchen remodel in a 1980s-era home.
Contractors will take location details such as these into account when determining your kitchen remodeling cost.
Which Factors Most Affect the Cost of Remodeling a Kitchen?
Perhaps you've heard the time management analogy about fitting rocks in a jar. This word picture, with a twist, can also be helpful when considering the cost of remodeling a kitchen.
Imagine that the elements of your kitchen remodel are a collection rocks that vary in size. You need to fit all of these rocks into a jar. The jar represents your remodeling budget.
The size of the rocks you select will depend upon the size of your jar. In some cases, you might choose to be chisel a particular rock to a smaller size. Or, if you have extra room in your jar, you might swap out one rock for another of its kind, but in a larger size. (This process of chiseling and swapping rocks is the design process.)
So, how much should a kitchen remodel cost? It depends on your rocks.
What are the biggest "rocks" of a kitchen remodel?
1. Layout
As mentioned previously, expanding and reconfiguring a kitchen layout will be more costly than replacing fixtures and appliances in existing locations. This is due on large part to the structural and mechanical updates required for reconfiguration.
2. Cabinetry
Cabinets, one of the largest "rocks," are available in an enormous variety of grades and styles, with seemingly endless options for customization.
3. Countertops, Sink, and Backsplash
Laminate or quartz? Stainless steel or farm sink? Bead board or ceramic tile? The materials selected for these elements come with a broad ranges of prices.
4. Appliances
Are you reinstalling existing appliances, replacing them, or doing a mix of both? Depending on the number and grade of appliances you're purchasing, this could account for a significant portion of your budget.
5. Flooring
From entry-level laminate to luxurious heated floors, flooring options are plentiful and diverse, as are the prices associated with them.
Where Can I Find Trustworthy Information about the Cost of Remodeling a Kitchen?
Let's be honest, most of the budgeting guides out there double as sales resources for the companies that create them. That being said, there is a highly respected, industry-specific research group—Hanley-Wood—that does not directly benefit from your kitchen remodel. Their annual Cost vs. Value Report, published every year in Remodeling Magazine, is a good place to start.
According to Hanley-Wood's 2022 Cost vs. Value report, the average cost of a major kitchen remodel in the Mid-Atlantic region is $84,281 for Midrange kitchens and $163,825 for Upscale kitchens.
The report also looks at regional averages within the United States. For the Lancaster, PA region, Midrange kitchen remodels average $79,131, and Upscale remodels average $153,198.
What Does the Average Kitchen Remodel Cost...Really?
While we feel Hanley-Wood's report accurately reflects general kitchen remodel pricing in our area, we want to once again emphasize that when it comes to averages, a single number does not tell the whole story.
Average Kitchen Remodeling Pricing in Lancaster, PA
How much does a kitchen remodel cost in Lancaster? For the reasons mentioned above, the "average" covers a huge range. Last year we remodeled kitchens that ranged from $25,000 for a kitchen refresh to over $140,000 for a premium kitchen.
Since the Midrange category encompasses the largest percentage of Lancaster kitchen remodels, let's focus there for a deeper dive into price breakdowns.
We build a lot of Midrange kitchens for homeowners in Lancaster County, and these projects range from the mid $40,000s to $130,000 or more. As you can see from our kitchen remodel gallery, the term "Midrange" covers a lot of budgetary ground.
To provide a little extra guidance to those planning for a remodeling budget, we have created our own Lancaster Kitchen Remodeling Cost Guide. In this guide, we've included Hanley-Wood's Cost vs. Value averages and popular features, but also broken down the Midrange category into three subcategories: Midrange Economy, Midrange Designer, and Midrange Premium.
Examples of Midrange Lancaster Kitchen Remodels
Midrange Economy kitchens, like Donna's Lancaster kitchen remodel, typically maintain the existing kitchen footprint and layout, but include replacement of cabinetry, countertops, flooring, and fixtures.
Midrange Designer kitchens, like Dennis & Kay's Rohrerstown kitchen remodel, often include modifications to the cabinetry layout within the kitchen's existing footprint. Some appliances may also be relocated.
Midrange Premium kitchens, like Bill & Liz's Conestoga Valley kitchen remodel, often involve eliminating or relocating walls to expand the space and fully reimagine the layout of the kitchen.
Our cost guide includes the average price of a kitchen remodel in Lancaster based on these three subcategories, along with general descriptions of what to expect in terms of features and scope of work.
---
We hope this post, and our cost guide, are helpful tools as you dream and plan for your kitchen remodel. If we can be of assistance, or if you'd like to chat with our project consultant about your Lancaster kitchen remodel, we'd love for you to schedule a free discovery call.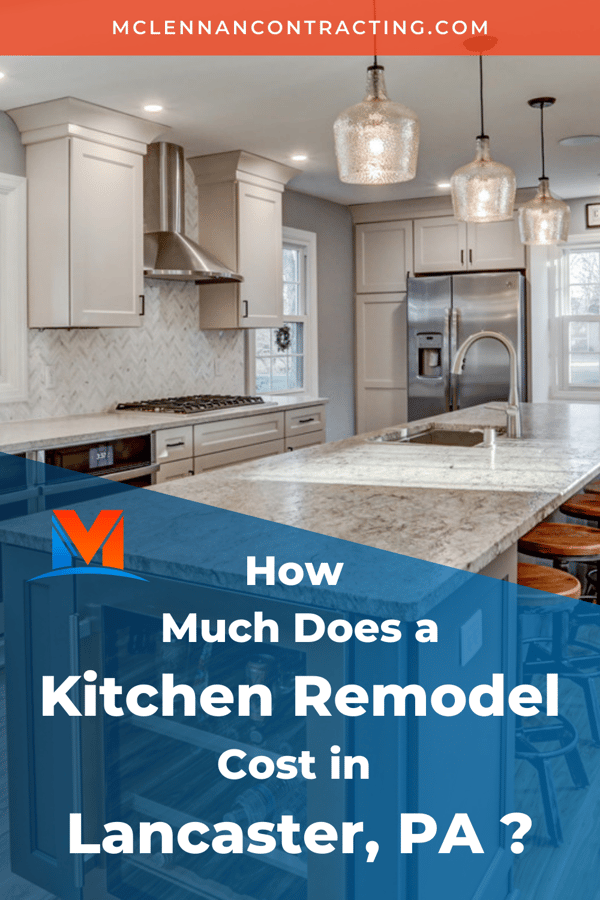 Alison is President of McLennan Contracting, which she owns alongside her husband, Tim. Together they have three children, whom they homeschool. When she isn't working, teaching, or planning the family's latest RV trip, Alison can be found introverting with a book in one hand and coffee in the other, or playing video games with her kids.