9 min read
Lancaster Basement Remodel: How Much Will It Cost? [2023]
By: Alison McLennan | May 26, 2023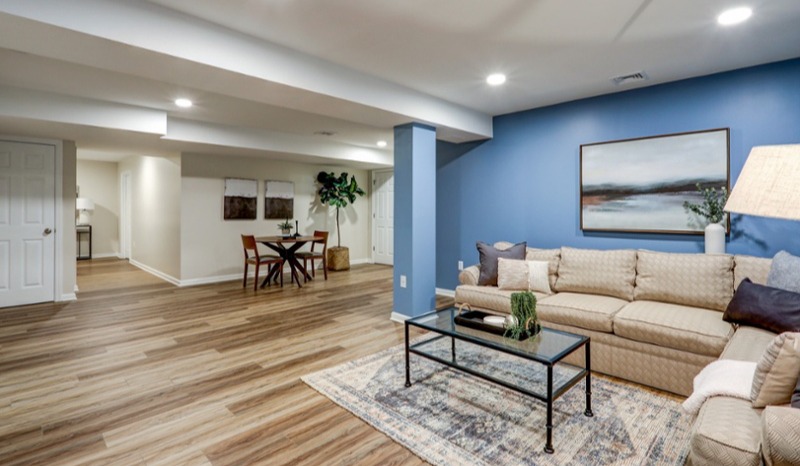 The cost of a basement remodel is largely dependent on how you'll be using your finished basement.
Unlike the average costs of kitchen remodels and bathroom remodels—which generally incorporate the same basic features—basements are a blank canvas of possibility.
Are you looking for a home gym, where you can work out year-round? Do you want entertainment space for the kids to hang out with friends? Maybe you need a quiet spot for your home office, or private accommodations for overnight guests.
All you have to do is look through our Lancaster basement remodeling gallery to see that there's no one-size-fits-all when it comes to basement remodels. Each household has different needs, which makes talk of "average" costs a little challenging.
That's why we're going to approach this conversation by looking at some common uses of finished basements, and the basement remodeling costs generally associated with each.
What's the Difference Between Finishing a Basement and Remodeling a Basement?
First, let's clarify what we mean by a "basement remodel." The terms "finished basement" and "basement remodel" are often used interchangeably. However, these terms can mean two different things.
When most people talk about remodeling their basement, they are likely referring to turning an unfinished basement into a habitable space. This may include waterproofing, insulation, HVAC and mechanical upgrades, and other alterations required by local code requirements.
On the other hand, some basement remodels are simply updates of previously finished basements. If the original finishing work was done correctly, these projects might be as simple as replacing flooring and updating finishes.
In short, the scope of work and cost to make an unfinished basement habitable is usually more involved than that of a simple remodel of an already habitable space. It's important to keep this distinction in mind when researching basement remodeling costs.
In this post we are focusing on basement remodeling costs that include finishing an unfinished space.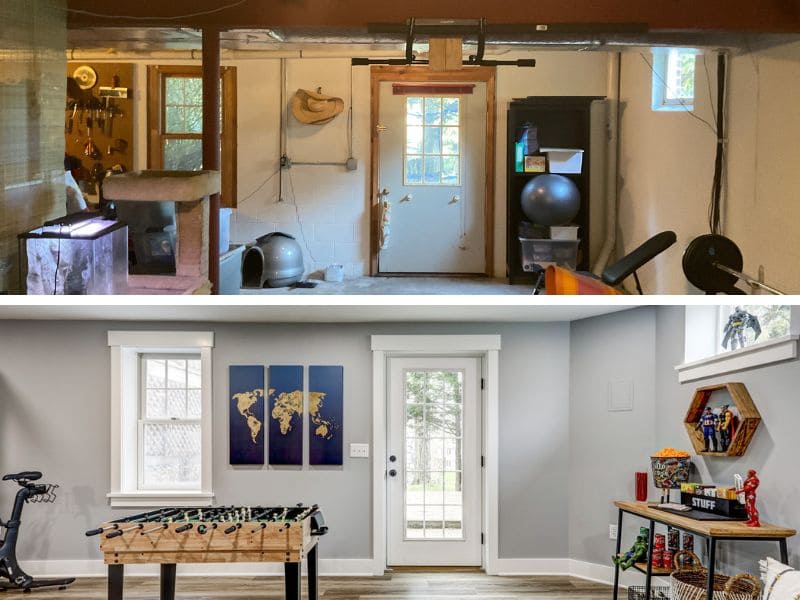 What is the Average Cost of a Basement Remodel in Lancaster?
The best answer to this question is actually another question: How are you going to use the space?
We've been remodeling basements in Lancaster for nearly two decades, and in that time we've seen that the purpose of a finished basement is what drives budgetary considerations. However, most online sources that discuss basement remodeling costs are pulling numbers for everything from simple one-room finishes to multi-room entertainment suites.
Adding to the confusion, sometimes online "averages" are based on box store materials and DIY construction, so they exclude permitting, project management, and labor costs.
Because of the many technical considerations involved in finishing a basement safely, it's best to hire a licensed contractor who has extensive experience and knowledge of these projects, and familiarity with your municipality's requirements.
Lancaster Basement Remodeling Costs by Neighborhood
Within the compact service range of Lancaster County, pricing can vary due to locale-based factors. Let's explore the cost nuances related to basement renovations in a few of our favored locations within Lancaster.
Lancaster City Basement Remodeling Costs & Pricing
Lancaster City has seen an uptick in restorations and remodels recently, adding to its historic allure. Yet, the city presents distinct challenges for remodeling projects.
Many homes in Lancaster City were constructed before standard building practices and sheet good manufacturing. This means access tends to be a key issue, and installations of modern materials often need more than a straightforward 1:1 swap. Older homes may also require specialized management of lead paint, asbestos, and silica in line with OSHA and EPA standards.
Logistical hurdles are another factor, impacting the cost of Lancaster City remodeling projects. Job site parking often necessitates permits, and the availability of tools and equipment, outdoor workspace arrangements, and on-site material storage pose challenges within the city's bounds. Considering these elements, remodeling in Lancaster City could be 15%-20% pricier than in certain Lancaster suburbs.
Manheim Township Basement Remodeling Costs & Pricing
Manheim Township primarily features newer homes, built according to standard practices from the 1980s onward. Most neighborhoods are designed for easy vehicle, equipment, and material access. An over-the-counter mechanical permit simplifies the process for non-structural or zoning change projects.
Even though remodels in Manheim Township tend to be more higher ticket due to a larger average project scope, they are usually cost-effective compared to other areas in Lancaster County.
Lititz Basement Remodeling Costs & Pricing
Lititz, a beloved community with a delightful historic downtown and scenic streets, presents unique opportunities and challenges for renovations.
Similar to Lancaster City, older homes in downtown Lititz demand specific building methods and customization. Limited parking and accessibility challenges could hike up the cost of a basement remodel by up to 10%.
However, the suburban neighborhoods of Lititz, like those of Manheim Township, consist of newer homes that provide ample space for the logistics of a remodel.
Leola Basement Remodeling Costs & Pricing
Leola's neighborhoods, most of which were built in the 1980s or later, present an ideal opportunity for cost-effective basement remodels. Its popularity among Lancaster residents makes Leola a top choice for high ROI from remodeling. Home remodels in Leola are usually less expensive due to the logistical ease, although project size and finishes will ultimately decide the final cost.
The common theme here is that the age of the home and logistical considerations are two major factors influencing basement remodeling costs at a neighborhood level. These principles apply to other charming communities in Lancaster, such as Strasburg, Millersville, Hempfield, Landisville, and Manheim. Historic districts tend to be more expensive, while suburban neighborhoods built more recently have fewer logistical costs.
Okay, So How Much Does It Cost to Finish a Basement in Lancaster?
In an effort to answer this question with more than another question, let's look at four types of basement remodels in Lancaster, PA. The scopes of work and cost ranges below are based on Lancaster finished basements we have completed over the past three years.
But first, as mentioned previously, remember that some basements require extra steps to mitigate issues and make them habitable before we make them beautiful. The cost of these steps, if needed, should be discussed with your trusted contractor and considered when budgeting:
Waterproofing
Radon mitigation system
Sump pumps
Perimeter drains
---
Basement Remodeling Cost #1:
Finished Storage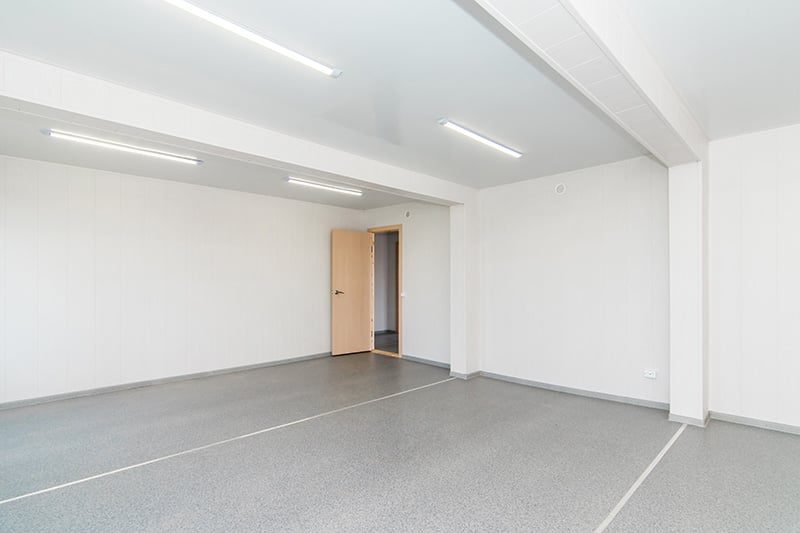 For those looking for a utilitarian basement, a finished storage area can deliver big change for a relatively low cost. While not considered living space, finished storage takes the typically dim and dreary raw elements of a basement and turns them into a cleaner, brighter, more pleasant environment.
Finished Storage typically features:
Painted cinderblock/masonry walls or Drywall
Painted concrete or vinyl flooring
Drywall or drop ceiling
No relocation of mechanicals
Basement Remodeling Cost for Finished Storage: $17,000–$35,000+
---
Basement Remodeling Cost #2:
Home Gym or Rec Room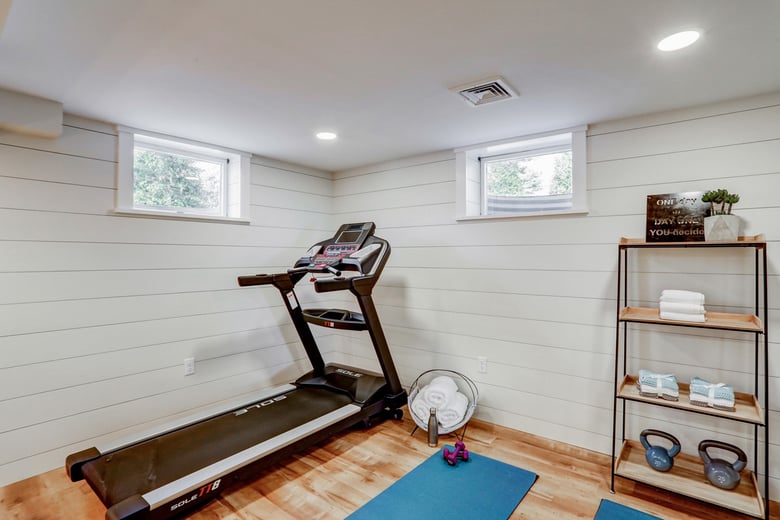 A popular use for Lancaster finished basements is creating a home gym, or general purpose rec room. These remodels typically transform the basement into a fully finished room. Mechanicals like the furnace and hot water heater are often hidden behind walls but still accessible for maintenance.
Home Gyms/Rec Rooms typically feature:
Painted Drywall walls
LVT or carpet
Drywall ceiling with recessed lights
Hidden mechanicals for a clean, fully finished look
Basement Remodeling Cost for Home Gym/Rec Room: $45,000–$75,000+
Example: Joe & Meredith's Millersville Basement Remodel
---
Basement Remodeling Cost #3:
Entertainment Zone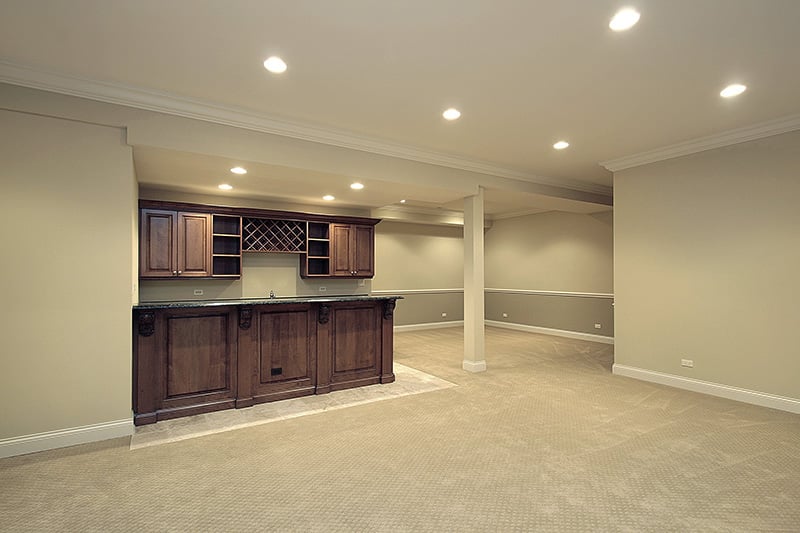 Creating a finished entertainment space in your basement pays dividends in fun memories. These projects can include many different features depending on the homeowner's specific interests, but generally they will include some special artistic or technical elements that make the basement a true destination. These may include a bar area, accent walls, or custom cabinetry. Basements built for entertaining may also include a small bathroom.
Entertainment Zones typically feature:
Higher-grade finish materials
Cabinetry elements
Artistic accents
More involved mechanicals, with some relocation involved
Basement Remodeling Cost for Entertainment Zone: $68,000-$140,000+
Example: Tim & Alison's Lancaster Basement Remodel
---
Basement Remodeling Cost #4:
Guest Suite or Home Getaway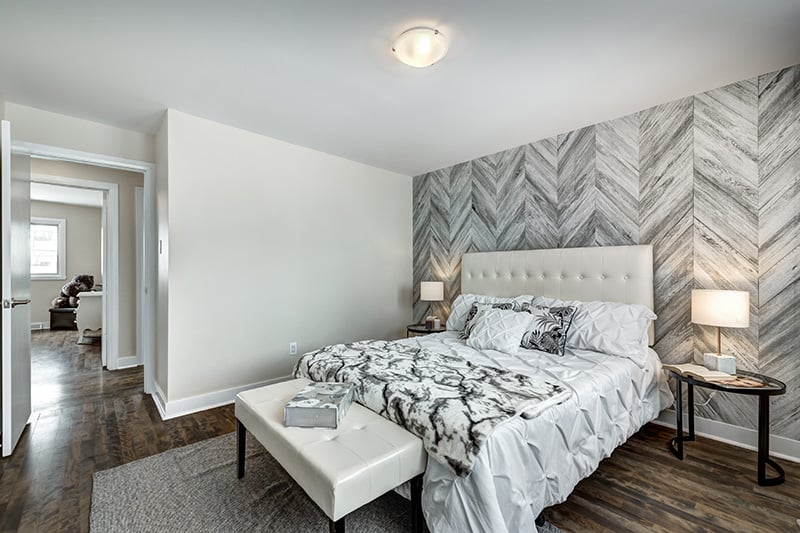 Those looking to make their finished basement a full, luxurious extension of their home may consider turning it into a guest suite or personal getaway. These projects typically create multiple rooms in the basement, often including a home office, private bedroom, and/or full bathroom.
To maximize use of space and meet code requirements, these finished basements may involve significant relocation and reworking of mechanicals. Bedrooms will also require an egress window and a closet.
Guest Suites/Home Getaways typically feature:
Multi-room layout
Full bathroom
Higher-grade finishes
Extensive electrical, lighting, and mechanical work
Relocation of mechanicals
May require egress window(s)
Basement Remodeling Cost for Guest Suite/Home Getaway: $100,000-$170,000+
Example: Judy & Sandy's Manheim Basement Remodel
---
Lancaster Basement Remodeling Cost Guide
If you found this information helpful but would like to learn more, download our Lancaster Bathroom Remodeling Cost Guide, which includes the price breakdowns detailed in this post along with photos of what to anticipate in each category of basement remodel.
Additional Costs to Keep in Mind
As mentioned previously, some basements require extra steps to mitigate issues and make them habitable before we make them beautiful. The cost of these steps, if needed, should be discussed with your trusted contractor and considered when budgeting:
Waterproofing
Radon mitigation system
Sump pumps
Perimeter drains


How Much Will Your Lancaster Finished Basement Cost?
Keep in mind that any type of basement can cost more than the ranges listed in this post. It all depends which features matter most to you, and what needs to be done to make your space safely habitable. That's why we walk our clients through our Design-Build process to determine the true cost of their Lancaster basement remodel.
By clarifying and honing your vision, we can establish which elements will be needed, and define the specific scope of work and costs required for your finished basement.
To learn more about how this process works, please schedule a free, no-obligation discovery call with one of our project consultants.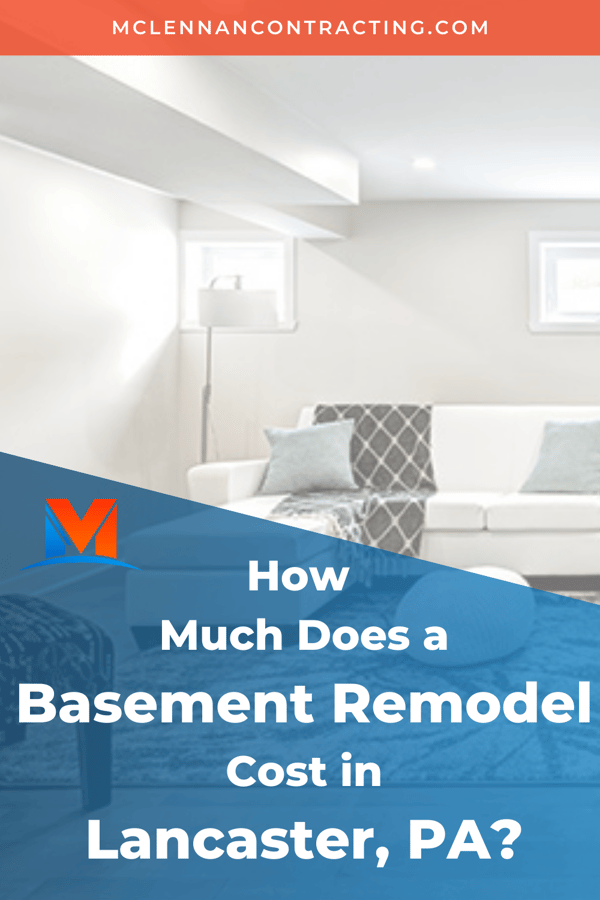 Alison is President of McLennan Contracting, which she owns alongside her husband, Tim. Together they have three children, whom they homeschool. When she isn't working, teaching, or planning the family's latest RV trip, Alison can be found introverting with a book in one hand and coffee in the other, or playing video games with her kids.