9 min read
Lancaster Bathroom Remodel: How Much Will It Cost? [2023]
By: Alison McLennan | April 14, 2023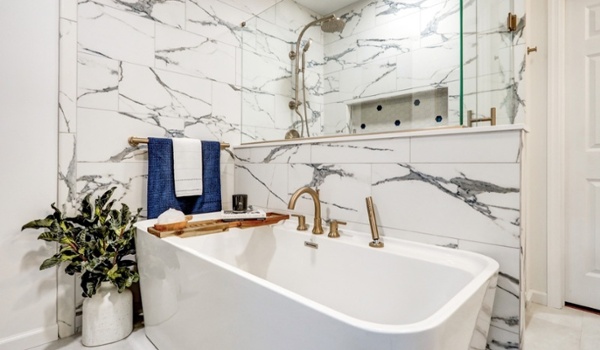 If you're thinking about renovating your bathroom, one of your first questions will probably be, "How much is a bathroom remodel?"
One would hope this question could be answered with some basic research. Unfortunately, as with kitchen remodeling costs, getting a quick, accurate estimate for the cost of a bathroom remodel can be tricky.
Three different sources will likely give you three very different answers, without explaining where the numbers are coming from. This post explains which variables most affect your bathroom remodeling cost, so you know what to expect—and what questions to ask—when you're ready to get started on your project.
What Is the Average Cost of a Bathroom Remodel?
Many elements of bathroom remodels vary dramatically in cost, making averages less than accurate. However, if you can identify which elements contribute to the greatest cost differences, you'll have a better idea of whether your bathroom budget will fall on the high or low end of the spectrum.
Below are five of the most significant contributors to your bathroom remodeling cost.
1. Alterations to Mechanical Elements
Some bathroom remodels are replacement-only projects, meaning the plumbing locations for the toilet, sink(s), tub, and shower will remain in place, with new fixtures replacing the old ones. Other remodels involve rearranging the bathroom layout, expanding into another room, or adding new fixtures such as a freestanding tub. The extent to which plumbing locations and other "behind-the-Drywall" mechanical elements are altered has a big impact on overall bathroom remodeling cost.
2. Age of Home
Since building practices and standards have changed over the years, older homes can present a number of challenges for bathroom remodeling. These homes, even when solidly built, are often out of plumb, level, and square. Their framing specifications and substructure were built differently than they are today. Staircases, hallways, and openings tend to be narrower.
All of these factors affect the installation of modern building materials. Due to substructure movement, a new tile floor may require a reinforced subfloor. Due to narrow joist spacing, a freestanding tub drain assembly may require modification to accommodate its width. These alterations require additional labor and materials, which affect the cost of a bathroom remodel.
3. Type of Materials & Finishes
When purchasing a computer, you don't make your selection based on price alone. You know that the specs, quality, and durability of the budget laptop isn't going to be the same as the top-of-the-line model. In short, you get what you pay for.
The same is true with building materials. Budget products are less durable and come with fewer features than midrange products. Upscale materials add seemingly endless options for luxury and customization.
It's also important to consider what goes behind the walls. The products used for mechanical elements are often given little attention. Ensuring proper function and durability by using quality products might cost extra up front, but saves costly repairs down the road.
4. Hidden or Omitted Costs
Home improvement shows like Fixer Upper often share remodeling prices in a tidy list. This leads many homeowners to assume they could complete a similar remodel for the same price.
Unfortunately, these fun shows can create unrealistic expectations about remodeling budgets and timelines. The numbers they share often omit or reduce expenses that the average homeowner will incur, such as permits, project management, and labor. Online budget guides that list the average price of a bathroom remodel, often geared toward DIYers, sometimes leave these expenses out as well.
5. Location, Location, Location
Just as cost of living differs across the country, the cost of a bathroom remodel is affected by where you live. A bathroom remodel in urban Seattle is going to cost more than an identical remodel in rural Virginia. Local labor rates, licensing requirements, overhead costs, and material prices impact every remodeling company's cost of doing business, and therefore their pricing structure.
Lancaster Bathroom Remodeling Costs by Neighborhood
Even in a relatively small service area like Lancaster County, there can be location-based pricing impacts. Here are some examples of cost considerations for a few of our favorite places to remodel in Lancaster.
Lancaster City Bathroom Remodel Costs & Pricing
Lancaster City is an historic, charming community that has seen a steady rise in restorations and remodels in recent years. However, there are unique challenges to remodeling in Lancaster City that impact the cost of a bathroom remodel.
Many of the homes in and around downtown Lancaster City were built before standardized building practices and the large-scale manufacturing of sheet goods. As a result, they were not constructed for accessibility, and installation of today's modern materials usually involves more than a simple 1:1 replacement. In addition, older homes more often require special, OSHA- and EPA-compliant handling of lead paint, asbestos, and silica.
Logistics also affect the cost of remodeling in Lancaster City. Parking close to the job site (often requiring permits), being able to easily access tools and equipment, setting up workspaces outside the home, storing materials on-site...these are all more challenging within the confines of a city.
For all of these reasons, among others, the cost to remodel in Lancaster City may be as much as 15%-20% higher than in some Lancaster suburbs.
Manheim Township Bathroom Remodel Costs & Pricing
Manheim Township has earned a reputation for having some of the more stringent building code requirements in Lancaster County. While some may see this as an impediment, McLennan Contracting has always appreciated the standard of excellence, and we enjoy working within Manheim Township.
Manheim Township is a community of relatively new homes (constructed in the 1980s and later), built in compliance with standard practices. Most neighborhoods are laid out in a way that provides convenient access to vehicles, equipment, and materials. Manheim Township also offers an over-the-counter mechanical permit, so for projects that don't involve structural or zoning changes, this permit makes for a simplified process.
While many of the remodels in Manheim Township are at a higher price point due to project scale (i.e. additions and whole-home remodels vs. a single bathroom remodel), the cost-effectiveness of these projects tends to be among the best in Lancaster County.
Lititz Bathroom Remodel Costs & Pricing
Lititz is without question one of the most delightful communities in Lancaster. Its historic downtown, tree-lined streets, and warm-hearted residents make it not only a local favorite, but a much-loved destination for out-of-state visitors.
Remodeling in Lititz and surrounding Warwick Township is a blend of challenges and benefits. On the challenging side, downtown Lititz shares many of the logistical considerations of Lancaster City—older homes requiring special building practices and customizations, plus limited parking and accessibility. These elements can add as much as 10% to the cost of a Lititz bathroom remodel.
However, outside of the main streets, Lititz and its outlying neighborhoods are similar to Manheim Township—newer homes, with ample space to handle the logistics of a remodel. This makes broader Lititz another cost-effective area to remodel in Lancaster.
Leola Bathroom Remodel Costs & Pricing
With a majority of its neighborhoods at prime remodeling age (1980s construction or newer), Leola is high on our list of cost-effective communities for remodeling. And with its growing popularity among Lancaster natives and new residents, it's also a great candidate for high remodeling ROI (return-on-investment).
Generally speaking, the logistical convenience of remodeling in Leola tends to put it at the lower end of our average price range for bathroom remodels (though, of course project scope and finishes have the final say in where project costs will fall).
You've probably noticed the most common factors that impact bathroom remodel costs and pricing on a neighborhood level—(1) age of home, and (2) logistics. While there are always exceptions, you can apply these same principles to the other wonderful communities in Lancaster—such as Strasburg, Millersville, Hempfield, Landisville, Manheim, and more. Towns, especially historic districts, will tend to be at a higher price point, while more recently constructed suburban neighborhoods will require fewer logistical expenses.
Where Can I Find Reliable Information about the Average Price of a Bathroom Remodel?
Zonda—a highly respected research group specializing in the housing industry—creates an annual Cost vs. Value report, which is published every year in Remodeling Magazine. This report provides national averages for common remodeling projects, along with localized regional averages.
While these averages should be considered in light of the elements listed above, they are a good place to start when budgeting for your bathroom remodel.
According to Zonda's 2023 Cost vs. Value report, the average cost of a bathroom remodel in the Mid-Atlantic region is $25,468 for Midrange bathrooms and $78,935 for Upscale bathrooms.
Those numbers are a helpful starting point, but what do terms like "Midrange" mean?
What Else Should I Know about Budgeting for a Bathroom Remodel?
You may have noticed that the difference between "Midrange" and "Upscale" in Zonda's report is significant. For all the reasons listed earlier in this post, it can be deceptive to put too much emphasis on a single number.
For example, some budget-conscious homeowners might be interested in simply updating the cosmetic elements of their bathroom, rather than replacing all of the finishes. We call this a bathroom "refresh," and these projects typically fall below the Cost vs. Value numbers.
It's also important to consider recognize how much ground the "midrange" category really covers. Our bathroom remodeling portfolio shows a selection of the Midrange and Upscale bathrooms we've built since 2003. In our experience, the term "Midrange"—perhaps more than any other category—encompasses a broad range of products and features.
To provide a little extra guidance on this topic, we have created our own Lancaster Bathroom Remodeling Cost Guide. In this guide, we've provided Zonda's Cost vs. Value averages, some information about bathroom refreshes, and broken down the Midrange category into three subcategories: Midrange Economy, Midrange Designer, and Midrange Premium.
Examples of Midrange Bathroom Remodels
Midrange Economy bathrooms, like Sam and Kelly's Manheim Township bathroom remodel, typically consist of stock cabinetry and countertops, quality fixtures, an acrylic or fiberglass tub/shower, painted walls, and LVT or similar flooring.
Midrange Designer bathrooms, like Kathy's Manheim Township bathroom remodel, usually retain the bathroom's existing layout or include minor reconfigurations. Stock or semi-custom cabinetry, fresh finishes and paints, upgraded countertops, and inspired fixtures are common, and Designer Midrange remodels include a wide variety of options.
Midrange Premium bathrooms, like Clinton and Mary's Hempfield bathroom remodel, may consist of a reconfiguration of the bathroom layout, with upgraded finishes like tile and glass shower enclosures. A Premium Midrange budget is highly versatile, allowing homeowners to consider a broad variety of finish options and design a luxurious, high-value bathroom.
Our cost guide includes the average price of a bathroom remodel in Lancaster based on these subcategories and the common features associated with each.
---
I hope this post has been helpful as you prepare for your Lancaster bathroom remodel. If you would like to discuss your bathroom budget or remodeling options in more depth, please consider scheduling a free discovery call with one of our project consultants.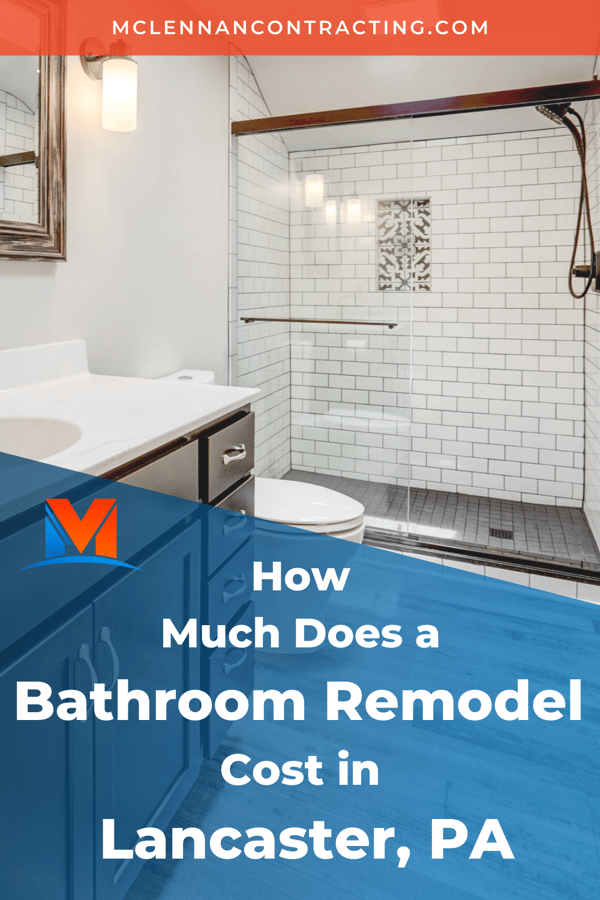 Alison is President of McLennan Contracting, which she owns alongside her husband, Tim. Together they have three children, whom they homeschool. When she isn't working, teaching, or planning the family's latest RV trip, Alison can be found introverting with a book in one hand and coffee in the other, or playing video games with her kids.