6 min read
ROI Estimates for Popular Lancaster Remodels
By: Allie Brannon | August 2, 2023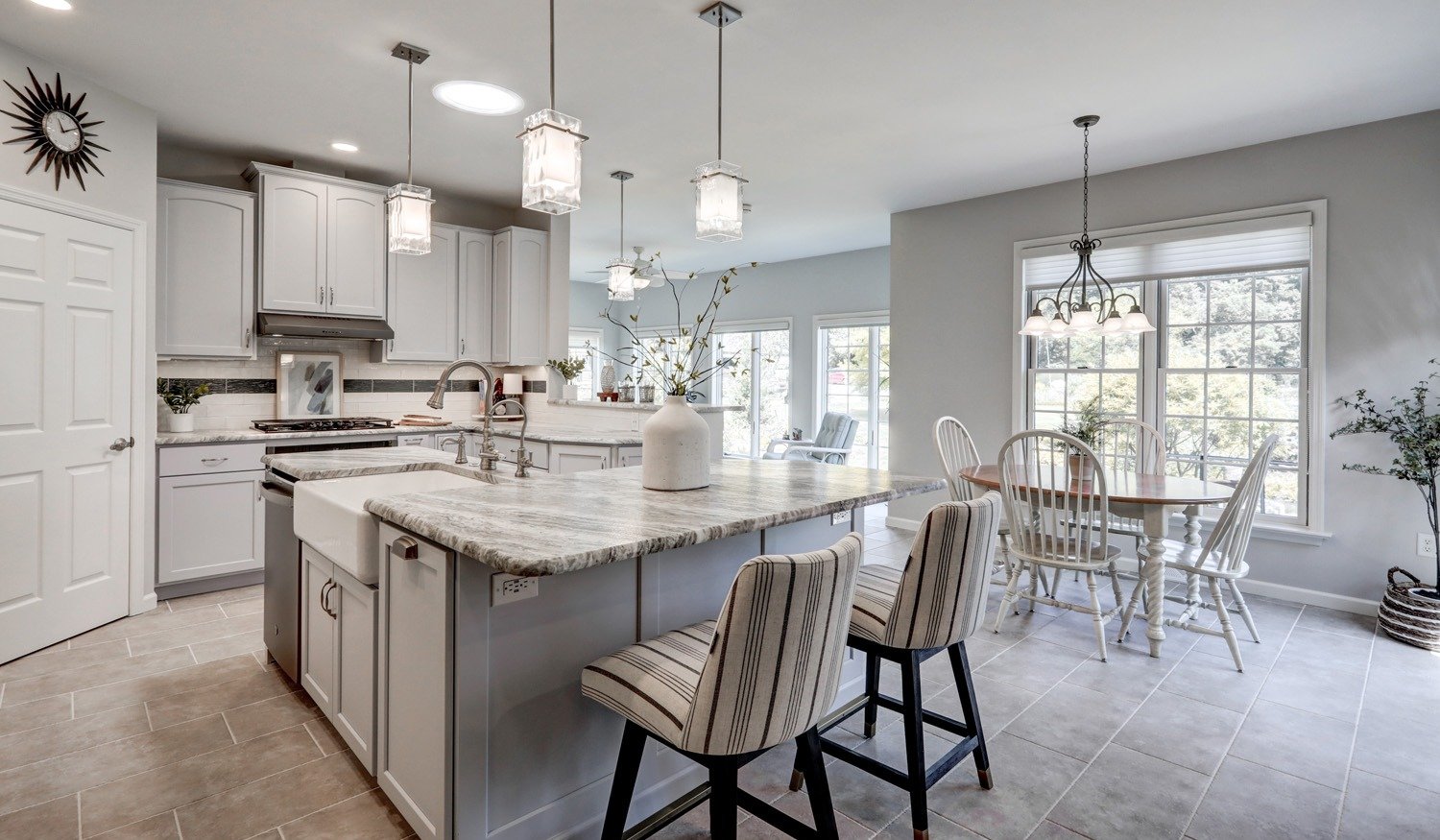 If you've begun thinking about making some changes to your Lancaster home, you may be wondering if your ideal remodel will give you a good return on your investment (ROI). Whether you plan to put your house on the market sometime soon or stay in it forever, it's always a good idea to consider the ROI of various remodels—it's a financially savvy move.
(If you want to choose a remodeling project based on the best ways to increase the value of your home, see this blog post for ideas.)
But maybe you've already got a specific remodeling plan in mind for your home. Kitchen and bathroom remodels are the most popular, both in our area and nationwide. Houzz concludes that 28% of homeowners who remodel are redoing their kitchens, and 25% their bathrooms.
So what is the ROI for those remodels? And what types of kitchen or bathroom remodels will give you the rest return for your investment?
ROI for Lancaster Kitchen Remodels
Midrange Minor Remodel

The best ROI for a kitchen remodel, according to the 2023 Cost vs. Value Report for the Middle Atlantic Region, is a midrange minor kitchen remodel. Assuming your kitchen is functional but dated, this type of remodel will give you the best return on your investment, allowing you to recoup about 74.8% of your expenses, which is a great ROI.

For this type of remodel, you'd want to:

Leave the cabinet boxes in place but replace the fronts with new, updated fronts and new hardware. This change alone will bring a whole new feel to your kitchen!
Replace the existing fridge, cooktop, and oven with new, energy-efficient ones, saving you money and updating your kitchen at the same time.
Replace laminate countertops.
Replace the flooring.
Update the sink and faucet.
Finish the project with new paint on walls and trim.
While a midrange minor kitchen remodel doesn't generally change the layout of your kitchen, the updates presented here will drastically change the look, feel, and usability of your kitchen.
Midrange Major Remodel
Because the investment is greater, a major kitchen remodel won't give you as high a return on your investment as a minor one. The ROI for a major remodel is 38.4%. But that doesn't mean it's not worth doing! Major kitchen remodels still rank among the top 20 ways of increasing your home's ROI. And this type of remodel definitely ranks high in terms of increasing your Joy Score, a way of ranking which types of home renovations bring the most satisfaction and joy to homeowners. On a scale of one to ten, kitchen remodels receive a solid ten.
A midrange major kitchen remodel would include:
Removing cabinets and installing new, semi-custom, wood cabinetry.
Adding a kitchen island for extra seating and food prep space. For a midrange remodel, the kitchen island would be on the smaller side.
Replacing the countertops.
Replacing the sink and faucet, and upgrading the sink to a double tub, stainless steel version.
Replacing all appliances with new, energy-efficient models and adding a vented range hood.
Adding new flooring.
Painting walls, ceiling, and trim.


Upscale Major Remodel

If you want to really change your kitchen and make it luxurious, you'll want to replace your appliances, cabinets, countertops, and flooring with the best of what's out there. An upscale kitchen remodel has an ROI of 29.9%. But again, the enjoyment you get out of your kitchen may very well make it worthwhile.

An upscale major kitchen remodel would include the following upgrades:

Replacing cabinets with top-of-the-line custom cabinets that have interior accessories like sliding shelves, blind corner pull-outs, and more.
Replacing laminate countertops with granite or another high-end material.
Adding a beautiful tile backsplash.
Replacing all appliances with built-in and commercial-grade versions.
Installing an undermount sink with high-end faucets and water filtration systems.
Adding new lighting, including undercabinet lights.
Replacing flooring with tile or wood.
If you'd like to know how much a Lancaster kitchen remodel will cost, check out this blog post, or download our cost guide.


ROI for Lancaster Bathroom Remodels
Bathroom remodels are second only to kitchen remodels in terms of their popularity. Redoing a bathroom can streamline your morning routine, giving you and your family a great start to your day. Or it can create a beautiful space to relax at the end of a long day. But how does it rank in terms of ROI?
Midrange Bathroom Remodel
A midrange bathroom remodel comes in eighth in terms of all home remodeling ROIs for our area at 57.9%. A bathroom remodel of this scale does not typically involve moving plumbing or electrical, which can significantly increase the cost, but it does include a number of upgrades and improvements.
A midrange bathroom remodel includes:
Updating a 5x7 bathroom.
Replacing the tub and shower to include a new tub and a shower with a tile surround, and a nice shower control.
Replacing the toilet.
Installing a solid-surface vanity–nicer than laminate but not as upscale as marble or granite.
Adding a medicine cabinet.
Replacing the light fixture.
Tiling the floor and using vinyl wallpaper on the walls.
Bathroom Remodel: Accessible Design
More and more people are choosing to age in place and remodel their homes to accommodate them in their retirement years. There has also been an upswing in older family members moving in with their adult children and needing accommodations. It's unsurprising that remodeling an existing bathroom to be accessible to people with limited mobility has a fairly high ROI of 42.3%.
A remodel of this type generally includes:
Widening doorways to accommodate a wheelchair.
Moving electrical switches and storage so they are accessible from a seated position.
Replacing the existing toilet with a taller one with an elongated bowl.
Removing the bathtub and replacing it with a curbless shower that includes seating and a handheld shower head.
Replacing the flooring with softer luxury vinyl flooring with radiant heat.
Installing a vanity with easy-grip handles and an adjustable mirror.
Adding new motion-sensing lighting
Installing towel bars that double as grab bars in the shower and by the toilet.
Bathroom Addition
A popular remodel in Lancaster is the addition of a bathroom. If your home doesn't have enough bathrooms to support your family, if you're finishing your basement to include a guest room and bath, or if you're planning a primary suite addition, a new bathroom can really change the way you function in your home.
A bathroom addition gives an ROI of between 23.6 and 25.5, depending on how high-end it is. But as with the major kitchen remodel, a renovated bathroom (including an addition) has a very high Joy Score rating, with a 9.6 out of ten.
A bathroom addition would include:
A 6x8 to 10x10 foot bathroom, generally built over a crawlspace.
A tub, shower, toilet, and vanity composed of varying types of materials. The higher-end the material used, the lower your ROI will be.
A linen closet.
Overhead and spot lighting, lighting over the mirror or medicine cabinet
An exhaust fan.
Faucets and fixtures.
Ceramic tile shower surrounds and flooring.
Possibly electric in-floor heating.
And more upgrades.
If you'd like more information on how much you can expect a Lancaster bathroom remodel to cost, check out this blog post, or download our cost guide.
Are you ready to get started on a remodel for your Lancaster home? If your kitchen needs anything from a minor update to a major overhaul, or if you need to remodel your bathroom or add a new one, we're here to help. Schedule a Discovery Call with us today. We'd love to discuss cost, ROI, and your personal desires and needs, and help you plan the remodel that is best for you and your family.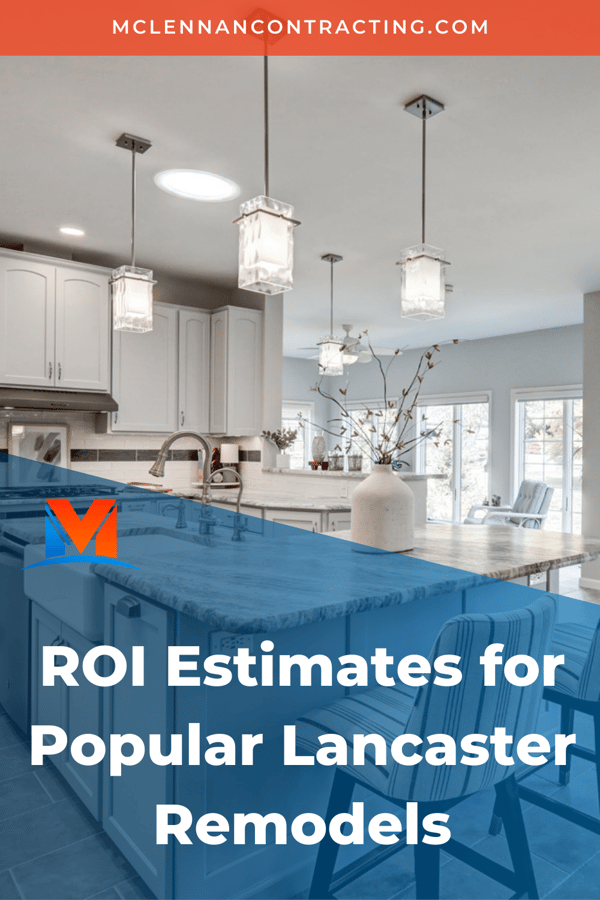 Allie Brannon is a copywriter and content writer specializing in the remodeling and building industry. She is also a pastor's wife and a homeschooling mother of five. In her free time, she can be found sitting outside with a good book and a cup of coffee, learning to garden, or taking a walk with her family or a friend.