4 min read
6 Most Popular Features to Include in a Lancaster Kitchen Remodel [2023]
By: Alison McLennan | January 3, 2023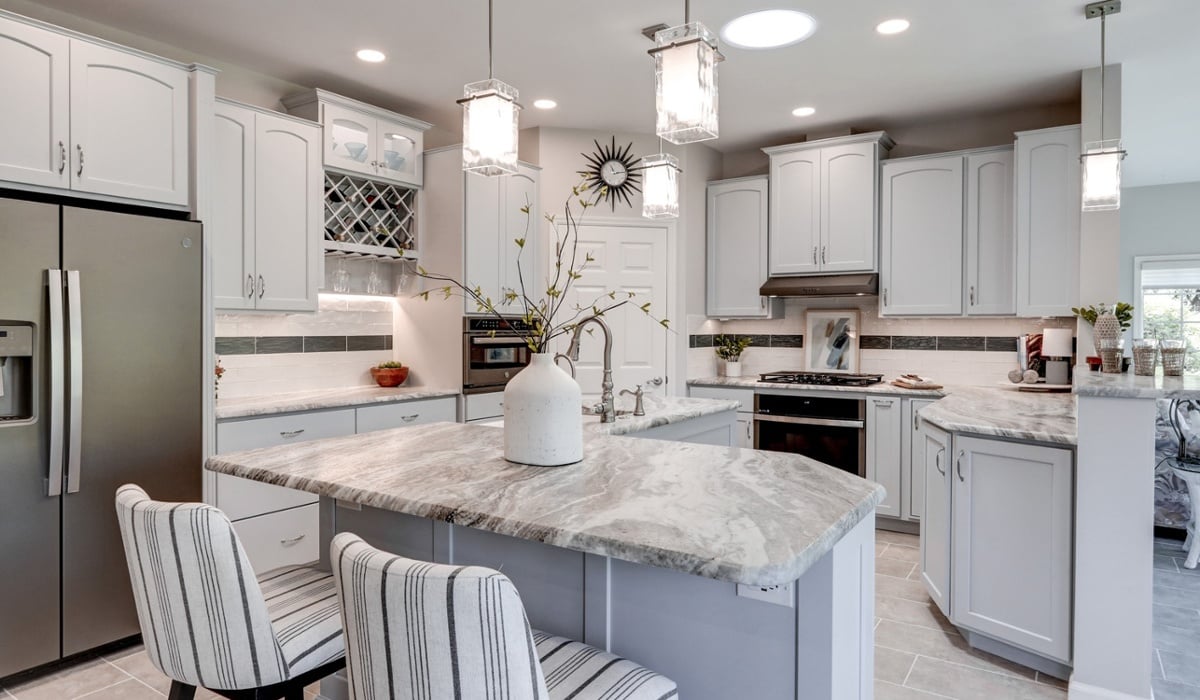 Kitchens are seeing a big shift in style, colors, and materials! Including the most popular features in your kitchen remodel will liven up your entire Lancaster home. Work with your Lancaster custom home remodeler to bring big ideas to life, giving you a kitchen that works with your budget and your style.
1. Color
Kitchens are getting a big resurgence of color! The all-white and gray palettes are no longer the only stylish choices for kitchen paint colors. Some of the most popular colors for kitchen cabinets and walls range from earthy greens and soft beige to navy and slate blue. Of these, the soothing earthy greens are on top, according to the major house paint brands. What's great is you can use these muted greens as a neutral and still pair them with another color without overwhelming your Lancaster kitchen's color palette.
When using these colors in your Lancaster kitchen remodel, the key is to break up the color by using them strategically. Use matte navy blue or a neutral green on the kitchen island cabinets, for example, and a soft white on the perimeter cabinets. Some designers may instead opt for painting the upper cabinets a creamy beige while adding color to the lowers.
2. Large Kitchen Island
Having a large kitchen island isn't a new trend, but it's definitely a feature you should work into your kitchen remodel. A large kitchen island is a great asset in the kitchen for many reasons! Seat several guests or family members at once while preparing a meal, use the surface for food service while entertaining, or take advantage of all the cabinet storage a large island can offer.
When you're working with your Lancaster custom builder, be sure to include a few electrical outlets in the island. Using your blender or stand-up mixer will be a lot easier if you can access electricity on the best food prep surface in the kitchen.
Another important thing to note when working with your custom home builder is clearance around the island. Plan for plenty of seating around the island along with enough overhang to sit comfortably and most importantly, enough space around the perimeter for counter stools to be pulled out when in use.
3. Natural Wood
Much like the comeback of neutral paint colors, natural wood tones are growing in popularity once again. The stark white and gray color palettes of the last decade are slowly losing steam while warmer palettes are gaining. Using a large chopping block to top off your kitchen island is one way to lean into this trend. Chopping blocks are also very practical for their natural antimicrobial properties, their timeless style, and the aesthetic appeal of a well-worn surface.
4. Matte Black
Matte black has been popping up steadily in everything from faucet fixtures to front doors. When matte black is paired with a neutral green or a creamy white, it lends a very crisp and sophisticated look. Matte black is a popular choice in hardware, too! Use this muted tone on cabinet pulls and handles. You can even incorporate matte black on the kitchen island or update a vintage free-standing kitchen hutch.
5. Countertops & Backsplash
As we all spend more time in the kitchen, it's becoming apparent what materials are best for wear and tear. In the kitchen, countertop materials have really been put to the test over the last couple of years. Marble, as it is a beautiful countertop choice, is fairly high maintenance. Add in the expense of the material per square foot and you'll see that perhaps this material isn't the best for the most used surface in the house.
Consider materials that are both stylish and highly functional, like quartz. Quartz is more sanitary than marble because it's nonporous. Concerning color and patterns, quartz is a manufactured material, and not mined, so you will have more control over the colors and patterns you choose for your home.
As for the backsplash, using slabs as opposed to tile is gaining popularity. Designers are using the same material on the counter as the backsplash by continuing the material upward, creating a clean palette. This type of continuity lends very well to using more materials and colors elsewhere while keeping the kitchen from looking too busy.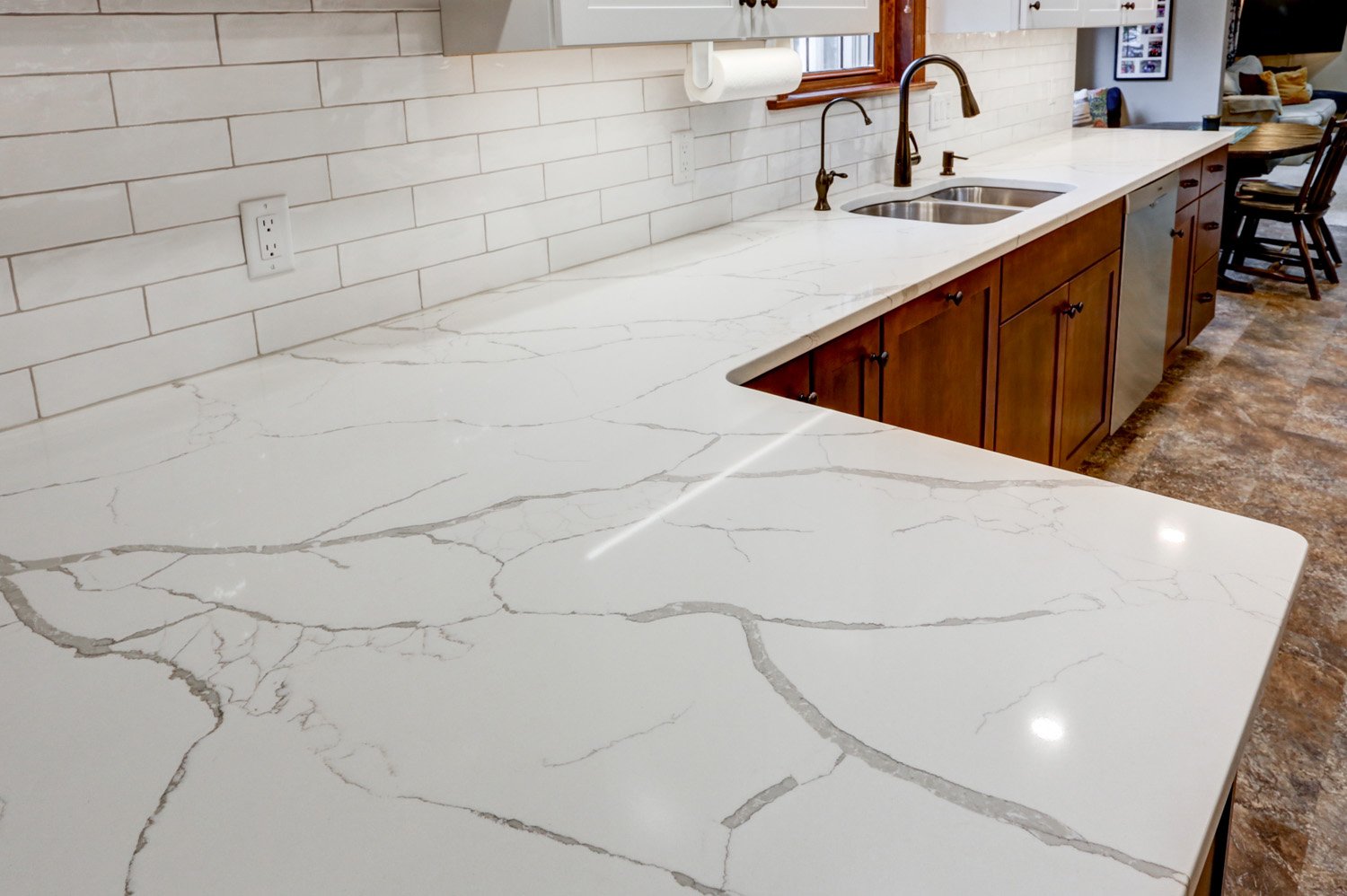 6. Custom Storage
Custom cabinetry is one of the most important features to include in your Lancaster kitchen remodel design. Storage in the kitchen is becoming more personalized and custom than before.
Custom cabinetry that meets your specific storage needs will make cooking at home more enjoyable. Lower cabinets with pull-out shelves, cabinets with outlets situated right inside for small appliance ease of use, and drawers with dividers for lidded containers are all available options for your custom kitchen.
To personalize your kitchen even more, consider using locally made Amish cabinetry. As mentioned before, natural wood tones and the added charm of having local handmade cabinetry that will last a lifetime offers a certain value that can't be matched.
Ready to Update Your Kitchen?
With free consultations, speaking with a professional remodeling consultant has never been easier! McLennan Contracting is dedicated to delivering homeowners the remodel they need, want, and expect. During a discovery call, a Project Designer will walk you through the kitchen remodeling process and discuss your remodeling goals. Find out if we're the right design-build team for your remodel and get in touch!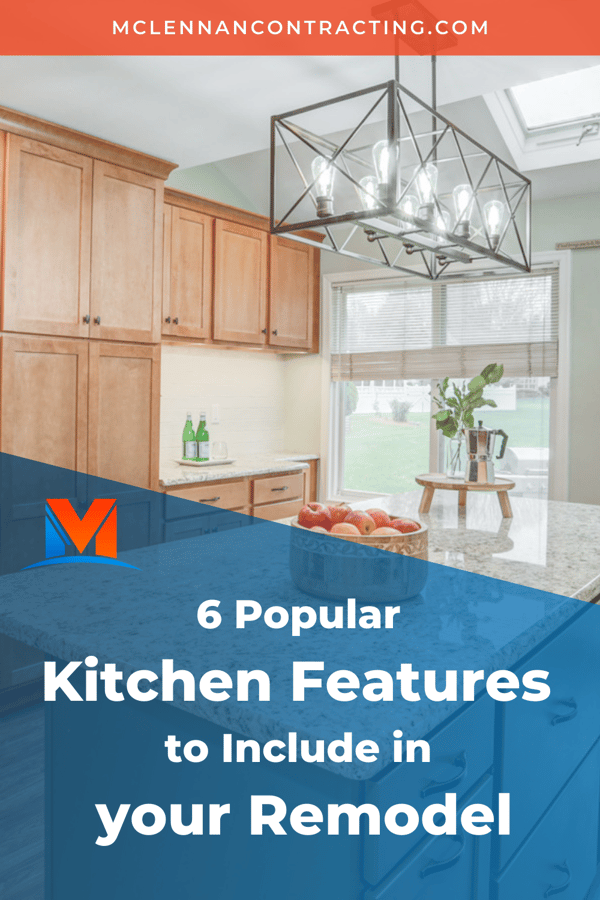 Alison is President of McLennan Contracting, which she owns alongside her husband, Tim. Together they have three children, whom they homeschool. When she isn't working, teaching, or planning the family's latest RV trip, Alison can be found introverting with a book in one hand and coffee in the other, or playing video games with her kids.