9 min read
11 Budget-Friendly Ways to Make Your Bathroom Feel Like a Spa
By: Allie Brannon | April 17, 2023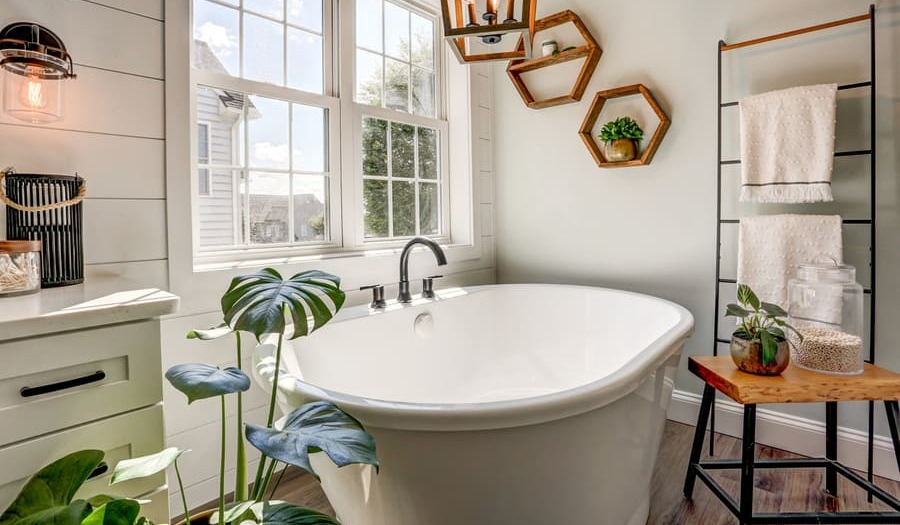 What could be more relaxing at the end of a long day than stepping into your own private spa? If you're planning to remodel your Lancaster, PA bathroom, creating soothing spa vibes might be at the top of your wish list. Can you achieve that feeling with a bathroom remodel on a budget? The answer is yes! And even if a remodel is not in your immediate future, with a few tweaks, you can make your existing bathroom feel like a luxurious spa, ready to help you unwind.
#1. Think about the Tub
If you enjoy a peaceful soak, a freestanding soaker tub might be the best choice for you. These gorgeous, deep bathtubs have all four sides exposed, sit directly on the floor, and often serve as a lovely focal point for your bathroom. They can be costly, so if a freestanding tub isn't in your budget, consider an alcove soaking tub instead. Alcove tubs touch walls on three sides and are built in. They can be as deep as soaker tubs, every bit as relaxing, and come with a lower price tag.
Whether you choose a freestanding tub, alcove tub, or keep the tub you've already got, bring the spa experience home by:
placing good-smelling candles around the tub, with a lighter nearby.
putting a chair next to the tub to hold a stack of towels.
adding a bathtub caddy. You can get one made of wood, lucite, wire, or other materials. A bathtub caddy brings a touch of luxury and convenience to your bath, holding your book, a candle, a cozy drink, and your favorite bath salts.
keeping the tub clean and free of rubber duckies and bath toys, if you share the space with kids. Corral the toys and leave the tub ready for you when you need it.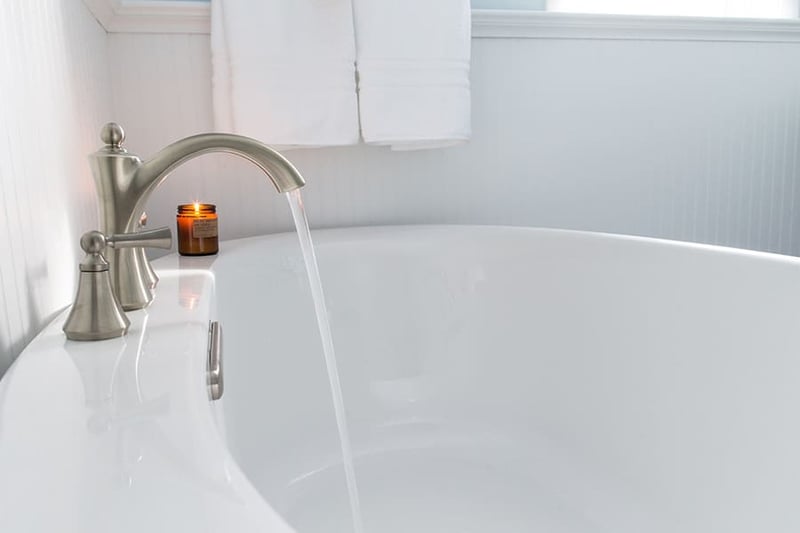 #2. Consider Seating in the Shower
A good shower bench can add a touch of luxury and convenience by giving you a place to sit and enjoy the spray, making shaving easier, and providing storage for bottles. If you're remodeling your bathroom, consider having one built into your shower. But if a new shower isn't part of your plan, you can add a freestanding teak shower bench and enjoy the benefits of shower seating.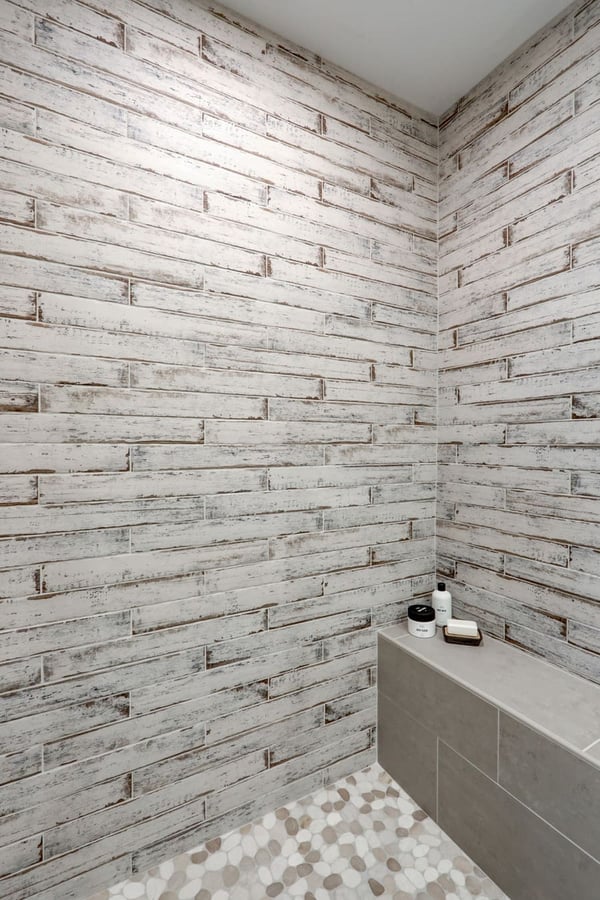 #3. Replace the Showerhead
Replacing your showerhead is an easy, budget-friendly way to get a spa-like bathroom experience. You can choose one that feels like falling rain, one with multiple massage options, a hand-held version, or even one that has LED lights and a Bluetooth speaker built in. While you're at it, hang some fresh eucalyptus from the shower head and enjoy the fresh scent every time you turn on the water.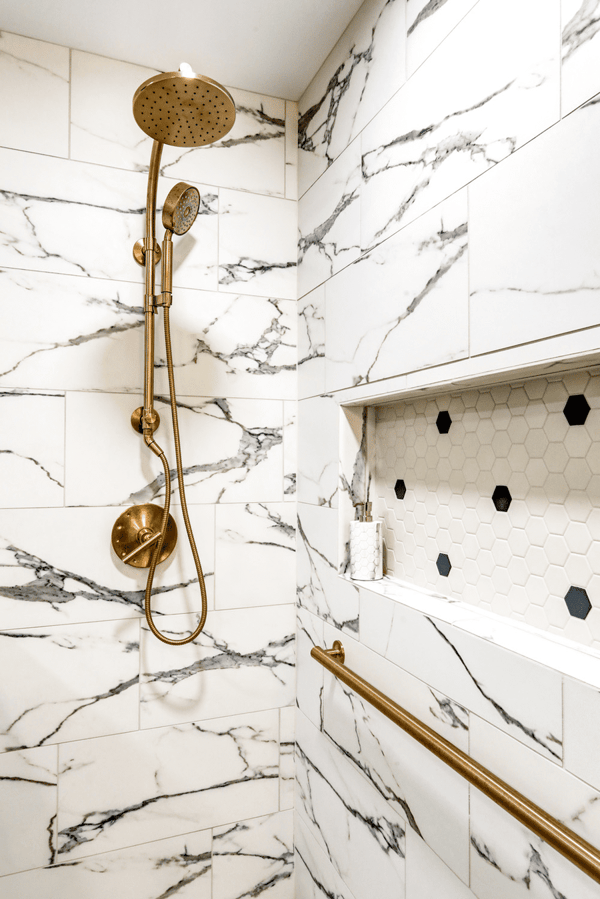 #4. Repaint
For a spa-like feel, consider repainting your bathroom in warm, soft tones. Use nature-inspired colors like pale blues or moss greens to bring a sense of calm and peace. White looks clean and crisp, which lends itself to a relaxing feel as well. Or use warm neutrals like soft grays, light tans, and gentle taupes. Stay away from bold colors or lots of contrast, which tend to evoke feelings of excitement and energy rather than relaxation and calm.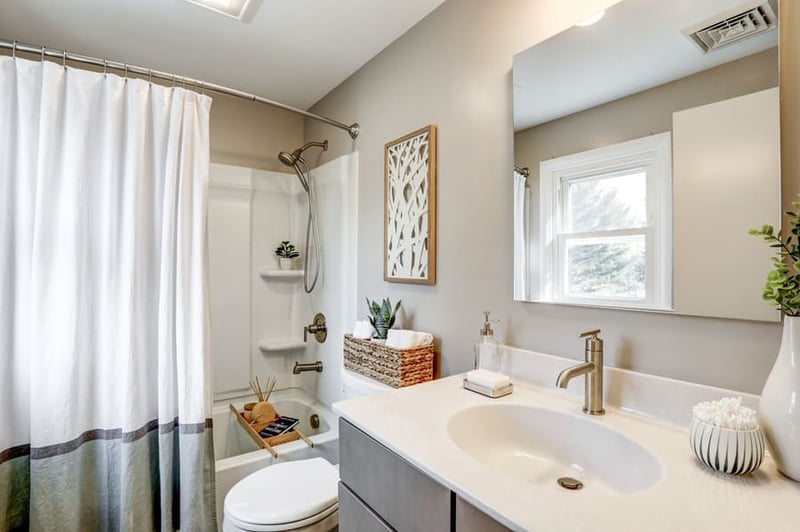 #5. Bring the Light In
If you're remodeling your Lancaster, PA bathroom, consider adding or enlarging a window. If privacy is not a concern, a large window brings the outside in, and nothing is as lovely as natural light. If your neighbor's house is too close for comfort, a skylight might be a better option for you. Get a similar effect for less by accentuating a window you already have.
Use sheer, soft curtains for airy beauty.

Frosted glass in your window gives privacy without sacrificing light.

Double your natural light by hanging a mirror strategically to reflect the window.

No natural light? Use multiple light sources like an overhead light, a lamp, and sconces on both sides of the mirror to give you different lighting options that are relaxing, flattering, and not jarring.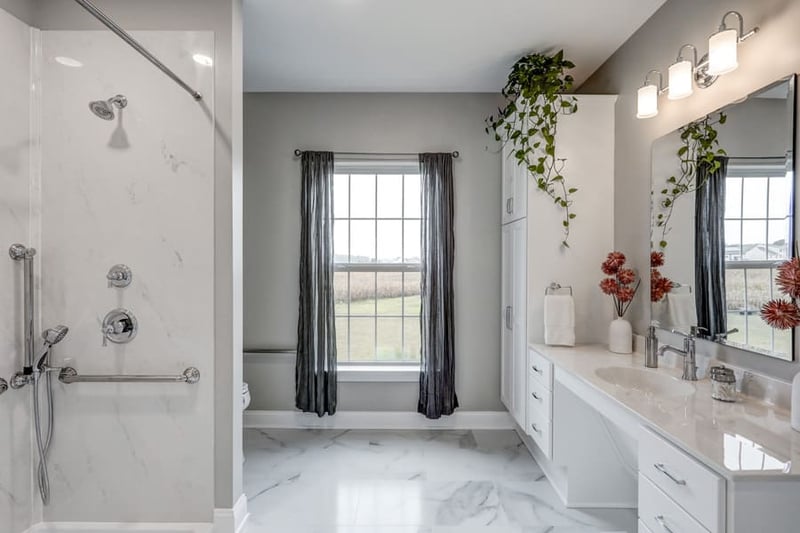 #6. Think About Good Storage
One hallmark of a spa-like bathroom is the uncluttered feel. By adding lots of storage to your bathroom remodel, you can ensure that everything you need is close at hand but out of sight. Consider custom storage in your vanity like drawers with outlets and pull-out lower cabinet shelving. Add cabinets, a shower nook, or even a walk-in closet. For smaller remodels, consider:
adding open shelving. By using pretty baskets and white towels rolled and stacked, you can make your open shelves functional and beautiful.

decanting your favorite soaps and shampoos into pretty, matching bottles. This will definitely up the spa vibes significantly!

leaning a wooden ladder against the wall to hang and display towels.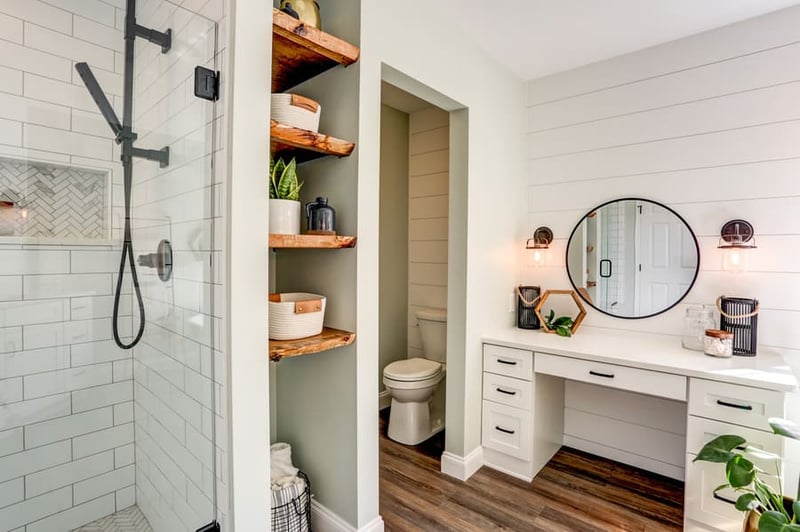 #7. Change out Fixtures and Faucets
Putting a new faucet in your sink is a low-cost update that can make a big difference. You can update the feel of the bathroom by using finishes like oil-rubbed bronze, black, brass, or even a soft gold color for the faucet, vanity hardware, and other fixtures. Changes like these, especially in combination with a new paint job or other updates, can really make your bathroom feel new.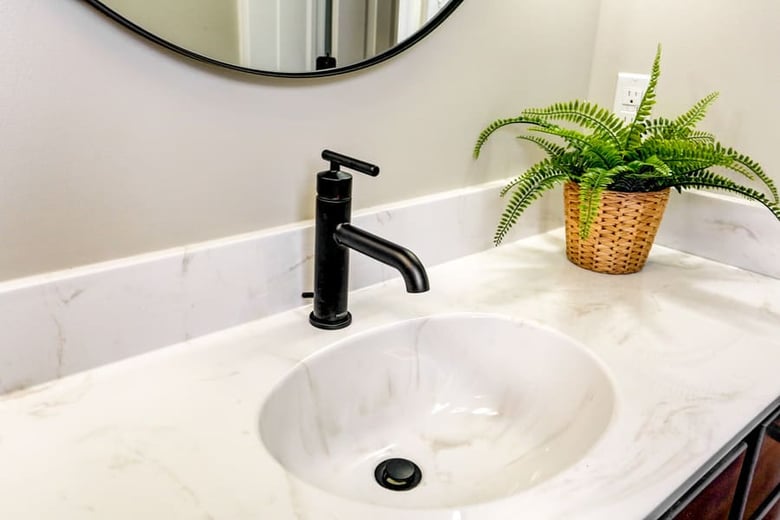 #8. Add Some Technology
For a complete bathroom remodel, the sky is the limit when making your bathroom "smart." You can program your floors to warm up, your shower to turn on to the exact temperature and pressure you like, your lights to come on, and your calming music to play, ready for you before you get out of bed in the morning. If it's not time for a full bathroom remodel, you can still add tech to your bathroom.
Heated floors are luxurious but also budget-conscious since they actually lower your overall heating costs. Electric heat can be retrofitted into an already-existing bathroom and floor plan, giving you gentle warmth through the cold winter months.

Place waterproof Bluetooth speakers in your shower or on the vanity and enjoy your favorite tunes while you get ready in the morning or relax at night.

Install towel warmers for that fresh-from-the-dryer feeling all the time.

Put your lights on dimmer switches so you can have bright light when you need it or soft light to help you relax.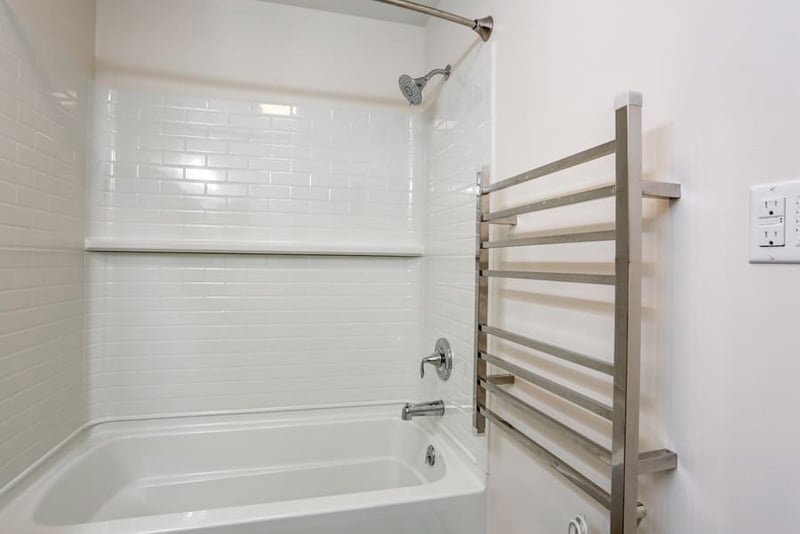 #9. Accessorize
Whatever your budget, adding the perfect accessories to your bathroom is a surefire way to make it feel like a relaxing spa. Put a quick-drying rug on the floor, or use a slatted wood bath mat to add texture, softness, and interest (and comfort, as you step out of the tub or shower). Consider using a larger area rug if you have the space!

Don't forget artwork. You can use botanical prints, an abstract canvas, or even vintage mirrors in interesting frames. Hang black and white photos of your kids at the beach or your pet lying in the sunshine. Do a gallery wall, a few small frames, or one large canvas.

Put good-smelling lotions and soaps on the vanity and near the tub. Use a diffuser to fill the air with lavender or rosemary. Use candles for mood lighting and good scents.

If you have space, bring in a small pedestal table and put a candle and a vase with flowers on it. Or for a real touch of luxury, put an upholstered chair in the corner (just make sure it's covered in indoor-outdoor fabric to withstand the high humidity) to create another place to relax.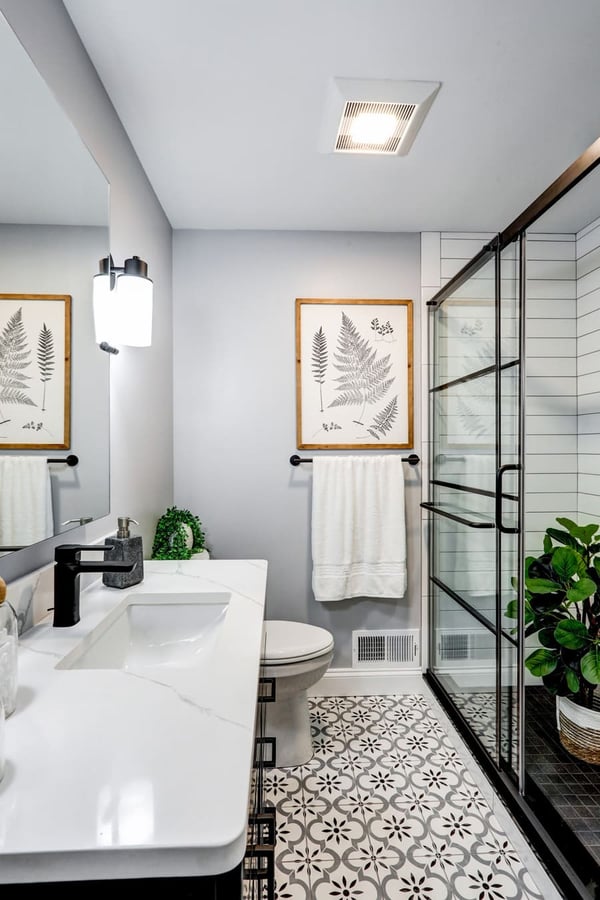 #10. Use Plants
Fresh greenery will instantly make your bath feel like a relaxing escape. They bring a sense of peace and well-being and are beautiful to look at. Additionally, plants filter indoor toxins, clean the air, produce oxygen, and help combat excess humidity. Choose plants that love humid environments like:
Pothos

Monstera

Snake plants

Orchids

Bamboo
#11. Consult the Pros
If you're ready to make your bathroom into the perfect spa-like space, it can be hard to know where to start. How can you make the most of your existing space? What changes will make the most difference? Is a complete remodel the best idea? How much will it cost? Should you change the footprint or move the existing plumbing? Contacting a Lancaster bathroom remodeler may be the best plan for you. Professional designers at McLennan will help you plan for the bathroom of your dreams, and our design-build team will then make it a reality. A calm start to your morning and a relaxing end to your day is within your reach. Contact us today and let us help you get started.
Allie Brannon is a copywriter and content writer specializing in the remodeling and building industry. She is also a pastor's wife and a homeschooling mother of five. In her free time, she can be found sitting outside with a good book and a cup of coffee, learning to garden, or taking a walk with her family or a friend.